Volunteering As Medicine For the Spirit
This national volunteer month, the Courier shines a light on some of the volunteers at COD
Making an effort to brighten someone's day by assisting and doing something for them is what makes volunteering a part of our life. 
April is National Volunteer Month in the United States. This month is dedicated to thanking all volunteers in the community and encouraging volunteerism all month long. The College of DuPage has a number of people who embrace the spirit of the month all year long.
Lynda Pratsche, a McAninch Arts Center (MAC) House Manager, volunteers as her way of giving back to the community.
"To show gratitude, I try to give something back to the world," Pratsche said. "Volunteering also makes me feel better because I get the chance to make someone's day a little bit better. I feel better when I can make someone feel valued, or when I can give them something small, like a smile or a kind word."
She began volunteering in high school as a teaching assistant for Head Start during summers. Head Start is a federally funded program in the United States that provides early childhood education, health, nutrition, and parental involvement services to low-income families with children under the age of five.
Otherwise, she has most recently volunteered at the MAC theater and the People's Resource Center (PRC), where she teaches computer classes such as: Introduction to Computers, Chromebook for Beginners and Introduction to Gmail & Google Drive. The majority of the students for these classes are ages 50 and older, but she also volunteers in the advanced Microsoft Certification program classes, where Pratsche works with younger workers who want to qualify for a new job or promotion in jobs where they need to make professional presentations. Pratsche additionally volunteers for the Community Emergency Response Team (CERT).
CERT training teaches volunteers how to assist in an emergency until first responders arrive. The volunteers learn First Aid and Cardiopulmonary Resuscitation (CPR), which is an emergency lifesaving procedure performed when the heart stops beating.
CERT volunteers are at public events like concerts, fun runs and parades. They may help with traffic control, checking bags at the gates, and monitoring crowds for any medical or safety incidents. 
"We carry radios to call for First Responders (EMT, police, firefighters, etc) and provide immediate care until First Responders arrive," Pratsch said.
Pratsch is now retired and focuses on the activities these groups have, which she participates in as a volunteer.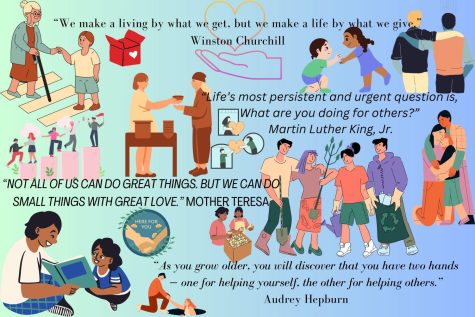 Before retiring she worked as a telecommunications technician, then a design engineer, and later as an enterprise project manager.
The feeling that she gets during volunteering hours made her stop doing contract work.
"I stopped doing contract work because devoting long hours in the pursuit of more money isn't how I want to live the rest of my life. What I'm doing now at the MAC, People's Resource Center and CERT is much more satisfying," added Pratsch.
At PRC, volunteers are usually packing different food, based on the people's needs. Every person who gets food there fills out a form and tells what they need and in this way volunteers and staff know what to put inside the packs. 
Lucinda Page, who is volunteer department manager, said nearly 26,000 DuPage residents rely on PRC for help each year. They offer nutritious food and other basic necessities like clothes and rent assistance for neighbors in need. PRC also connects people with resources – education and tutoring, jobs, technology, art and a caring community– to create a future of hope and opportunity for all.
"I am one of two full-time employees dedicated to the Volunteer Department," Page said.
Barbara Murphy is a retired schoolteacher, and she has been volunteering for many years in different ways. She saw a need for help at her local park district. Now she helps with outdoor concerts, senior programs, parties and when extra help is needed for activities.
She also volunteers at the MAC Art Gallery and Morton Arboretum. Now that she has more spare time she sees volunteering as a positive way to stay active and involved.
"My volunteering has provided me the opportunity to meet many like-minded people who also have the same interests as I, and now have many new friends that I feel very lucky to have met," said Murphy.
Pratscher said the ability to support your community as a volunteer is just as rewarding, if not more so, than getting paid.
"If I were asked why I chose to "work" without getting paid, I'd say that money isn't the only thing of value in life. There is value in finding something that you love to do and using your passion to improve the lives of others in your community," added Pratscher.
At the PRC, some people have volunteered continuously for years, now they have almost 100 volunteers who have been with them over 10 years and over 200 of them for over 5 years.
Murphy thinks volunteering is not for everyone. Not everybody loves to talk to strangers, for instance, so not everyone should volunteer as a greeter, but everyone should find something you enjoy and do it.
"It has to be some activity that they enjoy doing or it will not be a positive experience," added Murphy.
She also added that there's a reward whenever her volunteer work is noticed by others.
"The very, very best feedback I get is when someone says, 'Thank you.' Two little words, but it feels good to be acknowledged for my effort," added Murphy.
Pratsche shares a similar sentiment, reminiscing on a story about an elderly widower that was in a beginner computer class that she was teaching. He never had an email account, used voicemail or used any type of computer. He lived alone and had local friends, but his extended family lived in another country. 
By the third class, he had a refurbished laptop. She set it up for him and created an email account for him. He would come to class early, stay late and was very eager to learn. By the end of the 6 weeks, he advanced from and could power up his laptop and access cloud storage to email a photo to a relative.
"He often thanked us, but it was his joy of learning and seeing him become less socially isolated that was my best reward for volunteering," said Pratsche.
Volunteering is an effective way to help ourselves as well as others because the feeling that we get is more valuable than gaining material things. And, if any of you want to join some volunteering activities you can easily do it on the page's website and register based on your schedule.