Student Enrollment Decreases, COD is Not Alone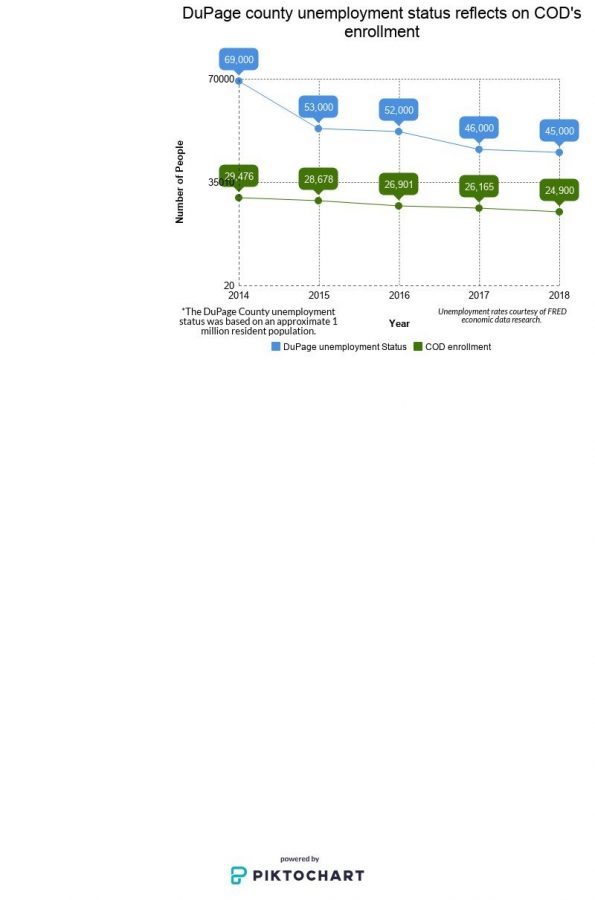 Over the past five years, College of DuPage has seen a 15.5% decrease in overall student enrollment. In 2014, COD had an official head count of 29,476 total students and 16,858 full-time equivalent (FTE) students taking 15 credit hours or more. After COD's official 10th day headcount, there are 24,900 students and 13,676 FTE students.
15.5% is a significant decrease is student enrollment, no matter the circumstances, but COD is not the only community college in the area facing hardships of lack of student growth. Over a five year period, between 2013 and 2017, the statewide average decrease in community college enrollment was 16.5%, putting COD above the decrease margin by 1% the following year.
Other schools in the area have been facing similar concerns as numbers continue to decrease. Joliet Junior College, located in Joliet, Illinois has seen an 11.6% decrease over the past five years. College of Lake county on the other hand has seen more than double COD's decrease, at 17.5%.
Out of the top five largest community colleges in the state of Illinois, COD has the second lowest enrollment depletion rate of all. COD still continues to be the largest community college in all of Illinois, aside from the decrease in students.
Vice President of Planning and Institutional Effectiveness, Jim Benté, touched on three main factors contributing to the county and statewide enrollment decrease.
"There's research that shows that for every one percentage point change in unemployment, you get about a two to three percent change in enrollment," Benté said.
Benté refers to this as a national phenomena, stating that schools across the country have been faced with this similar issue as employment rates have been increasing, enrollment rates have been decreasing. As DuPage county residents find more part-time and full-time employers, there is less of a drive to return to school, even if it is community college.
The second factor influencing enrollment is the number of high school graduates COD has available to recruit. Between the years of 2010 and 2016, District 502 has experienced a 5.5% decrease in high school graduates, which is more than 800 students.
COD"s third factor that affects enrollment is external competition.
"From 2002 to 2015, our number for high school graduates going out of state have gone from 29% of high school graduates up to 45%," Benté said, "We were the second largest net losers of high school graduates too out of state schools in the country last year."
Benté believes that a main reason why first time college students are drawn to out of state schools is because of enticing scholarships such as non-resident first time student scholarships.
"Anybody that is a first time student, that enrolls at Missouri state, for example, automatically becomes eligible for and is considered for this [non-resident first time student] scholarship. What students are finding is that they are paying as much, or less than big in-state school here," Benté said.
COD is a two year college, therefore students wouldn't be considered first time students after time spent here, making those non-resident first time college student scholarships non applicable to those students.
In the future, the Planning and Institutional Effectiveness Committee along with Student and Academic Affairs plan on taking vigorous action. The plan is to form a management team to aide in both recruitment and funding.
In the upcoming several months, the Provost's office, which has recently been the merge of Academic and Student Affairs, will focus on enrollment management. The plans hope to positively impact the college's enrollment in years to come.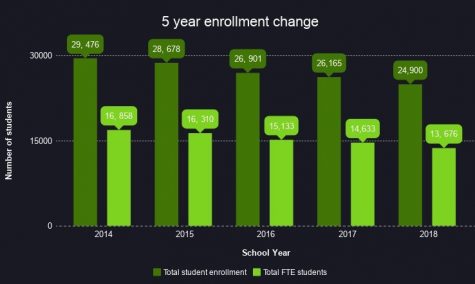 Graphics By: Madison Venckus