Guest Feature: Women-founded startups show resilience post-COVID
From lack of funding to global pandemics, the future does not look bright for women founders, but at Grace + Ivory, Tina Wong is defying the odds.
Editor's Note: Changes were made to this article after publication at the request of the writer, including information about the interviewee's time spent studying production, the status of the business's donation and the number of reviews for the company. 
Tina Wong is a proud Chicago native and Loyola Chicago alum, who worked in foreign aid and business development for nonprofits in Washington, D.C. for seven years. Wong always wanted to start her own business and after a year of studying  dresses, production and design, she founded Grace and Ivory in 2017. Grace and Ivory is a socially conscious, modern-curated, try-at-home brand of customizable, made-to-measure wedding dresses. 
In 2020, the COVID-19 pandemic hit many businesses hard in the Chicago area. With mask mandates enforced by the CDC, and social distancing encouraged in public, and private spaces, businesses saw a decrease in their revenue, and many fought to stay open. However, 100%  of women-founded businesses with founders in the Women's Entrepreneurship Institute (WEI) at DePaul University survived the pandemic. Grace + Ivory was one of them.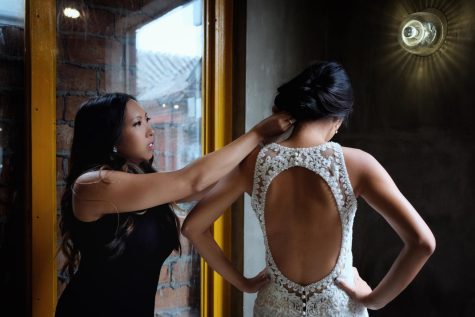 Professor Alyssa Westring, department chair of management and entrepreneurship at DePaul University and committee member at WEI explains, "I am sure that there are many causes for the resilience of women who went through our business accelerator program; knowing that they are part of a network of mentors and supporters is definitely one factor."
Speaking of her time at the Institute Wong says, "It helped re-orient me in terms of business planning and forecasting, and it was a good check to make sure I am not missing anything as I run the business. Society socializes women to compete with each other and having a collaborative voice in an institute like WEI is helpful to women entrepreneurs." 
Before the institute and before COVID, Wong implemented a part of her business model, the try-at-home program. This allows brides to shop dresses from the comfort of their home, removes the sales person along with impulse buys, and presents a more personable "yes to the dress" experience safe at home with family and friends.
"Try-at-home dresses were part of our original business model, not a result of COVID. Our dresses are high quality, but at an affordable price point, because I have cut out the wholesaler and middleman." Wong says. "When COVID happened, the try-at-home program was a lifesaver."
"I think one of the leading factors of surviving COVID for us was definitely staying lean. We cut back when we needed to, but thoughtfully." She adds.
An essential part of wedding planning for most women is finding the right dress. For Dr. Kate Chen, it was supporting a local woman-owned business with a diverse cultural background. An optometrist practicing in Chicago, Chen got married in September 2022. 
"I got to meet Tina the first day I was in her studio. I loved the fact that she was an Asian woman. She was so successful," Chen says. "And her dresses speak for themselves; they are beautiful."
Initially, Chen was not sure of the kind of dress she wanted. 
"There are so many options out there; we have a lot of pictures on Pinterest and different vendors, " she explains. "Having a streamlined idea can be difficult." After trying on many dresses at Grace and Ivory's studio, Chen said yes to a dress.
"My dress had an invisible top lining. It had a lot of beading with a short sleeve and beautiful Spanish lace. I am also Hispanic, so I really enjoyed the fact that there was that Spanish lace to tie into my heritage as well." Chen says. "Once I got my dress, I went to the alteration person I chose, and I only had to be there once. She didn't have to make as many adjustments because the dress was already made to suit my body."
With many positive customer reviews on various sites, Grace + Ivory is set to continue defying the odds. Additionally, Wong says that she has learned how to better her business along her journey. The company is showing resilience despite findings by Pitchbook data Inc. that fewer than 2% of women-founded businesses receive venture capital (VC) funding. 
"Women need to prove themselves first, whereas, a lot of people fund men on potential," Wong says. "The VC route is the most hyped, but I believe that there are other, more effective ways, to fund a business, which could also lead to long-term sustainable growth." Wong received investments from her cousin and dad, in addition to many fundraisers during the initial stages of her business.
The company previously donated 10% of proceeds from each dress sold directly to causes that champion women's safety, security, personal and professional development. Grace and Ivory also donated to Plan International's The Girls Fund, the Chicago Foundation for Women and other social programs for women and girls.
In an article published on NASDAQ, 500 startups, a global venture capital firm found in addition to receiving funding and increasing runway, female founders cited customer acquisition and maintaining a healthy work-life balance as their top challenges. A report by All-In says that decision-makers in the U.S. VC law firms are 83.9 % men and 16.1 % women.
Although Westring recognizes that an all-women VC firm is not essential for long-term growth, she insists, "There is still a greater need for representation in VC firms. As you are building your business, try to strike a balance between working on your business and working in your business," Wong says. "Having a good balance between the two will really lead to growth."
Chen encourages women to support one another. 
"Working with Tina and her staff was amazing. They were so kind and accommodating." She adds, "We want to keep their diverse ideas alive, and we do that by supporting and purchasing things from them."
The wedding industry tends to favor more traditional, romantic-themed weddings, but Wong has a message for strong, independent women getting married on their own terms.
"Kickass women deserve better bridal."