Taking four classes is stressful for students, and teaching at four colleges is stressful for adjunct professors. This recurring message guided the conversation between professors, counselors and students in the Mental Health in Higher Ed event. 
Panelists of Educator Voice Academies talked transparently about the mental health needs of not only students but faculty as well. The group is a collaboration between Illinois college and university educators and their work allies to discuss local and state educational policy issues and amplify marginalized perspectives.
Dennis Emano is one of the two full-time mental health counselors at COD, and there are overall ten full-time counselors. He has a Ph.D. in Counseling Psychology, and as a licensed psychologist, he has worked in various settings from community mental health centers and hospitals to college and elementary schools. At COD, he works as a mental heath counselor and serves on the Behavioral Intervention Team.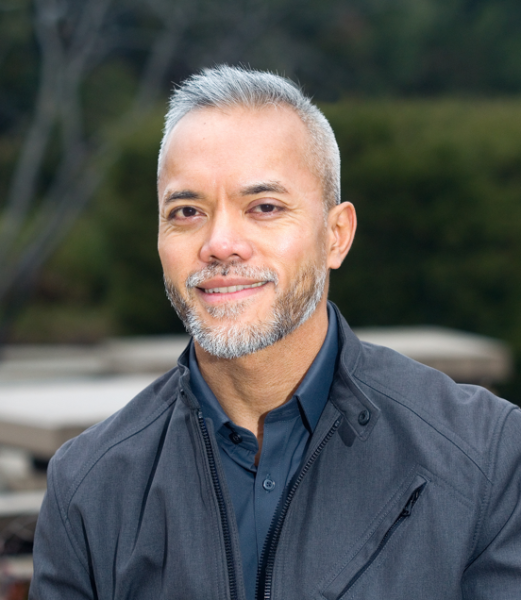 "All of our focus as employees or faculty, we focus on the people we serve, the students," Emano said. "It's so important to also remember our own mental health, especially if you're in a helping profession like mine for a number of reasons. The NEA states that 55% of faculty are struggling with these issues. It's hard to be effective in helping others when we're not well. That's a message I'm trying to talk about to people going into the helping profession and teaching others."
Emano was a lead panelist during a virtual presentation on Mental Health in Higher Ed. He mentioned COD's 2022 Student Mental Health Survey and explained the findings of the spring 2023 survey, which was emailed to over 10,000 COD students and drew responses from 648 students. They found 85% of students have experienced anxiety and 69% say it's caused by academics.
"Sometimes you see these behavioral changes in your students. All of a sudden they're not turning in their assignments, they're missing class, or they just don't show up anymore," Emano explained. "You'll see they're stressed out more, their tone of voice changes, they have noticeable anxiety. Especially when they may have a history of mental health issues.  It's important to pay attention to those signs and symptoms."
Emano encourages professors to make counseling referrals if they notice a troubled student. Sometimes students don't realize their issues warrant attention. A referral can be vital to notice issues and provide external care when needed.
"The sad part is I think many of our students wait until the problem gets too big, and they're too overwhelmed, and the circumstances they're in are too difficult and challenging," Emano said. "Sometimes it leads to the student having to drop the class, not enough time to improve their grade and end up failing.
Tauya Forst, a COD justice studies professor and the Higher Educator Steering Lead of Educator Voice Academies, shared her observations of students. She recently spoke to a student of hers who worked an overnight shift and then came directly to campus the next morning to attend four classes. Forst also described an alumna who had dealt with major family deaths and struggled to support her family, while studying at COD. This student reached out to Forst and eventually overcame the challenges to graduate and is now a first-year law student.
"Those kinds of things we should be aware of. Whatever success looks like for our students, we want to support them as they may encounter mental health challenges," she said. "In the same vein our professors, adjuncts, faculty, administrators and our staff have challenges. Students should be aware that these individuals who work tirelessly to service you may need grace and a little bit of break some days."
Forst implements helpful measures in her classes, such as lending textbooks to students who cannot afford them and starting each class with wellness check-ins. Other professors also recommend students to utilize the Fuel Pantry, the Center for Access and Accommodations and counseling services to deal with personal needs. There have also been departmental efforts to create supportive spaces on campus, such as the COD Library's stress-free zones. Librarian Melissa Lachcik described what activities these spaces offer, such as a relaxation coloring poster.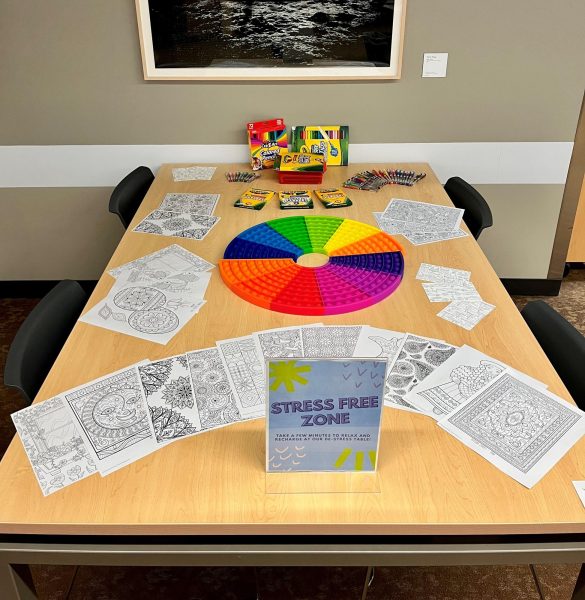 "This colorful welcome sign began as a destress activity at New Student Orientation and carried on into a collaborative effort at the library as part of the newly created stress-free zone," Lachcik said. "Everyone is welcome to visit this area by the third-floor reference desk – stop by to color a page, try out the giant Pop It, or work on a puzzle!"
The library also compiled an online database for Mental Health Awareness Month. These individual programs are pieces in a larger effort to boost resources. Many public institutions in Illinois recently received monetary help through the Mental Health Early Action on Campus Act.
"Each institution got an appropriation, a set amount based on what things were lacking in their institutions as far as the law was concerned," Emano explained. "The appropriations didn't come until this year in April. We had a limited time to use this money."
The law details four major provisions colleges should implement; awareness, training, peer support and local partnerships. Emano says these funds will increase measures COD has already began, such as giving presentations on mental health resources during new student orientation. One area of the law that COD may struggle with is the intended ratio of 1 counselor to 1,250 students. 
"Some of you are probably thinking 'That's a lot of students for one counselor.' It is a lot. Our ratio is very different; it could be reduced a bit," Emano said. "It's a challenge for an institution like COD, with what we're going through in the counseling department. We're going through negotiations and that has an impact on student services.
Emano said he wished the law also included employee needs, especially during COVID-19 when employment and financial situations were uncertain. Emano described initiatives they hope will increase access to resources.
"I try to include a workshop or two in our professional development hours that involves mental health when I get a chance," he said. "We do mental health First Aid. The Employee Development Center is working on that right now, and they're going to be promoting that very shortly.  Some of those things are available to faculty. There's also the Employee Assistance Program at COD, and from what I've heard from HR, it's really underutilized."
To bring attention to more faculty support groups, the event was facilitated by the Educator Voice Academies organization, which aims to address these faculty concerns through collaboration across different colleges and feedback from all stakeholders.
Another member of Educator Voice Academies is Jocelyn Turner, a writing professor from Kennedy King College in Chicago. She discussed how job insecurity concerns affect adjunct faculty, especially when seeking tenure.
"There was a four-year period where I was teaching from anywhere from three to four schools at a time. I taught at overall 10 institutions, for-profit, non-profit and community college," she explained. "When I think about those times, I think about how emotionally hollowing my adjunct experience was. How disconnected I was from larger institutions. I was so mentally worn down that I wasn't sure what I was capable of."
More than 64% of faculty report burnout, according to an American Psychology Association report, and the professors at the Educator Voices meeting agreed that being overworked, concerns about contract terms and lack of support are the main reasons. Turner explained how overburdening faculty worsens the overall mental health situation.
"A lot of times when you're asking faculty to help students, we're lost too, because we've got mental health issues. It's honestly very hard for a faculty, you see the institution continuously overlook your needs," Turner said. "When your students are not successful, you have to be prepared for that blame. When you look at this you have to ask yourself, 'How am I holding myself up?'"
Turner reminded the faculty that to be effective as an educator you must seek support from colleagues and develop a work-life balance. She also mentioned Senate Bill 3914, which allows full-time employees of Illinois school districts to take sick days off for mental health needs.
Near the end of the event, one of Forst's students, Almoatasim Shahbain, also expressed his support for faculty wellbeing after hearing about their hardships.
"What is the next step to address faculty members' mental health?" he questioned. "I think it's critical, and I'm concerned to hear the struggles and burnouts faculties go through. The well-being of students is from the well-being of their faculties and mentors. As students, I think we've developed this belief that faculty members are immune to mental health issues, and it's not right."
Continued collaboration between faculty and students gives hope for alleviating their concerns. Educator Voice Academies enourages everyone to share feedback though the mental health policies form and join their steering committee to help analyze the data found. To seek COD's mental health services, view their personal counseling webpage.