Part of growing up is finding something you are good at, something you learn incredibly quickly, your niche. Much like growing up, finding that niche is never easy. Like many others, Claire Valenti struggled throughout high school to find her niche. Eventually, she found her calling in sports journalism and is now a sports writer for the Courier, College of DuPage's student-run newspaper
"I never felt like I was good at anything until I found out what journalism was," Valenti said. "I started taking it junior year [of high school]. And then all of a sudden everything just fell into place. And I finally felt so relieved that I felt like I was good at something. And I want to be the best."
The Courier recently competed in the Illinois Community College Journalism Association's (ICCJA) annual conference. The conference is a two-day event where student news organizations from all over Illinois gather at Eastern Illinois University to learn from professional journalists, photographers, graphic designers and other schools. At the end of the event, there is an award ceremony for schools that have submitted work from the year prior.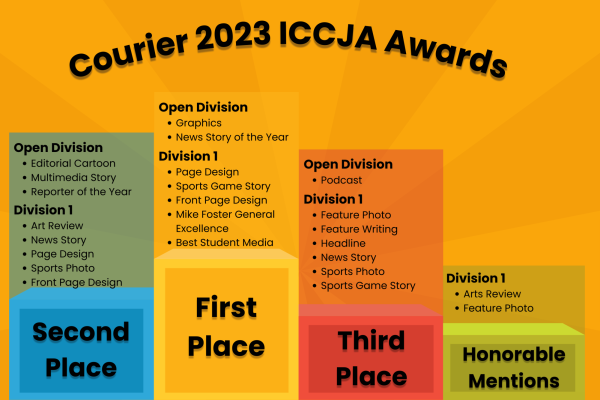 This year, the Courier received multiple top-tier awards, including first place in Open Division News Story of the Year, first place in Open Division Graphics, second place in Open Division Reporter of the Year, Division 1 Mike Foster General Excellence Award, Division 1 Best Student Media, the Best of Show award and many individual awards. Among these individual awards was a second and a third-place Division 1 Sports Photo for Courier photographer, Rachel Wagner.
"I'm really happy with how everyone performed," Wagner said. "We put a lot of effort in; we worked really hard all semester. To see so many people get awards and get recognized for their work, it was really happy to see. I'm really pleased that we got the Mike Foster Award, the best student media and the Best of Show awards. It was surreal."
Valenti also placed in the Division 1 Sports Game Story category, with her two submissions – placing first and third. Always striving to be the best, she admits that the results are comforting.
"[I feel] really good. I wonder who got second," Valenti said. "I can't complain about first and can't complain about placing twice when I submitted two and both placed. I mean, it's hard to be upset, but in my head, I'm always gonna be like, 'Who got second and why wasn't it me?' Yeah. It's hard. No complaints"
Mariyam Syed, managing editor of the Courier and recipient of the second-place Reporter of the Year award, said it was gratifying to see multiple awards were the result of a group effort. This included Syed's involvement with the first-place Open Division News Story of the Year alongside past Courier managing editor, Sarah Kueking. 
"It was just cool to see how there's a lot of group wins, and our group efforts really paid off and were acknowledged," Syed said. "I'm really glad a lot of our writers, that have been writing for a while, won awards. Especially for really strong news and feature stories that I know people worked really hard researching. It's validating to get that positive feedback from the judges and get that recognition of our hard work through winning."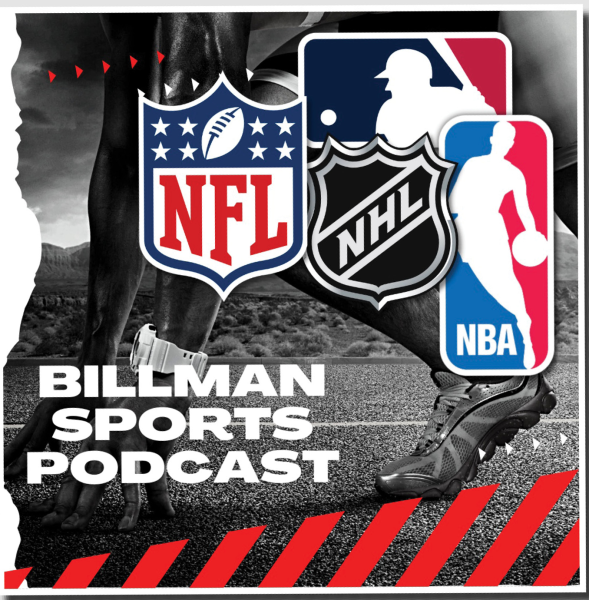 For the Courier's podcaster, Billy O'Brien, the awards are a promising step forward. O'Brien placed third in the Open Division Podcast category for an episode of his podcast "Billman Sports Guy."
"I thought everyone worked their butts off," he said. "Specifically for me, I definitely thought third place was the next step because, at the last conference, I took honorable mentions. It's just a way of telling me like, 'Hey, at least I'm I'm still getting better.' I still have ways to go, so  I just can't say like, 'Hey, I'm the greatest!' because I always try to look for new ways to be better."
Jim Fuller, Courier adviser and Mass Communications professor at COD, said that during his nine years as the adviser, he hadn't ever seen a school take the three big awards: General Excellence, Best Student Media and Best of Show. For Fuller that shows the dedication of the staff at the Courier.
"The nature of community college newspapers is that we consistently have staff turnover," Fuller said. "That means there are new people coming in, some starting from scratch, never having written anything, never really taken any pictures before, never done a podcast before. They're getting up to speed in a relatively quick amount of time. That's credited to the more veteran students on staff, people who've been here for more than one semester, who really kick in, help out, help get those students up to speed and just kind of continue to have a consistently good product."
When asked about the importance of conferences like the ICCJA, Valenti said it helps students further their experience and confidence in themselves.
"We're still writers. We're still writing stuff, and what we write is equally important as what the other colleges write," she said. "And I'm not just talking about me. Other students deserve to be recognized. And it shouldn't matter whether or not they're at [community college] or like a big institution. They should still be able to be recognized."
Syed agreed with Valenti and further expressed the importance of having student-run news sources, like the Courier, on college campuses.
"It creates a sense of community," she said. "For me personally, it's really cool to be able to talk to people that I otherwise would not talk to. You know, by having the excuse that, 'I write for the newspaper, and I want to hear your story.' I feel like that is a really great benefit."
When asked who she would thank for their support, Wagner mentioned her parents and their help during a difficult part of her life.
"I transferred here from another school. So having them support me and stuff like that through that pretty difficult time in my life [was great]," she said. "I definitely like to thank the athletic department for allowing me to have access to photographing sports."
Fuller offered thanks to the COD Administration for their support, especially when the Courier occasionally criticized their actions. 
"Let's face it, we don't always write stuff that they like. In fact a lot of times we don't because it's coming from a student perspective," he said.
In particular, he mentioned the two articles that won News Story of the Year, "Don't Cross the Picket Line" by Kueking and "Board of Trustee Meeting Highlights Faculty Concerns" by Syed, which talked about rising tensions between the administration and the College of DuPage Faculty Association. 
 "I appreciate that they are willing to ride along with us through that journey and keeping in mind that students are learning along the way," Fuller continued. "And I would also express my appreciation to the faculty and staff here who take time out to talk to students who are trying to do interviews with them and capture some of their expertise."
For Valenti, she sends thanks to her family and hopes that she makes her maternal grandfather proud.
"He died in 2020 of lung cancer. And I regret every day that I didn't take journalism before he died," she said. "So I really wasn't good at anything before he passed, and I kind of hope that somehow he sees me and is proud of me because I was like the only one of his grandchildren who didn't have anything, who wasn't like good at anything. Yeah, I hope he's proud of me. I hope my family is proud of me. I'm proud of myself."
The Courier releases a weekly newsletter on Tuesdays and a weekly print issue on Wednesdays. For more information about the Courier, please check out our website. If you are interested in writing for the Courier as a guest writer, please check out our Letter to the Editor guidelines. Any questions may be emailed to [email protected]. 
If you would like to help financially support the Courier and other student organizations, check out the Student Life donation page.