Board of Trustee Meeting Highlights Faculty Concerns
Issues about promotions and administrative support for COD faculty were addressed at the March 16 Board of Trustees meeting.
Dressed in red to represent the Friends for Education 502 committee, various professors and faculty members took to the public comments podium to voice their grievances at the March 16 College of DuPage Board of Trustees meeting. They described recent updates in the faculty's ongoing struggle for promotions and how they lack administrative support, as their issue remains unsolved, and even unheard, by President Brian Caputo or the trustees.
Their complaints arose from an incident during the summer of 2022 where a group of faculty members who applied for promotion were stopped by administration. This caused full-time Professor Robert Moorehead and six of his colleagues to file appeals with the Faculty Administrative Review Board (FARB).
"Never had so many faculty appealed at the same time," Moorehead commented. "This should have been a sign that something was amiss in the promotion process."
FARB is an organized system for faculty to voice their concerns with any administrative decisions that may disrupt their responsibilities and privileges as educators. This appeal and negotiation process is a right guaranteed to faculty in Section E3 of the contractual agreement between the COD Faculty Association and the board of trustees.
For the next nine months into the fall semester, the review board and the six faculty members worked to hear testimony and compile a report on how the rejected promotions were a violation of union agreements and the board of trustees policy. Administrators and faculty on the review board unanimously agreed on this equity report.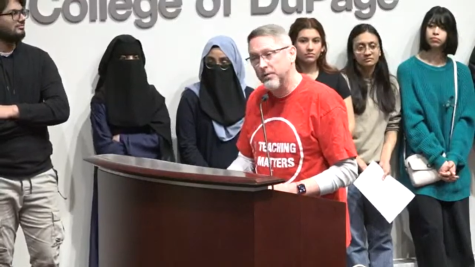 Diane Gryglak, a full-time faculty member for 15 years, described the work the review board did over the course of nine months on the promotion grievances.
"All six voting members [of FARB] agreed on the equity document, which outlines some of the inequities that occurred and makes recommendations for improvements in the future," Gryglak said. "The recommendations can be implemented without any contractual changes."
Gryglak also described how she and many other faculty members tried to set up direct meetings with President Caputo to express the issues, yet they were rejected and told to ask their union leaders instead. They also tried to set up closed session meetings with the Board of Trustees, but never received a response.
"This inaction was deeply disappointing," Gryglak said. "Union leadership did meet with the president, but their efforts were also rebuffed. This was not my only attempt to meet with the board. Back in December, I wrote to each member of the board asking for a meeting, as is my right. Not a single board member responded to my email. I'm left with no other choice but public comment."
After 10 months of work, the faculty received preliminary findings from the administration in December 2022. By February 2022, the review board issued a recommendation to Caputo, who had 10 days to respond. Caputo instead rejected the report, on the basis that the review board requested the meetings too late.
Moorehead stated that it was unreasonable for Caputo to reject the review board's equity report.
"This petty dispute between President Caputo and FARB is harming faculty," Moorehead said. "While the president debates with FARB about whether its meetings were actually meetings and which recommendations were its final recommendations, faculty are left on the sidelines. We get denied an opportunity to meet with [the board of trustees], because the president retroactively decided the timeframe for us to meet with you ended one month prior."
Meanwhile, the faculty who were awaiting updates on their promotion applications are left in the dark. Moorehead mentioned they were told any new changes to the promotion process should be negotiated in the new year's union contract.
"As this process has dragged on and on, faculty who have been here far longer than I have appraoched me and commented that they have never applied for promotion because they don't trust the process," Moorehead stated. "That shows this broken process is harming both faculty and the college as a whole."
Gryglak appealed to the board of trustees to give attention to the equity report made by the review board and to resolve the dispute between the faculty and the administration.
"To disregard this document is a disservice of FARB, to the effective employees and everyone going forward who can benefit from their work," Gryglak appealed. "I urge President Caputo and the board to recognize the work of FARB and to support that equity document, especially to the current face committee."
The other faculty members at the March 16 Board meeting communicated similar appeals for the board of trustees to deal with the promotion process issue. They were gratified with a small win at the board meeting, where four professors were newly recommended for tenure.
David Goldberg, president of the COD Faculty Association and a full-time political science professor, congratulated the four professors recommended for tenure. He described it as an investment by the rustees into the value of education COD can provide to students. However, in recent years, the number of faculty who have been tenured has decreased, which Goldberg and the other professors expressed concern about.
The Vice President of the Faculty Association, Elizabeth Arnott-Hill, also provided public comment on the matter. She is a full-time professor of psychology at COD and has been an educator at colleges for almost two decades.
"We have core discipline, like math, which is down approximately 10 positions from a decade ago," Arnott-Hill said. "At the same time, faculty are being asked to do more work outside of the classwork, often in the name of student success."
She referenced how it is professors who organize important educational resources, like new programs and certification, community outreach programs, field studies and student clubs. This work supports students and attracts community members to COD, yet the faculty believe they are not being supported to properly uphold these programs.
"As our ranks diminish and our workload increases, our ability to engage in this high-impact work is restricted," Arnott-Hill mentioned. "It is imperative that our numbers remain adequate to serve our student population directly."
Goldberg also added how there have been four retirements from counseling since 2018, yet there are currently only two full-time counselors serving the entire COD student population. Even as student mental health and wellness receives attention through on-campus events and is in demand by students, it puts an unfair burden on the few counselors, Goldberg said.
 "COD received in excess of $20 million in state and federal assistance to help during and after the COVID epidemic," Goldberg said. "It can be addressed by devoting the required existing resources to strengthen the faculty who exist to serve the needs of students."
Sarah Butler, an associate professor of psychology, also made a public comment about how COD's administrative environment would benefit from more consistent faculty positions. 
"The pervasiveness of contingent and interim positions demonstrates that stability is not being prioritized," Butler argued. "We need faculty, staff and administrators that are stable enough in their position that they can take time across semesters and years to deeply investigate and refine their innovative ideas."
Butler also asserted that the COD administration shifts from issue to issue too quickly to allow a stable, long-lasting system to be set up.
 "We need to design initiatives that are implemented in multiple-year commitments and built-in checkpoints for data analysis and methodological improvement," Butler said. "Deprioritizing stability does not promote a strong education."
To learn more about issues affecting COD faculty and students, the full Mar. 16 Board of Trustees meeting can be viewed on the College of DuPage YouTube channel.