Artist Pedro Gramaxo Installs Wooden Sculpture in COD Prairie
Pedro Gramaxo was the spring 2023 Artist-in-Residence at COD, where he installed a temporary wooden sculpture in the prairie as part of his Dimensions series.
An expanse of dry tallgrass sways in the prairie, interrupted by a dark, wooden structure. This art piece was temporarily installed for public viewing during the last week of April by artist and photographer, Pedro Gramaxo. He joined COD students from classes like Sculpture 1, Color Theory, Drawing 2 and Photography, as the Community Artist in Residence. Based in Portugal, Gramaxo has a global reach with art exhibits in countries as far apart as China, Iceland and Brazil. Gramaxo ventured into the Ecological Study Area prairie with the art students to observe the landscape and plan the installation of his latest sculpture.
It is part of the Dimensions series of art installations, which can be seen on his website, pedrogramaxo.com. Most of his sculptures are installed in lush landscapes as varied as his travels. Gramaxo creates unique perspectives in his visual art by contrasting nature's organic shapes with his rectangular, hardline sculptures. The works on his website go back to 2014, and the newest photo may look familiar to some.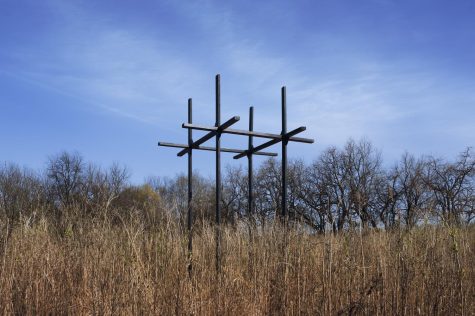 The sculpture is called Dimensions #6. It is made of black wood and resembles a garden trellis, with four long beams that stand straight up like legs. An open canopy of wood beams intersects the legs in a square. The sculpture imposes on the soft brownness of the dry prairie all around it. It cuts sharp, bold lines through the barren trees on the horizon and into the cloudy blue sky above.
Gramaxo literally built the sculpture by hand, drilling the top cross beams of his sculpture at a perfect right angle. With a Master's degree in art and architecture, Gramaxo is a practiced hand at carpentry. In a 2022 interview with the Art Connect magazine, Gramaxo explained how his education helps with the construction and woodwork of his three-dimensional art installations.
"I am very glad I was educated and introduced to many different media, cutting edge materials and constructive processes, and now, I am independently developing all of my projects with no technical limitations," Gramaxo described. "Here is where the importance of my 'site-specific' approach started to develop, and also, where the new chapter of different and unconventional art contexts emerged."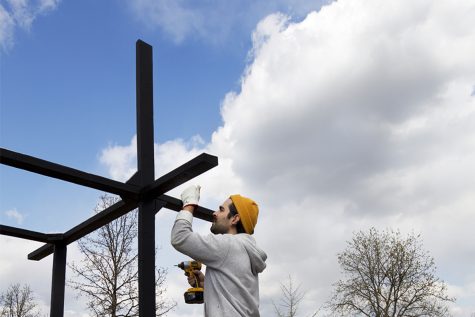 Gramaxo describes his art to be site-specific, meaning that each sculpture is influenced by the landscape and history of the place where it's installed.  Dimensions #6 represents the intersection of Chicago skyscrapers and Illinois prairie land, which is why he first studied the geography of the Great Plains.
"In COD, I had the opportunity to talk to the Prairie Manager Anna Bakker and Art Professor Janice Marin, who both enlightened me on the anatomy and unique soil importance of the prairie tall grass, which I had never seen before," Gramaxo said. "Its size, colors and configuration were important in creating a very American scenario with my piece. I want people to be able to instantly identify the elements in my photos as site-specific and seasonal. So, in my artworks, both the sculpture and the site where it was installed are a representation of Chicago."
During his Artist Residency, he guided students to interact with the landscape and let nature influence their art, whether it's photos, paintings or even clay moldings. Gramaxo's own photography heavily features different types of natural biomes. The diverse topography, vegetation and environmental features of these assorted landscapes are an inspiration for Gramaxo's artwork.
"The term 'assorted' implies that this selection of works is diverse," Gramaxo wrote in his statement about Dimensions #6. "Each artwork and each student depicts in its own personal point of view, the aesthetic value, beauty and diversity of the natural campus reach of College of DuPage, through their own artistic practice and statement, gathering a 'landscape archive.'"
The sculpture also draws inspiration from Chicago architecture in the robust rebuilding period after the Great Fire in 1871. This historical inspiration is described further in Gramaxo's artistic statement about the Dimensions #6 piece. It includes an explanation by Juan Blasco, an artist and photographer, who often works with Gramaxo. Blasco described how the shapes of Chicago skyscrapers influenced the installation's design. 
"Just like the greatly detailed iron structures or 'skeletons' that were the backbone of the new high-rising buildings in Chicago and all across the big metropolis of the U.S., the artist (Gramaxo) created these black linear shapes formed from the ground up as a sculptural mimicking of these complex structural works," Blasco wrote. "The 'incomplete' projected lines arise a question of boundaries, time, and the overall concept of limits, such as physical or metaphysical. The work is expected to grow, just like an urban construction, but it was developed as a temporary intervention, leaving the spectator hanging in the threshold of physical memory."
Gramaxo's Dimensions series is meant to test the viewer's perceptions of the space they are in. Blasco wrote how it makes the viewer feel lost and uncomfortable to see the artificial and temporary structure that contrasts with the everlasting natural landscape around it.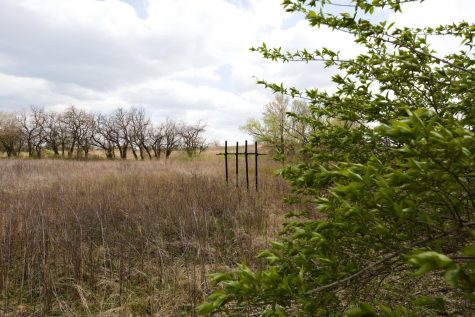 Another aspect is the dissonance of the three-dimensional sculpture when seen in a two-dimensional photo. From certain angles, the sculpture could appear to only have two legs, instead of four, which causes the viewer to challenge their perceptions of its shape and size. Gramaxo's creative process to convey these dimensional questions goes far beyond the sculpture. 
Gramaxo also created his own unit of measure, Mx, short for matrix, for his past Dimensions Series pieces. In the artistic statement published in the Contemporary Identities online exhibition, Gramaxo and Blasco wrote about how humans can add meaning to their physical spaces through abstract concepts like measurements.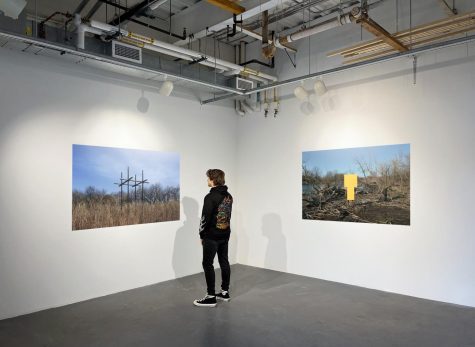 "On his photographs, we see geometric expressions such as: linear and rectangular forms placed in an unknown location, without almost any scale reference," Blasco writes in the exhibit statement. "These images force us to think about these abstract concepts that we were talking [about] before and have been guided by, for so long."
Using these dimensional illusions, Gramaxo intends to convey the interaction of Chicago's human-made architecture with natural spaces. The Dimensions #6 sculpture was one project he did with the help of College of DuPage art students. To view more information about Gramaxo's Community Artist in Residency, view the Cleve Carney Museum of Art website. To follow Gramaxo's future art projects, visit his website or Instagram, @pedrogramaxo.