Using experiential education to define your own future
Are You Asking Yourself The Right Questions?
Joey Weslo, General Assignment Reporter
December 6, 2018
And so we wander the halls searching for answers, failing to see we've been asking the wrong questions.
There's a precipice of vulnerability to overcome, and then suddenly, the questions align.
For Speech Professor Marco Benassi of College of DuPage, one pivotal moment awakened what had been missing from his life as a student. While attending COD, Benassi walked into Professor Frank Tourangeau's speech class and discovered the life direction he'd been seeking. The questions started making sense.
"For the first time in my life, I felt a teacher truly valued me," said Benassi. "This moment of clarity inspired me to believe in myself. I see so many students waiting for this moment of inspiration to be lit within them.
"(Tourangeau's) energy and passion in the classroom was infectious. When I asked to join the speech team, he took a personal interest in my growth. It seemed he cared more about my success than his own. His faith made me believe and trust in myself and my life has never been the same."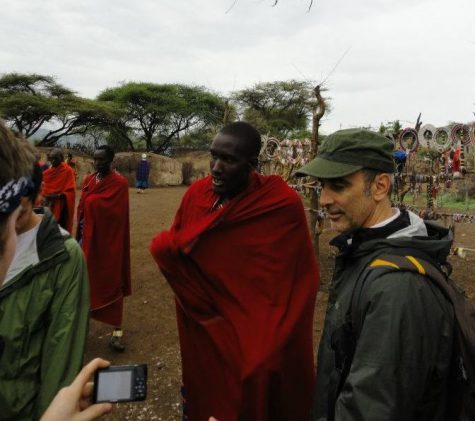 Tourangeau's guidance helped charter out a direction that eventually led to Benassi teaching in the same place where he originally found inspiration. He credits Tourangeau for teaching him the importance of valuing every student.
Benassi has become an avid proponent of experiential teaching, breaking students out of the parochial traditions of strict classroom education. He endeavors to bring innovative techniques to his speech and film courses, as well as provide students experiential destination experiences ranging from Tanzania to the Rocky Mountains.
Teaching the lessons he's learned from his studies and his time running seminars for high-level corporate executives on presentation skills, sales and negotiating techniques, Benassi understands the barriers that must be broken down to form an empathetic dialogue.
"The warmth in your eyes, the tenor of your voice and the sincerity in your engagement show you value the listener," said Benassi. "There's no communication technique to overcome sincerity; you can't fake being real. When someone is communicating with you spiritually, you can tell there is no place in the world they would rather be than sharing with you what they believe. Communication highlights what makes us different and unique. If you spend enough time, you can bring out the essence of who people truly are."
Utilizing these techniques, Benassi stressed the importance of teachers keeping students active in the moment. He believes creating a sense of academic urgency and immediacy establishes an environment where students feel constantly engaged with the material.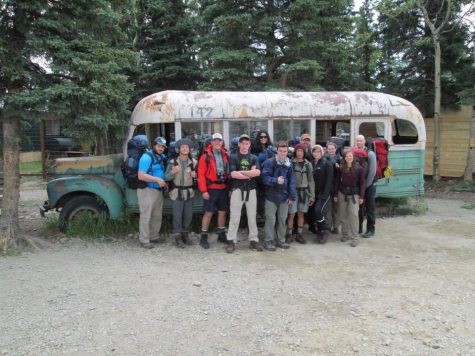 He likened the arrangement of traditional classrooms to prison-cells trapping students in rows, forcing them to listen to a droning lecture for hours. He believes this prohibits interaction and connectivity from forming cohesive dialogue between students and the teacher.
"Why do we keep students in rows and why does the teacher stand before them?" asked Benassi. "This places the teacher in a position of power. By reworking the desks and placing students in a circle, you are equalizing the authority and people's value. It ensures students everyone is free to participate equally.
"We try to shove so much information down our students' throats, and it's hard to do this in an environment of inequality. In a regurgitation type of education, teachers are spitting out information at students, hoping they grasp the material. However, studies have shown that lecture is the worst form of education and prevents teachers from reaching their students."
Benassi believes teachers should become less predictable, keeping students in an air of anticipation. Environments need to be created where students can parallel their own lives and experiences with the material in the course. Students' own passions and questions about the world can be utilized to bring the curriculum to life.
Benassi is tired of hearing students say they are in classes for no specific reason, or they are just trying to reach the requirements for their degree.
"We as educators have to do a better job of showing how crucial the courses' lessons are to students' own lives," said Benassi. "We need to encourage students to want to be there, not feel they have to be there.
"Students are constantly asking themselves the question 'why?' More often than not, why they are in the classroom is because they are suffering for the future. They become blinded by pursuit of a degree without questioning 'why?'"
He believes neglecting unengaged students is a short-sighted way of teaching. By providing students responsibility and leadership roles in class, students can leave feeling empowered and confident.
Part of dismantling this wall of indifference is breaking the repetitious lecturing cycle. Benassi points to this stifling environment as the crucial reason for bringing students out into the real world. On these excursions, they can explore the questions they are asking themselves.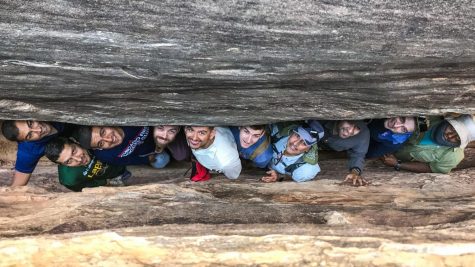 Benassi believes every student should experience a study abroad program, an experiential course or a field study.
"The wonderful thing about teaching experiential classes is every environment provides unique metaphors relating to the lessons," said Benassi. "When climbing a mountain, or crossing a river, we can relate to pursuing goals and difficult transitions in life. We can use the metaphors from our wilderness experiences to understand how to process similar situations back in normal life."
His experiential courses have taken students from museums in Chicago, to Michigan and Wisconsin teaching problem solving techniques, performing speeches on location and collaborating on group initiatives.
Benassi has taught interpersonal and small-group communication courses in Hawaii and next spring will take students to Costa Rica and Kauai. Students will kayak and hike volcanoes, all while learning the techniques of speech and communication.
A literary landscapes course he taught brought students to the United Kingdom and Ireland to read novels, poetry and plays in the locations where writers like Shakespeare, the Bronte sisters, and James Joyce first caught the divine spark of inspiration.
From Alaska and Cuba to Africa, Benassi described these voyages as transcending, providing life-long memories for both students and teachers.
Benassi recalled his group communication course in the Canyonlands National Park, Utah. He described hearing military veteran students sharing their powerful deployment experiences as being particularly emotional.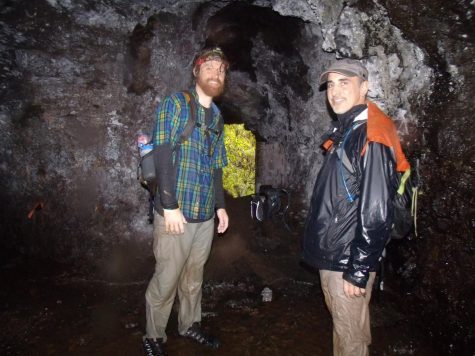 "To see them realize they have brothers and sisters here at COD who understand what they've been through is moving and rewarding," said Benassi.
COD student Lindsay Piotter found Benassi's interpersonal communication course in Kauai as a challenging effort to better understand herself and the world around her.
"He helped us look inwards and ask questions about ourselves. I asked, 'what type of a person am I?' How do I become a better one? How do I open myself to the world and others?" said Piotter.
She credited his talents of making each student feel important as motivating and inspiring her to explore.
"I better understand who I am now. He made it feel possible to take a step that's different and unique in life. I felt I had the guidance to put myself out there and find my self-confidence," said Piotter.
Benassi believes unique experiences like study abroad programs in places like China draw us out of our American bubbles and provide new outlooks on our place in the world and how we can find understanding between cultures.
"Being raised in protective bubbles, many parents fear their children are going to be exposed to other types of people and perspectives," said Benassi. "However, this is the real beauty of education. It breaks down these protective traditions. You meet people of different cultures and different faiths, and you no longer have just a media representation or stereotypical viewpoints.
"Communicating with students of different sexual orientations, age, race, religion or students with disabilities, enrich and enlighten students. This helps dismantle the hatred in the world. All the hatred is based on ignorance and a lack of understanding other cultures or people who are different from you."
Students are taught about sustainability and how empathy can bridge the differences between cultures. They learn how different cultures communicate and what traits of human interaction are universal. 
"Speech is about how you process thoughts internally and then share them with another, said Benassi. "How can you cooperate in a team environment and participate with family and friends. How do we as human beings understand ourselves? How do we understand each other?"
Benassi believes as students are coming-of-age and trying to overcome their vulnerabilities, speech brings understanding of who they truly are. He believes the courses are a pivot to reflect on self-identity. It provides students the opportunity to question what defines their personality.
"How does the way you were nurtured and the environment you came from contribute to how you behave, or what you believe in?" Benassi asked. "Once you realize who you truly are, you can ask, 'who do I want to be in the future?' Once students feel this connection through the course material, they start making conscious decisions about who they want to become. They can fill their lives with greater purpose, intention and focus." 
He believes parallels exist between lessons learned from speech and studying the dialogue and communication in the film studies he teaches at the college.
"Film allows us to examine portrayed conflicts and relationships that often mirror our everyday lives," said Benassi. "You can study the movie's tone and look within yourself to better appreciate the tone and way you are living your life. Are you happy with how your life is taking place? You are the director of your own movie. You have the power to make the changes."
Benassi constantly wants students to question why they are doing what they're doing. He believes defined goals and aspirations can help frame this question and provide a measurable chart for what progression we are making or failing to make in our lives.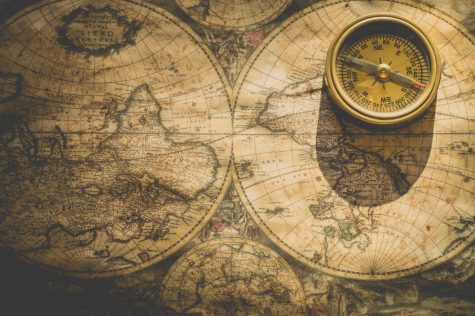 "Vision can help define our self-worth and provide us with practical and external needs," said Benassi. "Human beings must constantly ask themselves, are they in pursuit of the more external needs, or does self-fulfillment come from the more intrinsic values. Everyone has a different definition of what happiness and fulfillment means to them.
"Over the years, I've learned as a teacher that getting students to think about these questions and attempt to define their futures, fills me with the deepest sense of personal fulfillment."