17 Countries in One Place: Washington as the Meeting Point
Over winter break International students part of Community College Initiative Program had the opportunity to meet each other in person and listen to different successful stories.
Winter break was the first time all Community College Initiative Program (CCI) students had the opportunity to meet each other in person and to learn more about their cultures, backgrounds and countries while sharing ideas and personal experiences.
The 161 students participated in the Pathways to Success Program (PSP), which took place in Alexandria, from Jan. 8 to Jan. 11 and continued for two additional days in Natural Bridge State Park in Natural Bridge. This event was organized by Northern Virginia Community College (NOVA) CCI staff.
Sara Mohamed, the assistant director of the CCI program, said planning events like this is a team effort and that they must plan everything in detail such as speakers, places to visit, transportation, cultural activities, hotels and meals. But not everything will go as planned, so they must weigh their options and decide on what is the best for the group.
Students had the chance to hear success stories from many people and professions during the event, which will help them identify their paths and determine who they want to be. 
Jennifer Johanna Alberthin Masumbauw, who is from Indonesia but now studies at Kirkwood Community College, located in Iowa, said this program helped her pursue her dream by using her potential and strengths.
"My favorite was Andy Stoll from Leadership Development, because the topic was so related to me and how I found my own way to be successful," Masaumbauw added.
Andy Stoll is a senior program officer at the Ewing Marion Kauffman Foundation, and Buey Ray Tut is the executive director of Aqua-Africa. Both are social entrepreneurs who talked about how they work and what challenges you will face if you choose this path. They talked about their organization and how they try to find solutions for different problems through their work.
One of the goals of the pathways program was to build networks between participants and with speakers. Having those connections will bring to life other programs and organizations that, in the future, students can create and work on together from their countries.
Ismael Adedoyin, a student from Ivory Coast (West Africa) currently studying at Northampton Community College, in Pennsylvania, said that from this program he gained knowledge, found answers to questions, and had the opportunity to create networking with others that will help for future purposes.
"The pathways to success Program is a great idea for international students, because it allows them to come together to learn new skills and know each other and network together for the future purpose," Adedoyin said.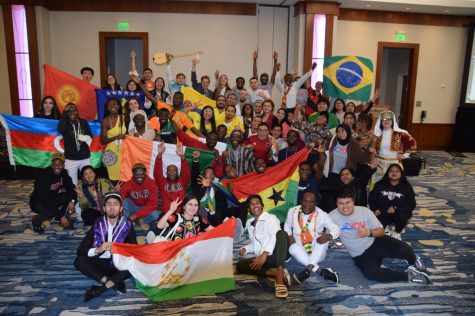 When you can ask people in person about the meaning of the tiniest aspects in their attire and briefly experience their perspective on things, it is quite different from watching a movie and observing how people dress in various environments and how they dance, sing and live their lives.
On "Showcase Night" where each college gave a presentation of dances, singing, and videography in a unique way, they taught and learned about different countries. Some students were dressed in their traditional attire.
On this journey, students had the chance to live their dream and walk inside the halls and offices of the White House.
Mohamed explained that the application for visiting the White House is done through a senator's office. The process takes a few weeks, and it is not always guaranteed.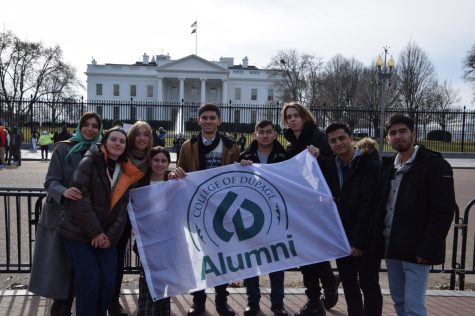 "Visiting the White House has been on my list of American dreams since I was a kid," Masaumbauw said.
Another part of the program featured speakers who told their stories, their ways to achieve what they have now and how they went through difficult times, but that's not a reason to stop and give up.
"The program includes different sessions that focus on professional development, leadership skills and global topics. The speakers are selected based on their expertise in these areas," said Mohamed.
Victor Albisu, owner of Taco Bamba, talked about how students can find their path to success no matter how difficult it may be, and all they need to do is focus and not forget their purpose.
Megan Fromm of the National Association for Media Literacy Education gave a presentation about how students can determine whether news stories are true or false and how to be more cautious when using media.
Paul J. Fischer, senior technology adviser from the U.S. Department of State, talked about the game "Cat Park" that they created to help people define what is propaganda and disinformation.
Adem Bislimi is from Kosovo and now studying at College of DuPage and his feedback for this event was one that Mohamed highlighted:
"We live in the age of the internet and connection, and I am grateful for it but I don't remember the last time I was able to connect with people in person like I did during PSP. I guess you can say that I re-learned how beautiful it is to form friendships in this fast but unique way that will last for a long time. I know for sure that the people that I met will always help to inspire and give me ideas, feedback and advice in the future if I need to," said Bislimi.
Every speaker had an impact on how the students felt or imagined their futures; it is more credible to hear about someone who accomplished amazing things while following a similar path. 
 The CCI program is not going to help students just for the time that they are in the United States, but it's going to be a plus on their resumes when they apply to companies for years to come. The stories of what some of the alumni are doing now can prove this, and they participated during PSP and shared their paths following graduation. It was difficult for them to return home and start over until they found what they wanted to do with their lives. 
Gomolemo Mohapi, a previous CCI student who is currently employed by Microsoft as a Cloud Advocate, said that being asked to share his journey made him feel honored. Now that so many people are aware of his journey, he is feeling more motivated and responsible to keep his accomplishments.
"Gomolemo is such an inspiring person to listen to and learn from obviously. He is a living proof of the CCI and the reason why we should always believe in ourselves," Adedoyin said.
Mohapi, explained what helped him to stay focused and achieve his goals.
"Planning: I broke up my goals into smaller, achievable steps and created a plan for how to reach them. 
Consistency: Regularly taking small, consistent actions towards my goals lead to significant progress over time. 
Persistence: I tried my best to never give up – even when faced with setbacks or obstacles. I managed to stay focused on my goals and kept pushing forward. 
One that I absolutely love is having a positive mindset: A positive, growth-oriented mindset helped me see challenges as opportunities and kept me motivated," Mohapi said.
This year's Community College Initiative Program (CCI) includes 161 students from 17 countries across 9 colleges and 10 campuses. 
The program provided an opportunity for students from around the world to come together and study, interact, discuss and collaborate.