Youth in Detention Empowered by Theater Group
Producers of the upcoming docudrama "Remember Our Names" discussed how youth in the juvenile detention system transformed their lives through a theater program.
"Remember our names," three voices demand in unison, before naming themselves. "Anthony, Bobby, Jamell."
Their lives are portrayed in "Remember Our Names," the docudrama series based on the real lives of two Black men and one Hispanic man from Chicago in the 1990s. They were locked in juvenile detention for separate first-degree murder charges and waited almost four years to go to trial. Anthony Wilson was acquitted, Bobby Mauricio's sentence was reduced to second-degree manslaughter for which he served a short sentence, and Jamell Dorrough took a plea bargain for 20 years.
While still locked up as teenagers, they joined a prison theater program and produced multiple plays, which they performed for audiences of judges, lawyers, officers, inmates and their parents. It was through the trio's dedication to the theater group that they found purpose while in detention and eventually distanced themselves from their gangs or past crimes.
That same theater group that aided them in detention is now creating the series "Remember Our Names" based on the lives of Wilson, Mauricio and Dorrough. It is Storycatchers Theatre, which helps juveniles in detention to communicate their life experiences through writing and humanize themselves to audiences. Storycatchers Theatre performed at the College of DuPage in 2018, which the Courier covered. 
The Temporary Lockdown Program was founded by Meade Palidofsky in 1990 as a writing and theater program for youth in the Juvenile Detention Center in Chicago. Palidofsky said the program is an important method of helping the juveniles.
"When you're writing the play, you're really thinking about yourself, your life, your relationships, the environment you live in," Palidofsky explained. "It's an opportunity to use the play to think about your life and change it. It also creates empathy to step into other people's stories."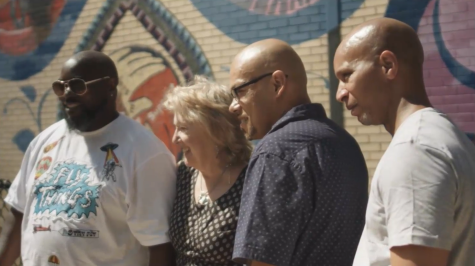 She described how the teens came to rely on her for support through the program.
"We did a show, and I didn't go back for a week," Palidofsky recalled. "When I came back the kids said, 'Where were you? We thought we'd never see you again.' They had already started writing another play, and I realized how important it was. I was really drawn to the kids there because there were not that many opportunities [for the kids]." 
After collaborating with juveniles in the writing programs, Palidofsky often became a character witness in their trials. Her support showed the judges there was at least one person to vouch for their life beyond the crime they were charged with. Through the decades of their detention, trials and post-release, Palidofsky continues to be a mentor and ally for many of the juveniles, including the trio portrayed in "Remember Our Names."
Palidofsky is one of the executive producers of the series, and she spoke to COD students about the docudrama at an exclusive viewing event in the Homeland Security Center's Mock Courtroom on May 3. Co-producer Anthony Wilson also spoke to the students about his experiences, as one of the men whose life the docudrama is based on.
The docuseries is divided into three chapters. The first chapter, titled "We Were Just Kids," gives a view into the trio's childhoods. They were each in gangs that gave them support in the face of difficult home situations, such as Anthony Wilson's mother addicted to crack cocaine and Bobby's abusive father.
The second chapter shows how they got involved in gangs and crime that led to the murder charges. One of the boys, Bobby Mauricio, was involved in a gang confrontation while in a car at the Puerto Rican Day Parade. He recalled rival gang members flashing the pitchfork hand sign, and his friends returning their own gang's crown hand sign. This led to a conflict, and in a moment of desperation, Mauricio shut his eyes and shot at his rivals. Wilson was the only one who was found innocent of his crime and acquitted, though he described the harsh interrogation and forced confession he faced before that.
The third chapter concentrates on their time in the Juvenile Detention Center, where they met each other and organized the "Temporary Lockdown 5" play together. Wilson described how he used to be a respected leader of the Vice Lords, facing the false murder charge but determined not to go to prison. This goal grew stronger when he joined the theater group and dedicated himself to playing three characters in "Lockdown 5" with other inmates. The teens spent all their time writing scenes for the play. Bobby Mauricio and Jamell Dorrough would often pass the script to each other through a hole in the wall dividing their rooms.
"Before the theater program came in, all we had to do was gang bang in your section," Wilson recalled. "As time went on, I started telling people I don't want anything to do with the gangs. I don't want to mess up my opportunity to be in the show… When you start seeing someone who really cares about you and gets you to focus your mind on the things you can do to better yourself, you start to change."
With renewed hope after joining the theater program, Wilson sought out an attorney and went to trial, where he was acquitted and finally able to go home at around the age of 17. 
Wilson pointed to the theater program as a big reason that he was able to grow above the challenges of his teenage life. He went on to raise a family, and the emotion in his voice was palpable as he described the accomplishments of each of his children. Wilson now works as a surgical patient services assistant at the University of Chicago Medical Center and also records music. "Remember Our Names" features a song recorded by Wilson and his teenage daughter.
"You should remember my name because of the struggle I went through, the things I had to endure," Wilson said. "I want people to remember the fact that Anthony Wilson at 13 was charged for a crime he didn't commit and almost spent 45 years in prison for it. Remember that name when you have some of these kids out here given long sentences, then forgotten and thrown away. They are somebody. I was somebody, and look at me now."
Wilson's life journey displays the importance of learning and self-development opportunities for youth in detention. This is an important lesson for criminal justice students at COD. Their professor, Stacie Haen-Darden, described what a unique opportunity it is to have the Storycatchers Theatre members communicate this message. The members working on "Remember Our Names" include co-producer Cydney Cleveland, who has been working with juveniles in the Storycatchers Theatre writing programs for almost two decades.
"Meade and I have been collaborating for about 10 years," Haen-Darden said. "When she mentioned that she was creating a docudrama, I knew this would make an impactful educational event. Hearing from individuals who work with youth, like Meade and Cydney, or who have been in the juvenile justice system, like Anthony, helps the students in my classrooms engage with course material at a much deeper level."
Dani Ramirez is a student majoring in criminal justice at COD, and she is taking the juvenile delinquency class with Professor Haen-Darden. She described why she felt it's important to hear from people involved in the system.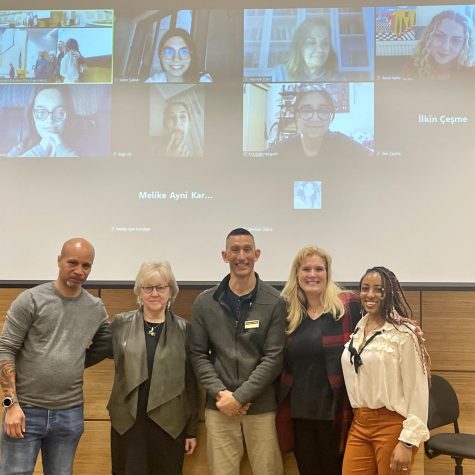 "For many, including me, it's crazy how similar some stories are to us but how the outcomes are very different," Ramirez said. "What I liked is that the person with the experience gave their perspective, because I feel like that's why many have these ideas on juveniles, but they don't hear the perspectives of the juveniles to be able to understand. More events like these could help improve the juvenile system and how it could change for the better."
Before the discussion, students studied the history of the "Tough on Crime" era that heavily criminalized minorities. Palidofsky described how over her decades of work with people in the justice system, she has observed many first-time youth offenders being charged as adults, stripping them of their childhood and sometimes their constitutional rights. This is what is at the center of the "Remember Our Names" docuseries.
To view other projects and the positive impact of the Storycatchers Theatre in Chicago, visit their website. For further information about the progress of "Remember Our Names," contact Meade Palidofsky at [email protected] or on her Instagram page, @palidofsky.