Yoga and the Power of Presence
As a new semester starts and to-do lists pile up, it's worth discussing how to slow down and be present.
In a rented room in Oakbrook Terrace, Sakina Khan tells her students they're going to focus on detoxifying the mind. She encourages them to allow themselves to leave their daily worries behind as they get in touch with the flow of their breathing and bodily movements through an hour of evening yoga.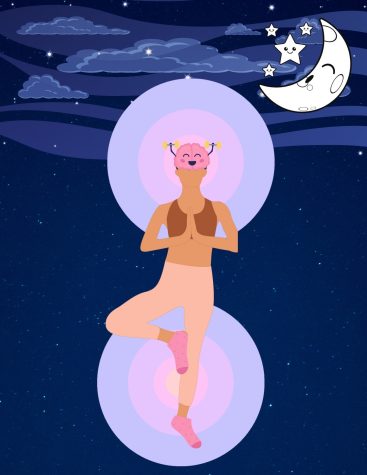 Early evidence of the practice of yoga can be traced back to ancient South Asia. So how is it that in a suburban Chicago fitness studio in 2022, the goals of yoga still resonate? Khan, a COD alumna and junior at Elmhurst University, instructs a once-a-week women's yoga class and shares the effect the practice has had on her life.
As a teenager seeking a form of exercise, she first became interested in yoga through YouTube videos. It was about three years ago that her sister passed away and her aunt recommended a yoga class to Khan and her mom to give them something to keep them occupied. After a three-week trial they were sold. They purchased memberships and started attending multiple times a week.
"Yoga helps balance your mind as well as your body," Khan said.
One of the outcomes of yoga that she found especially valuable was how it made her aware of the flow of her breathing.
"Taking a deep breath in just sitting at my desk, like maybe when I'm overwhelmed," she said. "It helps me to take things one step at a time." 
Amanda Barrell, in an article in Medical News Today, explains how mindful breathing is a medically recommended coping mechanism for anxiety. Regulation of one's breath has the power to induce calmness by slowing the heart rate. Barrel explains how to settle into a focused, steady breathing pattern until starting "to be aware of how the body and mind feel."
Khan learned this and more from the instructors at her studio, and when her cousin who taught a small weekly class wasn't able to come in one day, she asked Khan to step in. The gym approved her as a substitute because they knew she was well versed in the practice. She subbed a few more times until the end of her cousin's time as an instructor.
 "I was still interested in teaching," Khan said. "I really enjoyed teaching it and getting feedback from people and seeing how it changed them. And I just decided maybe I could rent a gym and then teach my own class so that I have more flexibility."
Once she built a clientele of her own, one of the things they appreciated about her class was the intimate environment. Many of her clients are Muslim women who dress modestly in public, and Khan's location offers them a private place to exercise comfortably. She also sets the atmosphere by dimming the lights and playing gentle music. She uses essential oils that engage the senses and help keep focus on immediate surroundings, uniting the body and mind. 
For each class she chooses an intention, such as centering the mind, and incorporates poses that help her and her students achieve that. A reminder she uses in class that resonates with her is to be where your feet are standing. A self-help book published by Scott O'Neill in 2021 titled "Be Where Your Feet Are," popularized the quote, which was embraced by various people, including some yoga practitioners, but the idea isn't new. It echoes the ancient goal of seeking harmony with the universe, which yoga is meant to be a vehicle for.
"I think honestly anyone can benefit," Khan said. 
In her classes, she demonstrates poses expertly while describing alternatives for students who don't yet have the flexibility or core strength to do them exactly as she does. She says there are so many options in yoga that anyone interested, regardless of age and gender, can find something for them. 
"Noticing where I am and my surroundings and being present in that moment…it helps me to stay present outside of when I'm doing yoga," she said. If someone really allows it, Khan says, yoga can promote change in different areas of one's life.
Potential students can find more information at www.instagram.com/sakinasyogaclass. Khan is donating 10% of proceeds this month to Pakistan flood aid.