There's A "Chance" We'll Avoid A Recession, Says President Of The Federal Reserve Bank of Chicago
President of the Federal Reserve Bank of Chicago said an increase in unemployment is expected while the Federal Reserve works to reduce inflation.
The only way to reduce inflation is for more people to lose their jobs, said Charles Evans, president of the Chicago branch of the Federal Reserve, during recent public remarks.  When asked whether the Federal Reserve will be able to control inflation without bringing the economy into a recession, Evans said he remains optimistic. 
"That's my hope. I think there is a decent chance," he said at an economic forum at COD last week. "But I think when you're raising interest rates as much and as expeditiously as we've been doing, you know, you have to be nervous that something is going to break in a way that you just currently don't see."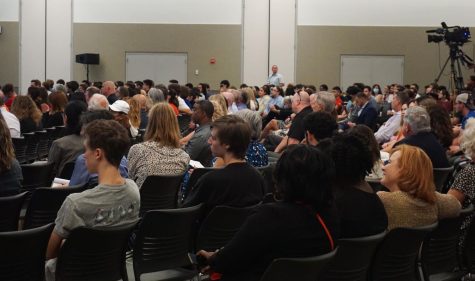 Evans spoke about the state of the United States economy and what conditions will result from the Federal Reserve's actions to bring down inflation, which is currently around 8%, the highest it has been in the past 30 years. The Federal Reserve aims to bring this down to 2%. Evans said an increase in unemployment will be a consequence of the Federal Reserve's plan to reduce inflation.
"Inflation right now is job one. We don't want to take actions against the economy or the labor market that are unnecessary, but we are going to have to take actions which are necessary to get that pushing down," Evans said. "I'm optimistic that we're going to be able to navigate this and keep unemployment to about 4.5% by the time we're done. That would still be a pretty good outcome although it would still be costly for some."
A report released on Sept. 2 by the Bureau of Labor Statistics showed U.S. unemployment rose to 3.7% in August. In the last 30 years annual unemployment has been as low as 3.7% in 2019 and as high as 9.6% in 2010. 
Evans, who has served as president and CEO of the Federal Reserve Bank of Chicago since Sept. 2007 also said there is a discrepancy between those who say they are seeking a job and the number of available job listings. According to Evans, there are more jobs available than there are people seeking work.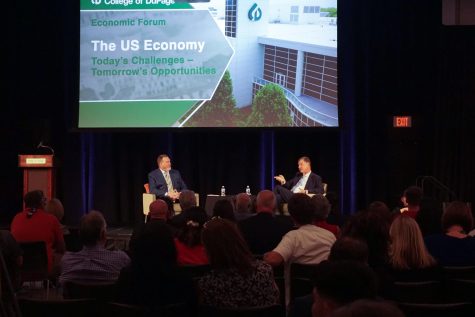 "That's one reason why there are many economic forecasters, businesses, nervous about the path forward. If we were to get the job openings down to a more normal level, it usually happens in a recession," Evans said.  
Evans remains optimistic that the number of job vacancies can decline without serious increases in unemployment based on post-lockdown factors that are influencing the labor market. 
"What's different this time is everything," Evans said. "People have been worried about going back to work. There's been a great increase in demand for workers who work remote or hybrid. It's been a great time in the labor market." 
Evans public remarks at COD come before the Federal Reserve is set to meet on Sept. 20 and 21 where the Reserve is expected to further increase interest rates to curb inflation.