MPTV Students "Break-In" to the Industry with Short Film
Filmmakers and students of MPTV 2140 discussed their progress and challenges with the production of their short film, "Break-In."
Amateur filmmakers and students of MPTV 2140 are producing a short film called "Break-In" this spring. It is a sci-fi feature about a man who fears an intruder is going to break into his home and the aftermath of when it does happen. The students even designed a logo for the in-universe company, Vertex Enterprises, which manufactures clones.
Director Everardo Garcia Jr. has made five other short movies before, under his independent Vizeit Studios. He often enlists the help of fellow COD students. "Break-In" is unique because it is a major, collaborative project for the Advanced Film Theater Production class.

"My other short film I directed, called 'Duo,' inspired me to make more stories in the same world. 'Break-In' is the next part of that story," Garcia said.
He described that the plot of "Break-In" may not be directly relatable to the audience, but the feelings it evokes will resonate with viewers. 
"What's personal is the identity itself," Garcia stated. "There's two people, the original one and the new one, but you see yourself in the new one [the clone]. It's important to put that in the pitch. The idea grabs people's attention."
In the first week of the project, Garcia described how they were struggling to find producers. His professor, John Rangel, recommended Cat Zimmerman, an experienced graduate of the COD MPTV program.
"We had both taken the same class last year, called Production," Garcia said. "I'm happy that she's willing to work with me and keeping me calm to have this project rolling." 
Zimmerman hopes to help the students succeed with the movie, as well as create a network of filmmakers. She worked professionally in theater for many years before she decided to come to COD in 2020 to study film and television.
"I love both fields, but unfortunately theater is very toxic. Every industry has exploitation and things like that, but I just ran into a lot of issues of never being able to get my foot in the door," Zimmerman explained.  "Learning how film and television are made has only emboldened my passion for them." 
The screenplay writer is sophomore Rabia Mahmood, who has experience creating skit videos. When writing the script, it was important for her to convey the tense emotion of the movie's main character, Matthew, who faces conflict against the home intruder. 
"I was drawn to the sci-fi and action elements of the plot. I saw a lot of room for intense situations and characterizations," Mahmood explained. "I collaborated with Everardo a lot because it's his story. We also got feedback on my screenplay from the professor and other crew members. For a lot of us, this is our official debut into the film world and festival circuits."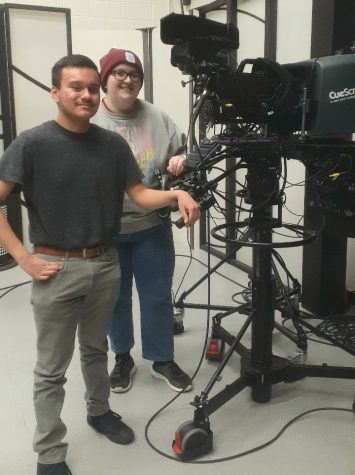 In the week of Feb. 26, Garcia and his crew will launch a promotional campaign video, with a behind-the-scenes video. It will be attached to a crowdfunding page for "Break-In" on the Seed&Spark website.
"Contributors will get perks, like social media shoutouts, a personal thank you card from me, and the director's commentary of 'Break-In,'" Garcia said. "You also get to know a little about our crew, some updates, our progress of pre- and post-production."
Garcia said the campaign video and social media are important to promote the film. Advertising can also lead to people contributing resources, like catering and transportation for the film.
A big portion of the film's expenses go towards equipment. As COD students, they have access to free rental cameras and set lighting. However, after the students of MPTV 2140 graduate this spring, they will need to find other ways to continue their film making.
"At COD we get editing software for free when we're at school. When we graduate, we don't get that anymore," Zimmerman mentioned. "So, for the post-production process, if anyone has Adobe they want to share for editing the movie, that would be helpful."
Garcia also mentioned their search for COVID coordinators who focus on sanitizing the set and enforcing masks, so crew members stay safe as they work. Beyond the need for coordinators, COVID has largely affected the way filmmakers' work.
"Coming out of COVID, a lot of people had experiences at school where you're by yourself," Zimmerman recalled. "But filmmaking has to be a collaborative process. The industry was decimated; nothing could get done during COVID. To see everything built back, regain that camaraderie. Clearly, we're all passionate about this, and that's something to be celebrated after so many years of isolation."
As someone who faced obstacles in her theater work, then transitioned to MPTV school at the height of the pandemic, Zimmerman found a unique perspective on the importance of perseverance.
Garcia was also grateful for the opportunity to lead a large crew of multitalented people, with professional equipment. He described "Break-In" as a culmination of his education so far and a launchpad for his future ambitions.
"The story of this film, I want to expand it into my other short films. I also want to test out some techniques that I can try to apply to my next one. Keep doing that cycle, until I reach my feature film down the road," Garcia explained. "When I transfer to Columbia, it can be very competitive. I want to prove myself as a passionate filmmaker and build my portfolio." 
Garcia and Zimmerman predict the post-production stage of this film to be in late summer or fall of 2023. When "Break-In" is complete, they plan to enter it into film festivals and see how the larger audience of the film community reacts to it. 
Meanwhile, as they work hard through the beginning stages, they hope that other COD students will be interested in the direction of the project. Their next phase for "Break-In" is auditions and filming.
 To find more about the COD students behind the cameras of "Break-In," head to the Instagram page, @breakin_shortfilm. To support the campaign, go to the Seed and Spark website and search for "Break-In."