How Free is the Press?
Speakers discuss war and whistleblowers' role in journalism on World Press Freedom day.
Not all governments award freedom of the press, and even when they do, political circumstances can affect how far that freedom goes. Two Chicago-based journalists and one attorney spoke about their experiences with freedom of the press in regards to corruption and war at a virtual event hosted by Columbia College Chicago on May 3, a day labeled World Press Freedom Day by the United Nations. 
The first speaker introduced was Kevin Gosztola, an alumnus of the college who follows and covers whistleblower stories with a focus on the still-unfolding case of Julian Assange, the Australian founder of WikiLeaks currently being held in the UK's high-security Belmarsh Prison. The USA is currently working towards Assange's extradition. He will face multiple federal charges, including 17 counts of espionage, connected to the release of documents revealing U.S. activities in the Afghanistan and Iraq wars and the release of diplomatic cables (messages) if extradited.
Gosztola argued that the U.S. government's actions and stance towards Assange are hypocritical, especially as Secretary of State Antony Blinken determined Wall Street Journal reporter Evan Gershkovich is being wrongfully detained in Russia on charges of espionage against the Russian government. 
"The allegations that the Russian government has made against him is that he was going around collecting state secrets, which is basically the argument against Julian Assange," Gosztola said. "If Evan Gershkovich should be freed, then obviously Julian Assange should be freed immediately, and the charges should be dropped."
Gosztola also discussed Daniel Hale, a former U.S. Air Force intelligence analyst who is currently in prison in Marion, Ill. for revealing documents about U.S. drone warfare in Yemen, supporting his release as well. 
Jamie Kalven, whose reporting focuses on police violence in Chicago, spoke next. 
"My major reporting throughout my career has depended on whistleblowers," Kalven said. "I get a lot of credit for the reporting that really should be shared with people in some instances who, to this day, I haven't been able to name, because they would be exposed to retaliation or loss of employment."

Kalven also believes issues of press freedom are tied to the freedom of assembly, and that efforts to preserve similar freedoms are necessary for them all to exist.
Kalven explained his belief that in people's minds and in U.S. law, there exists an idea that it's acceptable for certain freedoms to be suspended in times of war. 
"Oliver Wendell Holmes, in one of the first free speech cases during the first World War, said something to the effect that things that are permissible in peace time in terms of public discourse are not during war," Kalven said. 
He argued this shouldn't be the case. 
"This notion that war is an emergency that requires constraints on First Amendment freedoms is just in the groundwater," Kalven said. "People kind of accommodate to that logic even without fully understanding what they're doing. I think one of the principles that we've failed to establish in the law and in popular culture is especially in times of war [are] when the most expansive and robust interpretations of the First Amendment are warranted."
Host Michael Klonsky also mentioned Shireen Abu Akleh once at the beginning of the event. 
May 11 will mark one year since Abu Akleh, an American and Palestinian citizen, was killed covering an Israeli military raid in the city of Jenin after reporting for the channel Al-Jazeera for 25 years. The United Nations Human Rights Office, CNN and an in-depth Al-Jazeera documentary provide evidence that she was targeted and killed deliberately by Israeli forces. 
Demonstrations bringing attention to her death and demanding a U.S. investigation of it were integrated into many cities' yearly "Nakba" rallies last year, which mark the mass displacement and ethnic cleansing of Palestinians upon the creation of the state of Israel in 1948.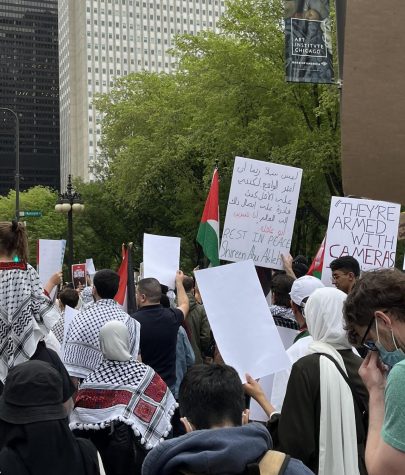 Gosztola argued that the U.S. Espionage Act has always been rooted in going after people who were opposed to war. 
"But then you fast forward to the days when President Barack Obama was in office, and all these different whistleblowers that were indicted under the Espionage Act, and of course, those individuals were essentially challenging things like the targeted assassination program that was being developed with drone warfare. They were exposing warrantless surveillance. They were challenging endless wars," Gosztola said.
Guest Feature: The Impact Culture Has On Journalism by Princess Siafa