Graduating Courier Staff Closes Year with Multiple Awards
The Courier won Reporter of the Year and placed fourth in General Excellence at the ICCJA conference this past month. Considering these results, staff members reflect on their time at The Courier.
With the semester coming to a close, The Courier said goodbye to another successful year at COD winning second place for best student media at a recent statewide competition. Since opening in 1967, The Courier has always been proud to serve as COD's student newspaper. 
On April 13 and 14, COD hosted the Illinois Community College Journalism Association (ICCJA) 2023 Spring Conference. Newspapers from 15 community colleges across the state came to sit through lectures, interact with each other and learn from both peers and professionals alike.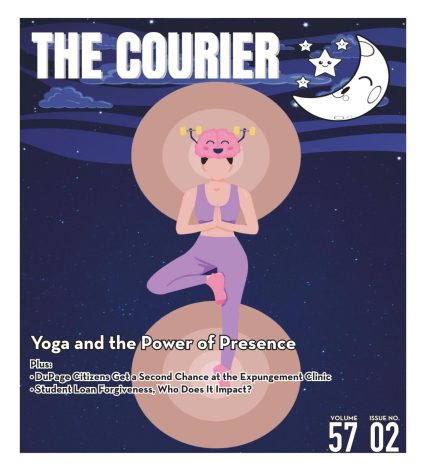 The final event of the conference was the ICCJA award ceremony for the 2022 calendar year. The Courier took home multiple awards, such as first place in front page design for division one and fourth place in the Mike Foster General Excellence Award. Most notably, staff writer Devin Oommen won Reporter of the Year. Oommen recounted the shock he felt when the result was announced.
"It felt surreal," he said. "I would like to say I'm grateful to the team and to the editors for it. I think I've learned from everybody while I've been a part of this team and especially James Fuller, our adviser."
The Courier had a number of second and third-place awards, with notable awards being second place in the Multimedia Story category and in the Graphics category in the open divisions. Staff writer Nick Karmia, who published the multimedia story, said that, overall, the results of the contest were satisfactory. 
"I think [the results] really reflect just how powerful of a force we are out there," Karmia said. "When it comes to all of us trying to collect content and put it out there, whether that be social media, news, sports, opinion piece[s], we're really diverse in that nature. I think that's what has allowed us to gain a lot of those awards."
Graphic designer Zainab Imam, who created the second-place graphic with Oommen, reflected on the work put into the design. 
"When I first heard the idea, I was very excited about it," Imam said. "I felt like a lot of students could learn more about the college. Devin and I would talk a lot about what to include and what would be the most beneficial to students. I was really happy to hear we won second."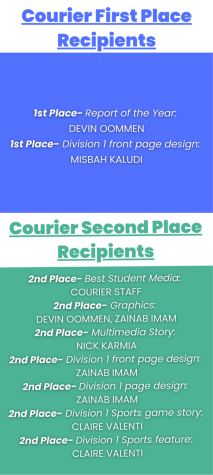 Managing Editor Sarah Kueking said these awards reflect the dedication of the staff at the Courier and that the most important thing is that the staff improves.
"I've noticed, since I started in September, everyone had gotten a lot better at their craft," Kueking said. "Everyone's gotten better in different ways. Everyone had been putting out their best work. No one's perfect, but everyone's doing higher level work."
Oommen shared the sentiment, stating that the mentality had even seeped into his writing process.
"[When I started] I found myself trying to write stories that might win, but then eventually I realized that wasn't what I wanted to do. Now I'm trying to write news," he said. "I think it's important for people to able to easily access and know about things that are going on."
Kueking said the collaborative effort was what really helped the Courier perform so well. 
"It takes a lot of people to create something amazing," Kueking said. "All the awards we got, even all the single awards, it wasn't just one person going in and getting that award themselves. It was all of us putting our efforts into each issue. So teamwork makes the dream work." 
Oommen, Karmia, Imam and Kueking are all sadly leaving the Courier after this semester. They all had something to take away from their time at the Courier.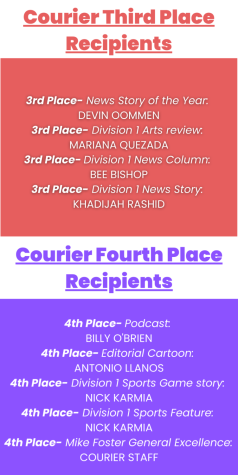 "There are so many individual paths that everybody is following," Karmia said. "It's really taught me that if you don't do your part, the whole team is kind of left stranded."
When asked why the Courier as a student-run publication, as opposed to an administration-run paper, benefits the college, Imam said it gives a voice to the students. 
"I think the whole perspective changes," she said. "I feel like there have been multiple Courier articles that have had a really big impact. These articles talk about the college and the issues that students and faculty are facing. The administration can see that we're concerned about these things."
Oommen agreed, claiming students bring a layer of authenticity and accountability to the school.
"We might end up asking questions that people aren't trying to answer," Oommen said.  "So I think at a place like COD, transparency is really important, and I think there need to be students that are trying to find answers."
For more information about the Courier or the stories we publish, check out our website. The Courier publishes a newsletter Tuesdays to students and faculty at COD and print issues Wednesdays on campus. Specific questions may be emailed to [email protected].