Editor's Note: This story has been edited to add updated information to the story. The data and score of the team's last game has been added to the bottom of this piece.
The College of DuPage women's volleyball team kicked off the postseason on Oct. 24 against Joliet Junior College in front of a healthy home crowd. With crucial kills and vigorous serving, the second-seeded Chaparrals got the edge to end the third-seeded Wolves' season. COD knocked out JJC 3-1 to advance to the Region 4 Championship game against the top-seeded Harper College Hawks. The final scores of the sets were 25-17, 26-24, 23-25 and 25-17.*
"This was the third time we've played each other this year, and this was by far the best game," head coach Tolis Koskinaris said. "The Wolves are a good team, and they could very easily be playing Harper. We had a huge home crowd, and they were electric all night. They were there on their own and that was huge. I think the players really responded to it."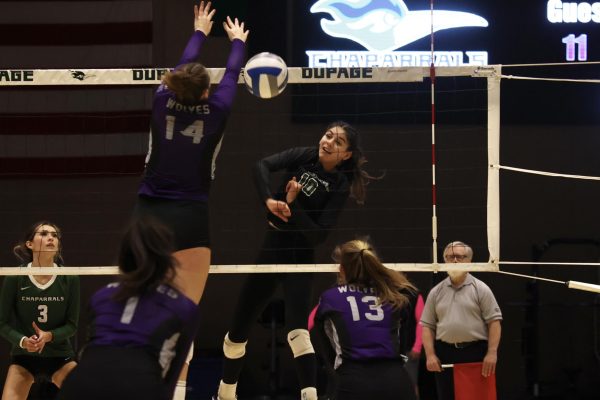 COD started to get comfortable after winning the first two sets and got down 13-21 during the third. With a six-point push that got them back into the groove, they surged to reach 23-24 until the Wolves found the court again to win the set. Although they couldn't complete the comeback, the Chaparrals felt rejuvenated and secured victory in the fourth set.
"I actually thought we were going to win that set," Koskinaris said. "I told [assistant coach Cynthia Martinez] 'Don't give up on this, we're going to win this set.' It takes so much to come back in a set like that, but regardless how that set finished, I felt really good going into the fourth set because we turned the momentum back into our favor. It carried over into the fourth set clearly."
Sophomore outside hitter Amanda Leibrock led the team with 18 kills on 56 attacks with 10 errors and made one block assist and two digs. She said the team's late push in the third set proved COD was the better team.
"I think we let go a little bit," Leibrock said. "We just got a little bit [too] comfortable, which we've done in past games and we know we're susceptible to. Being down by a lot in the middle of the set, and then coming back and only losing the set by two points just shows a lot about our character and how resilient we are."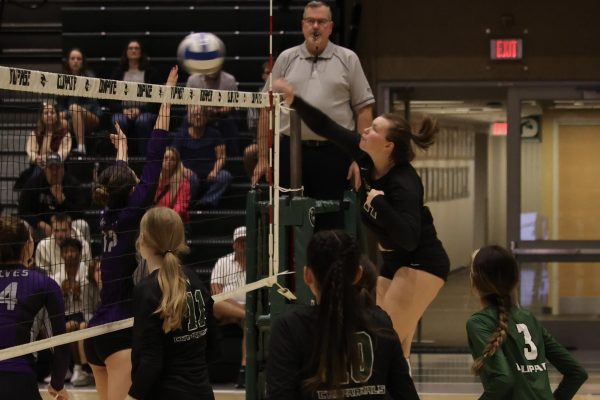 Sophomore libero Cyd Martinez tallied 27 digs and one set assist. She also scored five service aces on 18 attack attempts with one error. She described her mindset during the late push in the third set as she served.
"Going back there I knew that we were down," Martinez said. "I just wanted to put a little bit more power in my serves. I feel like that paid off. Definitely mixing it up going short and deep made them move a little bit and got in their heads so that was fun."
Martinez said the attempted comeback during the third set helped keep the team's energy up through the rest of the game.
"That was very critical," she said. "Leaving that set closer than what it was really helped us go into the fourth set knowing they didn't just beat us by a bunch. It was pretty close all throughout, so that was good."
Sophomore right side Grace Beacom landed 12 kills on 27 attacks with three errors and picked up one dig. She said this game was a perfect start to the postseason for the team.
"We were able to find each spot that the [Wolves] weren't," Beacom said. "We found our spots quickly. Our passing was good. Our defense was on. It was great. The energy was high during the whole game so it felt nice."
Freshman middle hitter Josie Becker spiked five kills on 21 attacks with nine errors. She also jumped one solo block and two block assists.
"That was so much fun," Becker said. "It was a really good game. We kept our energy the same the entire game. I feel like [JJC] let their energy dip a little, as we took that opportunity to get ahead of them."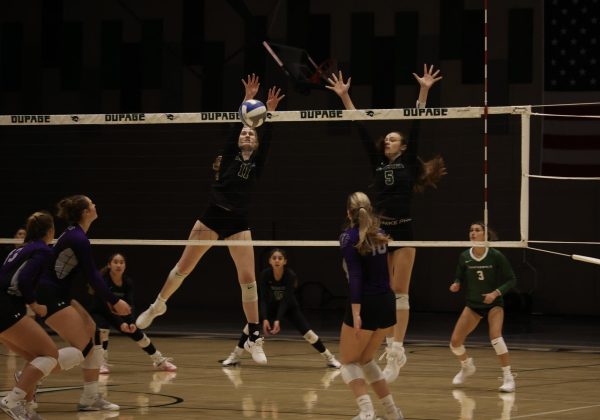 Freshman setter Jaime Volz set up 37 assists and notched seven digs. She also scored two service aces on 21 attack attempts and made three block assists.
"The adrenaline was so real," Volz said. "After beating [Joliet] in three on sophomore night, it was the greatest feeling. Finding out we had to play them again, our first thought was we had to come out the same way. It was just amazing, especially on our home court; it was on a whole different level."
COD goes up against Harper College on Oct. 25 with a 2-1 record against them this season, and Volz said playing the Hawks as the visitors will make it tough.
"It's going to get real for sure," she said. "Last time they beat us when we went to their gym, and I know a few of them came to watch [COD face JJC]. We need to come out as our strongest selves, like a team they've never seen before. We need to play like it's our last game. I think we always should be playing like it's our last game; to our highest potential giving it 100%. If we keep up all the hard work that we've done to get to this point, we're going to be invincible. It's not over."
*The second-seeded Chaparrals battled the top-seeded Harper College Hawks in pursuit of the NJCAA Region 4 Championship on Oct. 25 in Palatine, IL. After losing the first set, COD came back to win the second and third sets. Harper regrouped to win the fourth and fifth. The Chaps fell to the Hawks 2-3 to end their postseason run. The scores of the sets were 17-25, 25-20, 25-10, 19-25 and 10-25.