COD Softball Splits Doubleheader Against Owls
The COD softball team fought to take control of the second game against Oakton Community College to snap out of their four game losing streak.
The College of DuPage softball team struggled early at home against Oakton Community College, giving up seven runs in the first inning and committing four errors throughout their first game. The Chaparrals pushed forward after losing the first game and took control in the third inning of the second game after scoring eight runs, four of which came from a grand slam by freshman infielder Lindsey Onnezi. With confident hitting and refocused pitching, the Chaparrals split the doubleheader, losing 1-11 in the first game and winning 12-4 in the second, making their record 15-7.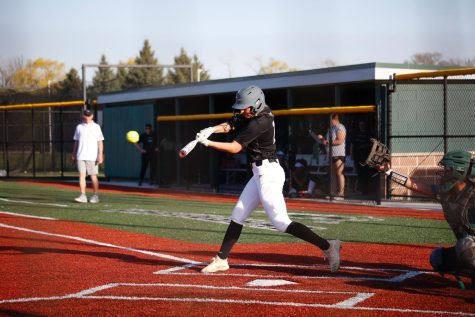 "The first game was a letdown," head softball coach Barry Froehle said. "The sophomores came back and showed some really good leadership in the second game and turned things around. We started taking more controlled swings and [stopped] trying to crush the ball so hard. It was an all-around good team effort."
Onnezi also recorded three hits in four at-bats through both games. She also scored three runs, adding her fifth home run of the season and collected four RBIs. 
"I haven't been hitting the best, so I tried to change my attitude and focus on something small I could fix," Onnezi said. "I kind of just trusted myself because I knew I could do it; I just had to believe in myself. I eventually put the little things together and connected."
Sophomore pitcher Amber Dasenbrock pitched in seven innings through both games, allowing seven hits and six runs. She also threw 14 strikeouts. While hitting, Dasenbrock recorded one hit and walked once in two collective at-bats. She scored three runs, adding her third home run of the season and collected one RBI. 
"I was really happy to get a hit," Dasenbrock said. "I got walked my first two at-bats, so I was really eager to actually hit the ball somewhere. Sometimes I can tell beforehand if I see the ball, I think 'this is the one' and then I'll just swing. Sometimes it works out that way, and it felt really good."
Sophomore utility Carlee Baker recorded one hit and struck out once in four at-bats through both games. She also scored one run and collected two RBIs.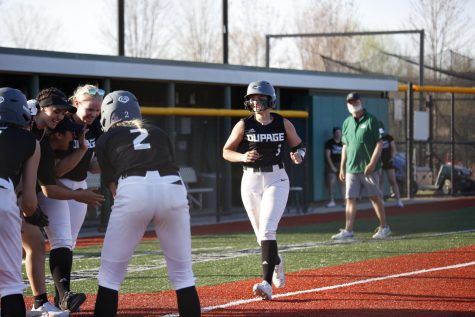 "The first game was a little rough with lots of errors in the first few innings," Baker said. "After our break in between games, I brought everyone in and tried to encourage some positivity throughout the bench. [I wanted to] make sure everyone knows they have a job and it's important to do their job, and we stayed positive throughout the second game."
Sophomore utility Kelsey Warren recorded two hits and walked once in six at-bats through the two games. She hit one double and scored one run. These were Warren's first games back since sweeping the Joliet Junior College Wolves on April 4. 
"Coming back was a little rough," Warren said. "In the first game, I didn't hit so well so I stopped slapping. I decided to stand up and hit because normally I slap, so that helped me out."
The Chaparrals take on the Kishwaukee College Kougars with the first game starting at 1 p.m. on April 15 in Malta.