COD Softball Splits against Moraine Valley on Sophomore Day
The Chaparrals celebrated their sophomores ahead of their last doubleheader of the regular season.
The College of DuPage softball team went into their last home games of the regular season Thursday afternoon with intensity against Moraine Valley Community College (11-26). The Chaparrals led in the first game until they gave up six runs to the Cyclones in the fifth inning and lost. After adapting to the Cyclones' pitchers, the Chaps won the second game to split the doubleheader. The scores for the games were 9-4 and 6-3, ending their regular season with a 27-9 record.
The Chaparrals held sophomore day ahead of the doubleheader against the Cyclones and had a celebration dinner after the games.
"They played well considering the fact that they were supposed to play McHenry," head softball coach Barry Froehle said. "They backed out at the last minute. They adjusted [to Moraine Valley] and played pretty well."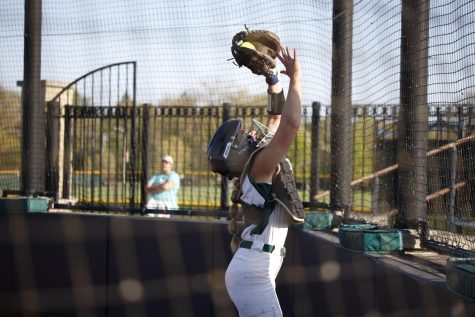 Sophomore pitcher Amber Dasenbrock pitched through the second game, throwing five strikeouts and one walk. She allowed eight hits and three runs. While hitting, Dasenbrock recorded one hit in seven at-bats through both games.
"It was nice to play here again and have all the good emotions around," Dasenbrock said. "Even though we did split, I still had fun. I thought last year was my last year, so I feel like I grieved a little more then, but I obviously came back. It's probably going to hit me more at the last game."
Sophomore infielder Raquel Procopio recorded two hits in six at-bats through both games. She also scored three runs and collected one RBI.
"This whole season, I think we did a great job," Procopio said. "Spending our sophomore day and our last home games, it just felt really good to be out here one more time at home with everyone. Sophomore day was our time to celebrate and just enjoy it; this will all hit me a week after."
Sophomore utility Kelsey Warren recorded four hits and walked once in seven at-bats through both games. She also collected one RBI.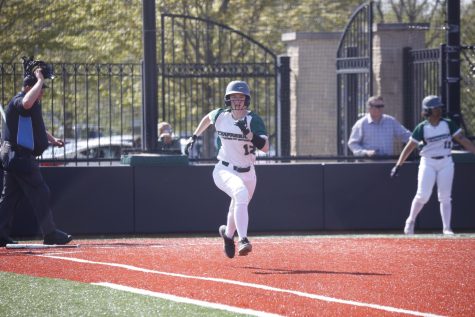 "The first game we just got outhit," Warren said. "We're all so used to seeing faster pitching. As a team, I think we collectively do way better with faster pitching. For the future, we just have to be quick to adjust [to] slow pitching."
Sophomore utility Carlee Baker recorded two hits in seven at-bats through both games. She also scored one run and collected three RBIs.
"I'm really grateful for the freshmen that were able to produce as much as they did for us sophomores," Baker said. "We played well; they just outhit us that first game. I think today was a bittersweet moment, especially being a 2020 graduate and not having my senior day. Knowing that this was my day has helped me mentally throughout the game."
Freshman infielder Lindsey Onnezi recorded one hit in three at-bats through the second game. She also scored one run. Onnezi reflected on the season and sophomore day.
"I'm really sad; I feel like we got close really fast, even before the season started," Onnezi said. "I think we did really well. It was sophomore night, so everyone was happy and excited. We played our hardest."
The Chaparrals take on the Delta College Pioneers (17-21) for the NJCAA Great Lakes District Championship starting at 10 a.m. on May 12 at Sarkisian Park. For more photos, check out our gallery.