Chaparrals Triumph Over Lancers in Seven Innings
For the second time this season, the Chaparrals 10-run ruled the Lancers to win their fifth consecutive game.
The College of DuPage baseball team took control of the game against College of Lake County Tuesday afternoon, gaining the lead in the fifth inning. After shutting the Lancers down in the sixth, the Chaparrals maintained hot hitting with sophomore infielder A.J. Taylor hitting a grand slam to put an end to the game. The Chaparrals defeated the Lancers 15-5 in seven innings at home, raising their record to 15-5.
This is the Chaps' fifth consecutive win and fifth game they've won due to the 10-run rule this season.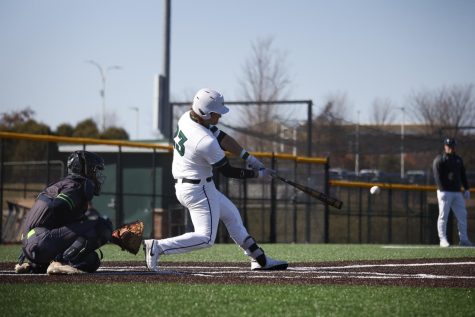 "It's baseball; it happens," head baseball coach Bobby Wilson said. "The best part of it is our offense rolls and you're going to see us score a lot of runs. The goal isn't to slaughter everybody, but it's to play our game and do what we can do to score runs."
Taylor made three hits in five at-bats, scoring his fourth home run of the season. He also scored three runs and made four RBIs.
"I was looking for a fastball, and [the pitcher] gave it to me," Taylor said. "It was a good pitch to swing at. I just stayed back on it, took it the other way and stayed with it. It felt good to get that out."
Freshman pitcher Joe Seiber threw five strikeouts and two walks with two errors through five innings, allowing two hits and one run.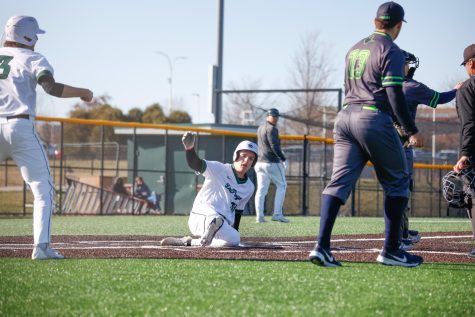 "I was really fighting to feel for all of my pitches," Sieber said. "After the second inning, I felt like I had control of all my pitches, and I didn't let them have a chance since that."
Sophomore outfielder Kyle Fenner made three hits in five at-bats. He also scored three runs and made one RBI.
"They came out swinging, and it was kind of a surprise," Fenner said. "We just kept doing our thing, put up runs each and every inning and beat them by 10."
Sophomore infielder Joe Cosenza made two hits in four at-bats. He also scored two runs and made three RBIs.
"Our goal is to beat every team by 10 and not let [teams] get through nine innings," Cosenza said. "I think if we just stay with our approach and keep swinging how hard we're swinging, we'll just keep beating teams by 10."
The Chaparrals look to extend their win streak to six in their first game of the season against the Oakton College Owls at 3 p.m. on April 7 at Wintrust Field in Schaumburg.