Chaparrals Fall to Spartans
The College of DuPage men's volleyball team inched closer to victory through each set, but couldn't catch up to Aurora University.
In their first game back from the Monroe College Tourney in New Rochelle, NY, the College of DuPage men's volleyball team took on Aurora University Tuesday night. The Chaparrals fought the Spartans, but they couldn't break through their serves and receives, losing in the third set at home and leaving their record 3-4. The final scores for the sets were 25-15, 25-18 and 25-21.
"I know this sounds crazy, but we probably played our best volleyball of the year tonight," head coach Tolis Koskinaris said. "Sometimes you're not rewarded with the score going in your favor. I'm leaving tonight feeling pretty good about the team, and I hope [the team] is too."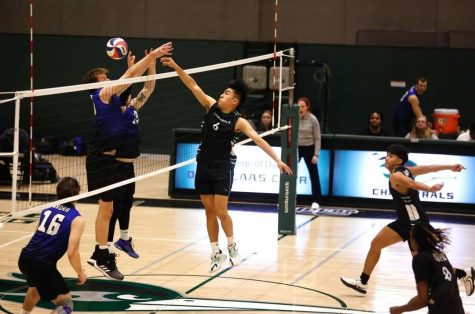 Freshman outside hitter Fawaz Ilukoma had seven kills on 18 attacks, leaving him with a -0.111 hit efficiency. He also made three digs. Ilukoma said the team got more connected after every set.
"We played better as a team," he said. "The first game we [ever] played, we came out sluggish and dry, but here, we played together, and we worked together. I feel like that's a benefit we can use for our next games in the future."
Freshman left side Mike Fenley had six kills on 15 attacks, earning a 0.267 hit efficiency. He also made 1 dig.
"[The Spartans] are a university team, and I expected nothing less from them," Fenley said. "They're very big guys, and they're definitely more experienced than we are, as this is our first official year as a team. It's nice though for us, being a community college and [being able to] play against university teams to get that type of experience."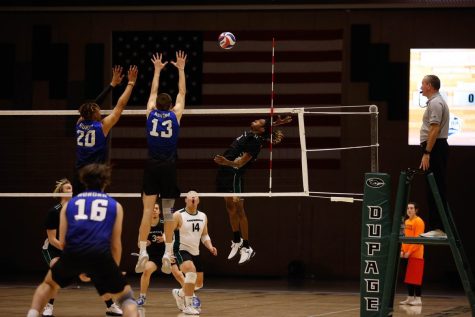 Freshman libero John Valencia made 10 digs. He said the game came down to the Spartan's style of play being unfamiliar to the Chaparrals.
"[The Spartans] played faster than what we're used to practicing," Valencia said. "Their serves were hard-driven, and their offense was really strong. It was hard to tell where they were hitting."
The Chaparrals will look to even out their record against the Bryant & Stratton College Bobcats at 6 p.m. on Feb. 24 in Menominee Falls, Wis.