Chaparrals Fall to Bobcats in First Game of the Season
The men's volleyball team made their first ever appearance at home.
The College of DuPage men's volleyball team played and lost their first game in COD history at Klaas Court Friday night. The Chaparrals battled the Bryant & Stratton College Bobcats, but their nerves got the best of them, losing in the fifth set and leaving their record 0-1. The final scores for the five sets were 25-21, 16-25, 16-25, 25-16 and 12-15.
"We all know we can do better," head coach Tolis Koskinaris said. "We've got a big trip coming up, so we're looking forward to getting back on the court."
Men's volleyball is the newest addition to COD's catalog of athletic teams. Koskinaris said the establishment of the team was a long-time coming.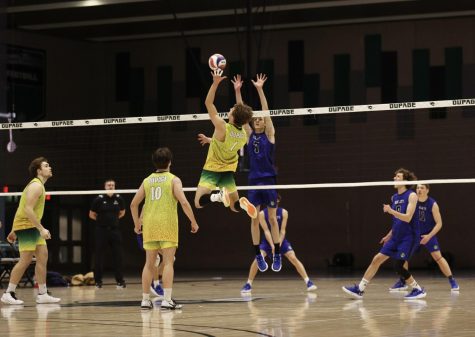 "We've been working on this for a long time," Koskinaris said. "These guys get the benefit of something that's been worked on for many, many years, and I hope they all enjoy it."
Freshman middle hitter Olivier Godziszewski had four kills, 16 assists and zero errors. He also had three digs and five block assists. Godziszewski said the team got tense near the end of the game.
"I think [the Bobcats] had more experience, but that's not an excuse," Godziszewski said. "We have to put in more work; we have to want it more, and in practice, we just have to do more."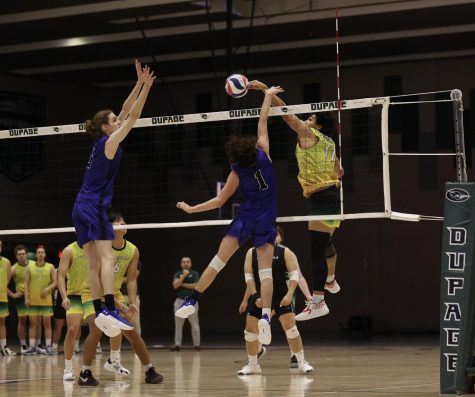 Freshman outside hitter Ryan Impey had one kill, five errors and 16 assists. He also had three service aces, 11 digs and one solo block. Impey said the Bobcats had the edge because of their swings and energy.
"Even though we didn't win, I feel like we have a lot to learn from this game," Impey said. "We have a New York tournament next weekend, and by then, hopefully, we're able to get back to how we were playing at practice. [We need to] be more aggressive with our swings and have a better offense."
The Chaparrals will look for their first win of the season against the Aurora University Spartans at 6 p.m. on Feb. 16 at Aurora University.