The College of DuPage women's volleyball team faced Oakton College on Oct. 3 for their second battle of the season at home. The Chaparrals scored 10 total service aces from six different players and fought to win the momentum-changing rallies. Unrelenting, the Chaps shut out the Owls 3-0 to raise their record to 17-11. The final scores of the sets were 25-21, 25-21 and 33-31.
"All things considered, our setters did a wonderful job with what they had available to them," head coach Tolis Koskinaris said. "[They were] distributing the ball where necessary in the spots our hitters needed to execute the play. Give credit to Oakton though. This was not necessarily us playing less than our best. This was Oakton being significantly improved from the last time we played them."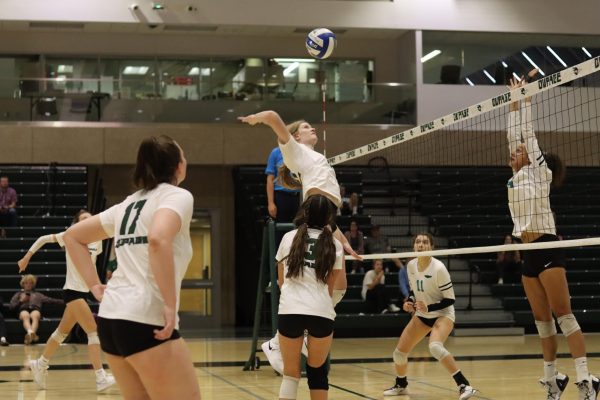 In their last matchup, the Chaps beat the Owls 3-0 with the scores of the sets being 25-15, 25-12 and 25-23. Koskinaris described how although the Owls became stronger competitors and held a lead at certain points, the Chaps fought to readjust and find their rhythm. 
"We've matured," he said. "A month and a half ago into the season, I feel that [we] would've struggled coming back in the first and third set, because even in the first set, we were down for most of it. I think they now feel that you can win without everything going perfectly, and that's something that they're becoming more accustomed to as the season goes on." 
Sophomore outside hitter Amanda Leibrock led the team, landing 17 kills on 42 attacks with seven errors. She also made two digs. 
"We found the floor, and we won a lot of hustle points," Leibrock said. "The longer the rally lasts, the harder it is to put the ball down, and I feel like we did that better today than we have in the past. Obviously [this wasn't] our best game ever, but [it was] definitely not our worst. This is definitely something to be proud of; it's always good to sweep a team." 
Sophomore libero Cyd Martinez picked up 20 digs and three set assists. She also scored three service aces on 17 attack attempts with two errors and one kill on one attack. She said COD's two wins in Minnesota made the team come out with more optimism in their first game back home.
"We came off of two great wins," Martinez said. "I just feel like that amped up the energy for us all. It gave us a little boost of confidence, and it's amazing because on and off the court we feel the energy."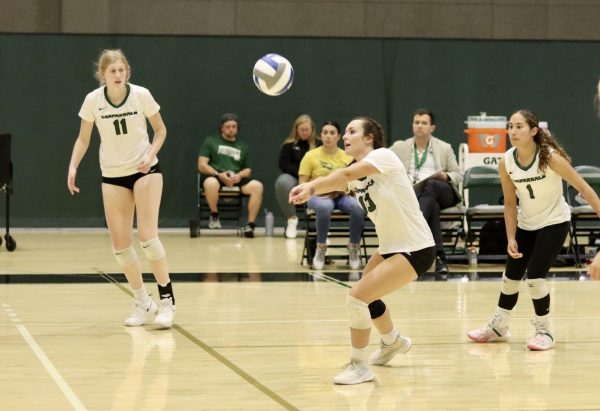 Freshman left side Melissa Alvarez spiked 15 kills on 38 attacks with five errors and scored one service ace on 16 attack attempts with one error. She also made seven digs.
"We definitely could've done better," Alvarez said. "I feel like it was a good game. [Oakton] got way better from the last time we played them, but so have we. We didn't play at our level that we have been playing, especially after Minnesota. I feel like we could've done better, but it was still a good game though. We all fought until the end." 
Freshman middle hitter Josie Becker landed 11 kills on 18 attacks with three errors. She also made two digs.
"I think it could've gone better, but a 3-0 shutout is pretty good," Becker said. "I feel like we could've started off quicker, and gotten it done quicker. We were more aggressive with our swings, and that's basically it." 
The Chaparrals face the Kankakee Community College Cavaliers at 6 p.m. on Oct. 4 at Klaas Court.