The College of DuPage women's volleyball team celebrated their sophomore night during their last game of the season on Oct. 17 at home against Joliet Junior College. The Chaparrals were uncompromising, winning net-front battles with hundreds of students screaming in support of the defending national champions. Unrelenting, the Chaps shut out the Wolves 3-0 to end their season with a 21-15 record. The final scores of the sets were 25-17, 25-16 and 25-17.
"Great crowd," head coach Tolis Koskinaris said. "I can't say enough for our admin and all of the players who came out here on an off night to come and be part of the Learfield Cup presentation and our big match with Joliet. They really did give us another gear, and the players fed off of it all night. It was a great night for DuPage Volleyball, and really for junior college volleyball in general."
In their last matchup, the Chaps fell to the Wolves 2-3 with the scores of the sets being 15-25, 25-22, 11-25, 25-23 and 14-16. Koskinaris said that although Joliet played well, COD felt the energy of the crowd and outworked them.
"JJC is a very high-quality program," he said. "[Head coach Tom Welsh] over there has done a good job with them. They were resilient all night, we just played on another level. There's not much else to say."
Sophomore outside hitter Amanda Leibrock led the team, landing 12 kills on 25 attacks with five errors. She also made two digs.
"Our first JJC match was one of our low points this season for sure," Leibrock said. "Coming back from that and taking them out 3-0 feels amazing, and I think it just shows our character as a team. We were able to bounce back from being at those low points, come back, play the same team and basically just play our game."
Sophomore defensive specialist Jaidyn Tan scored one service ace on 10 attack attempts with three errors and picked up four digs. She said the team's goal was to remain consistent through their last match in hopes of carrying their energy into the postseason.
"Our word for tonight was consistency," Tan said. "We had to consistently be focused. We had to consistently keep our energy. We had to consistently perform. We had to physically make sure that we were doing what we were supposed to be doing. I think we really came out, performed and kept that consistency throughout the game."
Sophomore setter Ashley Bylsma said the energy of the crowd in the PEC arena helped the team have fun and secure the win.
"The energy in here was just electric," Bylsma said. "It definitely helped. [The crowd] were all here for us, and they were here cheering. It was really great. They brought a lot of energy, and we fed off of that. I think you can tell by our win."
Sophomore defensive specialist Abigail Alonzo scored two service aces on 10 attack attempts with three errors and picked up five digs and one set assist. She said she was confident the team would win after their close loss to JJC earlier in the season.
"I knew that we had the potential," Alonzo said. "We could've won in three the first time, but we just didn't really pull through. Today we were really excited to just show them [we're not] the team who we were when we played them the first time."
Sophomore right side Grace Beacom landed six kills on 15 attacks with zero errors and made one block assist. She said it was fun to end the season on a good note in front of a packed crowd.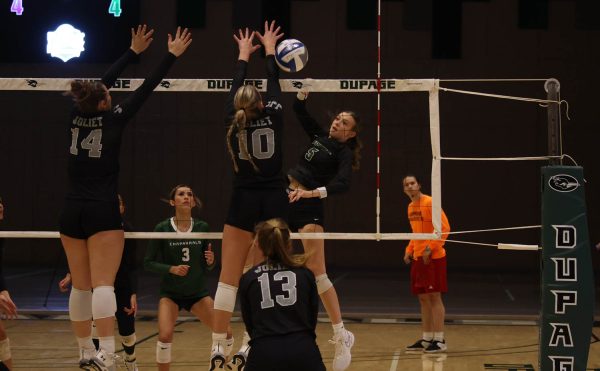 "When we have to play volleyball, we have to have a lot of focus," Beacom said. "A lot of that focus comes from that cheering. Every time we won a point or lost a point, it really helped us either bounce back or continue to win points. It was nice to feel that energy in the gym."
Sophomore libero Cyd Martinez led the team with 17 digs and one set assist. She also scored one service ace on 15 attack attempts. She said the team played exceptionally, and that it was fun to do in front of her family.
"We did so many good things," Martinez said. "Just proving ourselves tonight will help us in the future knowing that we're capable of doing many more things. Not just what we did today, but continuously just getting better and better. This team is a very resilient and growing team."
The Chaparrals battle the Wolves one last time for the NJCAA Region 4 Championship at 6 p.m. on Oct. 24 at the PEC Arena.