The College of DuPage women's volleyball team took on the vengeful Harper College Hawks on Sept. 21 at home. With sharper blocking, powerful serving and less errors, the Chaparrals took down the Hawks for the second time this season.
COD shut out Harper College 3-0 to raise their record to 14-10. The final scores of the sets were 25-21, 25-21 and 25-22.
"That was so far, at least at the two-thirds point, our most complete match of the season against a very good Harper team," head coach Tolis Koskinaris said. "[We] just played very clean volleyball and stayed very aggressive on both attacking and serving."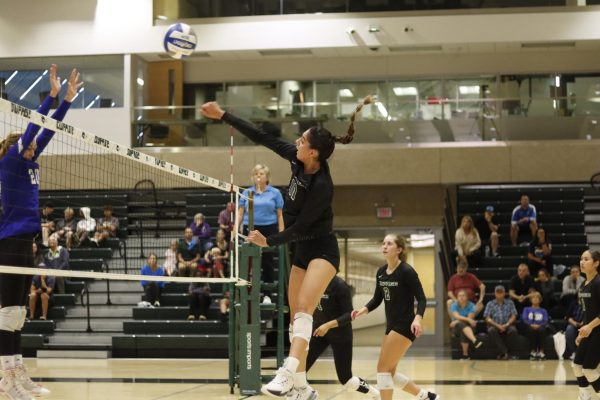 Sophomore libero Cyd Martinez made 14 digs, five set assists and scored one service ace on 16 attack attempts.
"Playing [Harper] the first time [this season], we didn't play as well as we did this time," Martinez said. "It's really nice to see that we are improving in that aspect. It feels good to win like that."
Sophomore setter Ashley Bylsma led the team with 26 set assists and landed one kill on one attack. She also made 14 digs. She described what she focuses on while going in to set.
"I really just pay attention to who's having a good game, and who is not," Bylsma said. "Maybe if our outside [hitter] is having a good game, I'm going to be setting to her if she's getting us kills. I'm also paying attention to where [the opponent's] blockers are. [I'm] trying to split them up and make them go the wrong way. There's a lot that goes into it, but it's really fun."
Sophomore outside hitter Amanda Leibrock landed nine kills on 28 attacks with one error. She also made two block assists and one dig.
"Their defense was a lot weaker than ours," Leibrock said. "We were able to expose that. We were hitting our shots. We were hitting hard, and we balled out."
Freshman middle hitter Mikayla Robinson spiked six kills on 13 attacks with one error. She also made one set assist and one dig. She said when she goes in for a kill, her main focus is not getting blocked.
"Not only do I not want to get blocked," Robinson said. "I want [my opponents] to be scared basically. I want to go up there, and I want to pound it. I'll walk away thinking, 'I just did that. That was me.'"
The Chaparrals battle the Aurora University JV Spartans in a scrimmage at 6 p.m. on Sept. 26 at Klaas Court.