Editor's Note: This story has been edited to add updated information to the story. The score of the team's last game as well as their current record and the date of the next game have been added to the bottom of this piece.
In their first game following the COD Invitational tournament, the College of DuPage women's volleyball team took on Waubonsee Community College on Tuesday night at home. The Chaparrals didn't find even footing against the Chiefs through all three sets. COD lost to Waubonsee 0-3, leaving their record 6-6. The final scores for the sets were 18-25, 23-25 and 22-25.*
"[The Chiefs] came out and they played with more tenacity, more effort, more willpower," head coach Tolis Koskinaris said. "We came out flat across the board, that's pretty much it. You've got to give credit to Waubonsee. They came in with the right attitude to play this match tonight and we did not. That starts with me."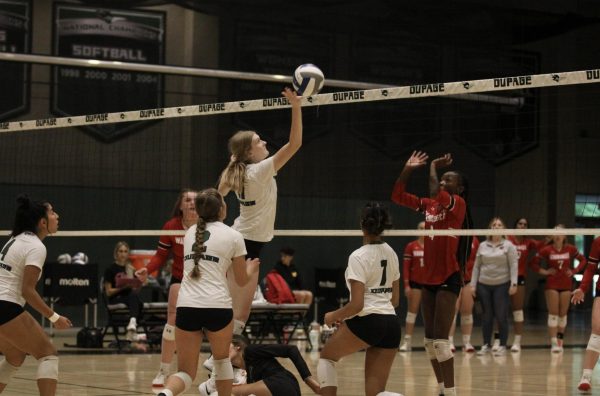 Sophomore outside hitter Amanda Leibrock landed 13 kills on 43 attacks with seven errors. She scored three service aces on 10 attack attempts with one service error. Leibrock also made six digs and two block assists.
"We came out a little bit too comfortable," she said. "From the film session we watched, we came in thinking maybe we wouldn't have to try as hard. We underestimated [Waubonsee] and they came in really wanting to beat us, and they did just that. It was a combination of both those things, and we just weren't able to keep up with what they were doing."
Sophomore libero Cyd Martinez led the team with 16 digs. She also led with five service aces on 24 attack attempts with one service error.
"We should have pressed the gas a little bit more from the beginning," Martinez said. "We went in too complacent. When a team like that comes out strong, we have to turn that gear and play how we usually do, no matter who we're playing."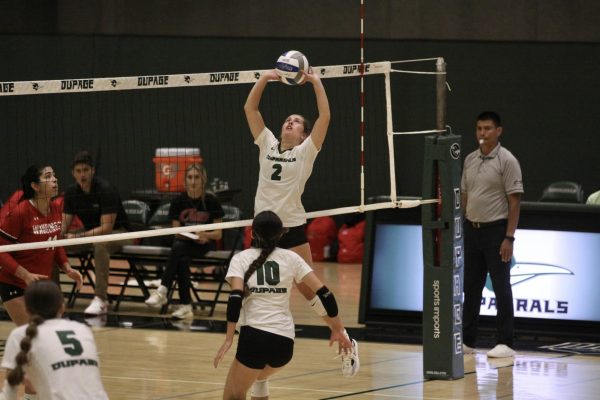 Freshman left side Melissa Alvarez scored seven kills on 27 attacks with four errors. She said the team didn't play the way they have been and expects to return to their level of play.
"I don't think it was anything [Waubonsee] did," Alvarez said. We didn't expect them to come at us that [quickly]. They came in hitting the ball really quickly, and they definitely came into that court wanting to beat us."
*COD battled the South Suburban College Bulldogs and won 3-1 to raise their record to 7-6. The final scores of the sets were 25-15, 25-21, 18-25 and 25-16. The Chaps take on the Kishwaukee College Kougars at 6 p.m. on Sept. 8 on Klaas Court.