Chaparral Volleyball Loses to Spartans on Sophomore Night
The COD volleyball team celebrated their sophomores ahead of their final game of the regular season.
The College of DuPage men's volleyball team had something to prove going into their last game of the season against Aurora University JV on March 21, having lost to them in their last matchup. With improved mental focus, the Chaparrals were able to take a set from the Spartans at home but couldn't take control of the match, losing 1-3 and leaving their record 6-9. The final scores of the sets were 24-26, 25-15, 16-25 and 13-25.
"In games before, we've played flat at times," assistant coach Braden Woods said. "Today we did a great job at making small adjustments, whether that be serve-receive, blocking or hitting. We got a little bit better every single point, every single rally, every single set. I love to see the progress and the boys having [the] mental focus to really dial in and make the adjustments they needed to make us more competitive."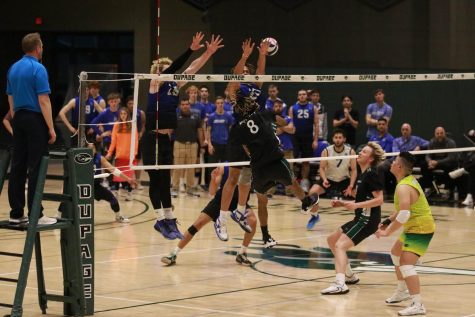 This game was sophomore night for the Chaps, and they recognized setter Michael Lipowski and outside hitter Ryan Impey before the match.
Lipowski made four kills on 14 attacks with two errors. He also made three digs, one solo block and four block assists.
"This was super cool," Lipowski said. "Coming to a community college usually has a reputation of going to classes and then going home and not really making good memories. I'm very happy I met these people. They're like family to me now. It's awesome that we got to play and have this opportunity."
Impey made two kills on eight attacks with two errors. He also made five digs and four service aces on nine serves with three errors.
"I'm so happy I got the opportunity to play here," Impey said. "I wish that we were able to play last year, but because of COVID, we weren't able to. This was still a very amazing opportunity that [Lipowski and I] got."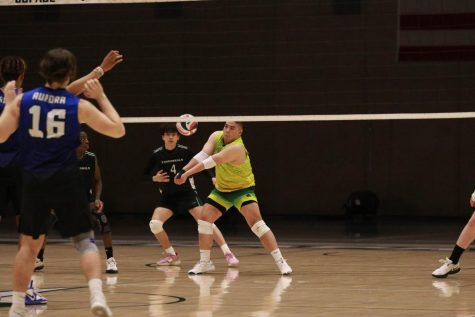 Freshman outside hitter Fawaz Ilukoma had five kills on 14 attacks with one error. He also made one assist.
"Our chemistry has gotten a lot better," Ilukoma said. "We're much louder and there's more energy, but our energy started to die a little bit after the second set. We weren't as loud as we were before, and that plays a big part in how we play as a team. We just lost it a little bit."
Freshman outside hitter Stanley Guziec led the team with four service aces on 16 serves with two errors. He also made five digs. Guziec attributes his performance to a personal loss that he carried with him into the game.
"This week has been really hard for me because my best friend's dad passed away last week," he said. "He was a really good person and it really just pushed me to work even harder than I ever have before."
Freshman left side Mike Fenley led the team with nine kills on 29 attacks with six errors. He also made two digs and two block assists.
"We're going to keep going hard in practice, as we've been doing," Fenley said. "We have a goal in mind, and that's the national title."
The Chaparrals will play in the NJCAA Invitational Tournament starting April 21 on Klaas Court at COD.