Chaparral Softball Sweeps Skyhawks in Doubleheader Home Debut
The COD softball team extended their winning streak with two wins over Sauk Valley Community College in their first doubleheader of the season.
In the College of DuPage softball team's home debut, the Chaparrals brought the power in their first doubleheader of the season Monday afternoon, making 26 collective hits against Sauk Valley Community College. With consistent pitching and hits, the Chaparrals swept the Skyhawks, winning 12-11 in the first game and 9-1 through six innings in the second. With these wins, the Chaps improved their record to 6-2 and extended their winning streak to three.
"They performed very well, as I expected they would," head softball coach Barry Froehle said. "We're a good team this year and I have high expectations for them."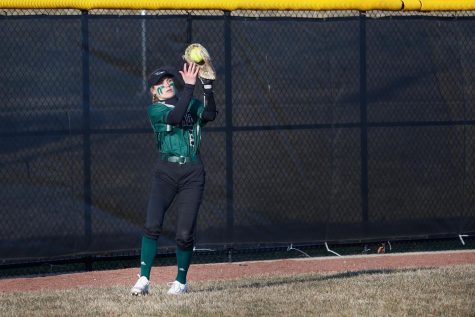 Sophomore pitcher Amber Dasenbrock pitched eight innings through the two games, allowing six hits and three runs. She also threw 11 strikeouts and four walks with two errors. While hitting, Dasenbrock made four hits and scored three runs with one RBI in seven collective at-bats.
"I used to have a coach that would talk a lot in the field, and I got used to zoning in," she said. "Even with the [opponents'] cheers, they don't faze me. They encourage me, actually, and that's how I stay focused."
Sophomore outfielder Cassie Bogacz made six hits and scored four runs in seven at-bats through the two games. She also made five RBIs and hit one double.
"Our defense is already pretty strong, but as the season moves on I hope to see it improve," Bogacz said. "Along with the bats too, we're already hitting very well compared to last year. I'm [excited] to see where we go."
Sophomore infielder Raquel Procopio made four hits and scored three runs with three RBIs in six collective at-bats. She also hit three doubles and made three fielding errors.
"Our energy on the bench started getting to them at some point," Procopio said. "They went silent, and we kept [the game] alive."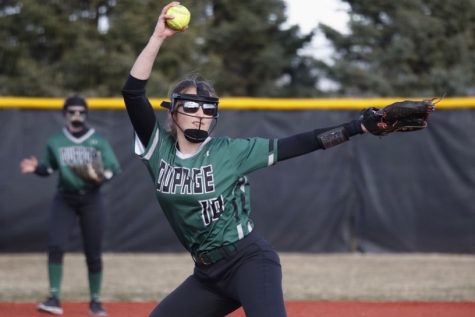 Sophomore utility Carlee Baker made two hits and scored three runs in eight at-bats through the two games. She also made two RBIs and two fielding errors.
"Hopefully with the warmer weather coming up, we're able to keep it all going," Baker said. "I know with the warmer weather, we all play better, so hopefully we can keep it moving."
The Chaparrals will play in their first doubleheader on the road against the Oakton Community College Owls with the first game starting at 3 p.m. on March 30 in Des Plaines.