"You've just got to look on the bright side"
A chat with current student veteran
College of DuPage first year student Matthew Kulpa enlisted for the Marines in 2011, at the age of 18. He served nearly four years of active duty as a lance corporal, with seven months being spent overseas in Afghanistan. Kulpa returned home to Glen Ellyn to finish out his inactive duty service, and to pursue a degree in nursing. He shed light on a few of his experiences while being in the Marines, and how the military has shaped his life thus far.
BK: Describe your first few days after arriving in California for training.
MK: Well it was definitely a reality check. I knew what to expect on some degree, but it's hard to describe. It was hard. I really had to learn quickly to adjust to the different lifestyle.
BK: What was different about your lifestyle there as opposed to here?
MK: Well, it's not as relaxed, definitely. I had way more responsibility. It forces you to grow up alot faster.
BK: What were you feeling when you arrived in California for training?
MK: Anxious. I didn't know anyone there, I was all by myself.
BK: What about when you deployed to Afghanistan?
MK: I actually wanted to go to Afghanistan. I mean I was nervous, of course, but I wanted to go.
BK: Why did you want to go to Afghanistan?
MK: When I thought of joining the military, I couldn't picture myself doing anything other than going to Afghanistan, and going to fight. I couldn't see myself being a mechanic or anything of that sort. It's why I joined, really.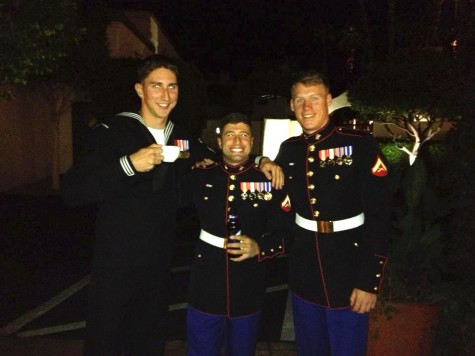 BK: Did you always know that you wanted to join the military after high school?
MK: No, not necessarily. It was always in the back of my mind. I just had no idea what I wanted to do after high school, and I didn't want to waste the money to go to college.
BK: Describe a typical day while you were in Afghanistan, if there even was such thing as a typical day.
MK: There is a schedule for posts, but generally we had to get our vehicles ready for when we go out, just keeping all the vehicles maintained with all the gear that we need. We were responsible for guarding the base.
BK: What were your living conditions like in Afghanistan?
MK: We lived in these structures made out of  sand barriers, and they have this weird roof. And basically there's just a bunch of bunk beds in there, all packed together.
BK: What did you do in your free time?
MK: Oh, we threw a football around. We had some board games sent to us. We watched movies, pretty boring stuff, not going to lie. Read books.
BK: What was it like being away from your family for that long? Was it difficult?
MK: Honestly, not really. I mean of course I missed them, but I didn't really get homesick. You're faced with more important things to deal with.
BK: Are there any chances that you could be called back at any time?
MK: So basically if you sign with the military, you sign an eight year contract. Part of it is active duty, and the other part is inactive. So I'm technically still in the reserves. I don't have to go anywhere or do anything. It's kind of an alternative to the draft. They can just call back someone who already knows what going on, who has already gone through training as opposed to drafting all new people. I did four years active duty, and I can get called back at anytime until 2018.
BK: Suppose you get a call tomorrow, that you have to go back and continue active duty. What would your reaction be?
MK: I'd definitely be shocked. But, at the same time you've got to do what you've got to do. It would kinda suck, but it's what I signed up to do.
BK: What are your goals here at COD?
MK: I'm mostly taking general education courses. I'd like to transfer somewhere, but I'm just not sure where yet.
BK: After returning home, was there any sense of culture shock, or did you realize anything that you weren't aware of before you left?
MK: Oh, definitely. Just having a regular sleep schedule for one thing, that was nice. Not having to eat some of the food. I mean I'm not going to complain, the food could have always been worse, but it was pretty gross.
BK: What are some aspects in your life now that you attribute to being in the military?
MK: Definitely not taking anything for granted. You appreciate the little things. You've just got to look on the bright side. Because it can always be worse.