Why the Democrats' new debt-free college plan won't really make college debt-free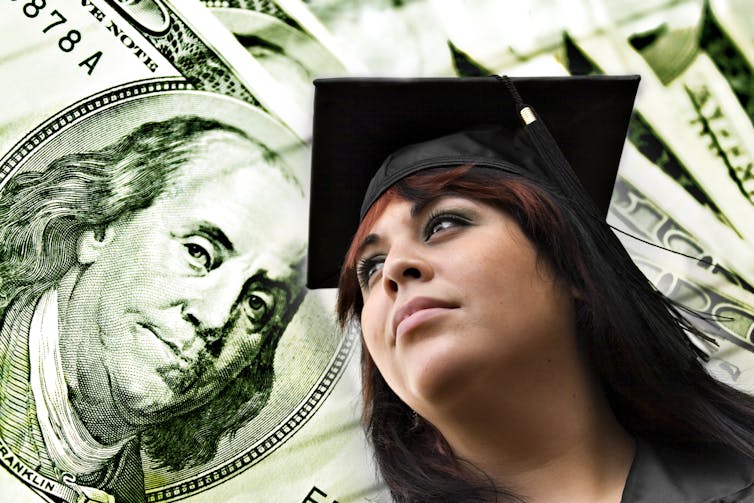 Rising student loan debt and concerns about college affordability got considerable attention from Democrats in the 2016 presidential campaign. Those issues are bound to get renewed attention since House Democrats recently introduced the Aim Higher Act – an effort to update the Higher Education Act, the federal law that governs federal higher education programs.
The bill promises "debt-free" college to students. As scholars who focus on higher education finance and student aid, we believe the bill actually falls well short of that promise.
What 'free' really means
In its current form, the bill guarantees two years of tuition-free community college to students. However, the Democratic bill does not address the fact that tuition is only about one-fifth of the total cost of attending community college. Rent, food, books and transportation make up the rest of the cost of attendance and are not covered by this plan.
The "debt-free" label is problematic for other reasons. For instance, the maximum Pell Grant – US$6,095 for the 2018-2019 school year – already covers community college tuition in nearly all states. This means the neediest students likely already have access to federal grant funds to cover tuition. Although the bill would increase Pell awards by $500 each year and reduce debt somewhat for the neediest students, many needy students will still need to take out loans to attend college.
States may not cooperate
Another reason the Democrats' "debt-free" college plan does not live up to its name is the fact that its tuition-free provision requires states to maintain their funding for public colleges in order qualify for more federal funds under the proposed bill. This approach is similar to the state-federal partnership that was part of the recent Medicaid expansion, which led 16 conservative states to decline to expand Medicaid. Many conservative-leaning states might push back against the Aim Higher Act's tuition-free provision because it restricts states' ability to cut higher education spending.
Slim chance of becoming law
It is unlikely that either the PROSPER Act or the Aim Higher Act become law in the near future given the lack of comprehensive support within the Republican Party and Democrats' minority status in Congress. But there are a few parts of both bills that could get bipartisan support, such as simplifying the process for applying for federal financial aid, creating better data systems to help track students' outcomes, and allowing Pell Grants to be used for shorter-term training programs. Although neither the Republican nor the Democratic bills appear likely to pass, expect both parties to use their proposals in the upcoming midterm elections.
Robert Kelchen, Assistant Professor of Higher Education, Seton Hall University and Dennis A. Kramer II, Assistant Professor of Education Policy, University of Florida
This article was originally published on The Conversation. Read the original article.