Transfer credits and community college stigma are two challenges student spoke about during a roundtable discussion with Governor J.B. Pritzker earlier this month. The event highlighted Illinois state officials' efforts to strengthen transfer agreements between community colleges and public universities. The students were chosen based on their leadership activity at the College of DuPage in various institutional organization and student clubs. The event was facilitated by Pritzker and COD President Brian Caputo, who sat at a table at the front of the room. 
To the right of Caputo was paralegal studies student Ashley Stannard. She is the president and media officer of the Paralegal Club and LEX Honors Society, as well as a student worker for the paralegal program chair. She described how impactful it was to hear student experiences during the event.
"Many of these courageous students highlighted the challenges that come with transferring from a community college to a university, including the looming student debt, the stigma surrounding community colleges and the concern of losing hard-earned college credits," Stannard said. "Gathering with amazing student ambassadors from the various programs with our college and having the honor of sharing our COD journeys with Governor Pritzker was nothing short of humbling."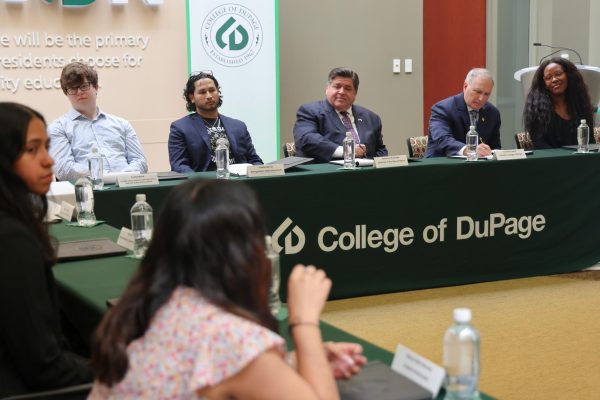 Seated at the end of the table alongside Pritzker and Caputo was sophomore Ty Giordano, who is a member of the Student Leadership Council. He also serves as a representative of COD in the Illinois Board of Higher Education.
"From what I understand, J.B. visited COD to get a better understanding of what community college students want and to see how the state can better support community colleges and their students," Giordano shared. "J.B. seemed genuinely interested in hearing from students and that they really wanted to keep students inside the state when it came to transferring. We mainly talked about how we have enjoyed attending COD and that we worry about our credits transferring to some private schools."
Some of the students chosen for the roundtable were COD student ambassadors, who help with Admissions and Outreach events like campus tours, junior-senior nights and college fairs. They are tasked with guiding prospective students during these events, by explaining opportunities offered by COD.
One of the student ambassadors at the roundtable was Viviana Fuentes, who is an accounting and finance major. She described how students shared their individual stories of why they chose to start their college journey at the College of DuPage.
"Many of us agreed that it was the wisest financial decision to make because we did not want to take loans that will put us in debt like in four-year institutions," Fuentes explained. 
Other students agreed that COD provides affordable classes close to home, in a central location for the wider DuPage community. It's a bridge for undecided students coming out of high school and hoping to explore their degree options before plunging into a four-year institution. COD offers them the same variety of program areas as they would find at four-year universities, in a similarly enriching academic environment. Despite these assets, many students come to find that their efforts at COD aren't always accepted by four-year universities.
"We spoke about how certain institutions are extremely strict with transfer students and don't prioritize them as first-year high school graduates," Fuentes said. "I remember some students mentioned the great numerous opportunities COD has given them, but it wasn't 'enough' for a specific institution or university, which meant that they would have to start all over again, their college career at that specific institution since their COD credits, campus involvement, leadership, unfortunately did not matter."
This challenge leads to frustration for many students who find themselves taking extra classes and additional semesters at COD before their chosen university admits them.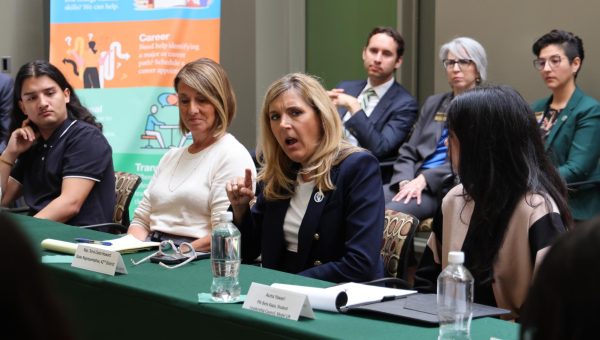 To remedy this issue, the faculty and state officials encouraged students to utilize the Illinois Articulation Initiative (IAI). Illinois State Representative Terra Cost Howard discussed how IAI is a program that ensures that general education classes taken at COD directly transfer to the state's higher education institutions. This mainly applies to students who pursue Associate of Arts or Associate of Science degrees. However, classes that are specialized degree programs or are 2000-level classes usually don't transfer outside of COD.
Fuentes provided her own experience with a transfer agreement into Elmhurst University after she completed the finance and accounting programs at COD. 
"In my case, it was easy to transfer to Elmhurst University because COD has a partnership program with that institution," Fuentes said. "I created a plan in my second semester at COD. I knew that I wanted to attend Elmhurst University, therefore, I met with admission representatives and asked them what credits they would accept and how many. I loved how Elmhurst University offers an easy transfer pathway and lets you know what courses to take because they will 100% transfer to their institution. I took my general education classes along with the specific areas of knowledge courses that were required to take at their institution. Thankfully, my experience in transferring credits was easy. 
Fuentes reminds students that the ease of transferring depends on the student's planning during their early days at COD.
"If a student knows where they want transfer to, they will begin the process of reaching out to admissions representatives and learn what specific credits to take at COD that will 100% transfer," Fuentes said.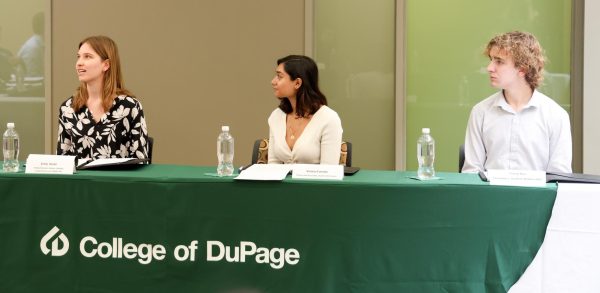 Based on her experience and other comments shared at the event, students are advised to consult their counselors early on and pay attention to transfer guidelines as they take classes at COD in anticipation of transferring to a four-year university. The students discussed other resources they use to make their transfer journeys easier.
"Overall, I think COD does a great job when it comes to transferring," Giordano said. "There are pretty clear outlines of classes to take when it comes to your major and there are lots of resources, like Transferology, that help you double check your classes."
Fuentes also mentioned other opportunities she benefited from at COD that she encourages other students to utilize.
"I'm very grateful for the Presidential Scholars Award giving me the opportunity to study with covered tuition," Fuentes said. "As a first-generation Mexican-American college student, I am thankful for the help from COD staff, faculty and professors for guiding me in this complicated world of higher education."
The students observed that the meeting was an important way to share their concerns directly with state officials and college administrators. The event also created a sense of unity and pride in their community college experience, which Stannard described.
"One memorable question Dr. Caputo posed to us, 'What would we tell our younger selves when choosing to pursue higher education at a community college?'" Stannard recalled. "I remember wishing that I could take all of the students in that room, and their incredible stories about their experiences at COD, and transport them back to my high school days. The ways in which they all have broken through the barriers and formed their own narrative here at a community college would've been the push I desperately needed."
With these positive messages and initiatives in mind, the officials at the roundtable discussion hope to empower college students to easier paths through higher education. After the Oct. 2 meeting at COD, Pritzker and Illinois state officials will continue touring other community colleges, such as the City Colleges of Chicago.