Post-Game interview with Coach Anderson after loss to Madison
Exemplifying the lack of mental concentration which has dodged them all season, the Chaparrals won the opening tip-off against the visiting Madison College Wolf Pack (16-9) only to immediately lose the ball on a backcourt violation pass. Strong early perimeter shooting doomed the Chap's stingy man-on-man defense. Staying competitive through utilizing precise passes to penetrate the key, the Chaps still found it difficult to breakdown the frenetic and austere Wolf Pack zone defense.
Aggressive steals enabled the Wolf Pack to quickly gain a scoring edge, and perpetual pressure coerced the Chaps into frequent turnovers and mental mistakes. The Chaps lost the turnover battle 24 to 11, and were dominated in the steal game, losing out 14 to 1. A key factor in applying the pressure was Madison's hostile and extremely successful full-court press. Unable to solve this defensive onslaught and their opponent's perimeter shooting, the Chaps fell to Madison with a final score of 72-56.
A 21-point performance by Michael Stewart and a terrific defensive rebounding game by the whole team wasn't enough to prevent the Chaps from sliding to (4-19) for the season, with only one game remaining.
Afterwards I caught up with Coach William Anderson to discuss the team's endeavours.
JW: Madison exemplified the potency of an energetic full-court press, what strategies do you teach your players to dismantle such an attack?
Anderson: "The first thing we teach them is to move without the ball. In Madison's case they were attacking with a 2-2-1. So we counter with an odd-front, the point person splits the two players at the free throw line, and we try to maintain equilateral triangles throughout the floor against the press. Madison did a decent job putting us under duress, but part of that was contributed to us not cutting hard to the basketball and moving the ball quickly against the press."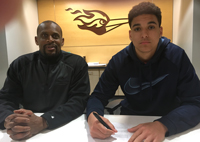 JW: Does your team ever attack with the full-court press, and what do you need to see in the opponent to utilize it?
Anderson: "Early part of the year we did when we had more players to replace the ones that got tired because it takes maximum effort. When we see an opponent lacking in ball-handling skills we look to create turnovers. In the early part of the season we were doing that, but because our personnel is very limited, it takes a lot of our kids to actually do a full-court press."
JW: When an opponent is as strong around the perimeter as Madison was today, what type of defense could you use to combat their shooting?
Anderson: "What we try to teach our kids is when an opponent catches the ball, there's not any air-space, which means you are close enough they have to put the ball on the floor. Tonight we were over-helping and not closing out, and as a result they were catching the ball and just happened to make a lot of perimeter shots."
JW: What type of growth have you seen demonstrated by your players throughout the season?
Anderson: "We are immature and inconsistent in our play across the board. To acquire this maturity they need to humble themselves and try to learn to transition from a fixed mindset to a growth mindset. I believe some kids are afraid to fail, and it's okay to fall down and get back up quickly; it's okay to fail so you can learn. Some kids need to break out of their own way, believing they are better than they are. That becomes an enabler, prohibiting the growth process and the development to become a better player.
"The players do a lot of bonding and have the opportunity to come together collectively. However, what happens is during the course of the basketball game they revert back to bad habits, which means they start to lack and doubt the teachings they need to be applying."
JW: What are some of the big improvements you want to see with the players continuing into the next season?
Anderson: "Maturity as an athlete and improvement on their skillset. These kids are pretty good academically, and I'm proud of them as students. However, there is a lot of growth needed. Some kids come in with a fixed mindset. And when there are expectations and accountability, a lot of them do not mature and they are fighting themselves to get better because of the expectations and demands required to compete at this level."
JW: To prospects looking at the team for next season, why is COD the proper place for them to develop their talents?
Anderson: "They have the opportunity to develop as a student given the community college allowing them to mature academically. COD provides a lot of academic resources for students and they are excellent with financial aid. You also have the opportunity to enter a mentoring program. We have a lot of coaches here who impart and share their wisdom with kids to help them develop as a young person. And as far as basketball skills, we teach the kids what they need to be prepared to go to the next level. A lot of our kids earn their associates degree and move on to a four-year institution."
• Later in the week on 2/17, the Chaparrals lost their final game of the season to Joliet (82-57) for a final record of (4-20). Tyrrell will look to turn things around next season.