New opportunities find AIGA
The College of DuPage branch of the American Institute of Graphic Arts, AIGA, has been growing in size ever since it began 7 years ago. This school year has offered a wide variety of new opportunities for the group, from hosting their own contest to their first show at the Wing Arts Gallery.
AIGA gives graphic designers, artists and photographers the opportunity to experiment with design. The COD branch is just one of two community college student groups of the national organization.
Felicia Moore, president of the COD branch, believes that in the graphic design world, Illinois has been overshadowed. This year, the group was able to create a new competition upon receiving the AIGA student group project grant. Moore believes the contest opens a large possibility of putting Illinois on the radar.
"We wanted to create a competition that would really get Illinois students noticed," said Moore.
The group created what they call the ACE Awards which will run through May 1. The competition will take submissions in 13 categories from anyone who can prove they are a college student in Illinois. Moore and the other AIGA leaders found this opportunity as a way to promote not only COD designers, but the state as a whole.
"COD is such a huge sector of the design world, and that goes beyond just graphic design," said Moore. "I feel like we go unnoticed because people say 'oh they just go to a community college.' Having the opportunity to open this up collegially, and possibly winning a lot of [the categories] is really our push. We want to get our designers noticed as well as the state in general."
Along with the new competition, AIGA will be hosting a show in the Wings Student Art Gallery to support their annual Brain Flower magazine. The magazine, created entirely of COD student designs, has become a tool for the group to showcase the best submissions. The gallery show from April 13 to 17, will feature not only top tier designs from the magazine, but also honorable mention pieces.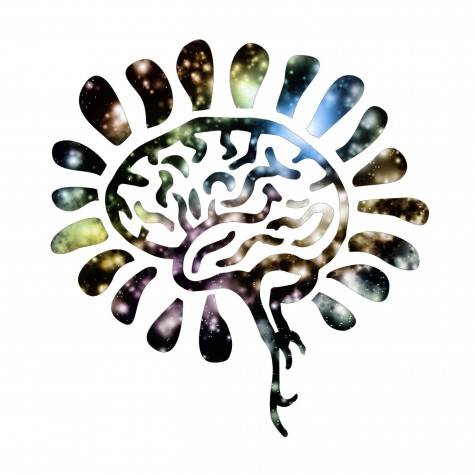 Bonus material can also be found in the magazine's online version. The new set up has been created with not just winners in mind, but also respectable submissions that were unable to be in the print version.
Another first for the group is AIGA's new online store. Just launched as an addition to their website, www.aigacod.org, the shop features designs by COD students on everything from T-shirts to phone cases.
In the spirit of new ideas, this year the group expanded their philanthropic roots.  AIGA contributed to the Central DuPage Hospital pediatric ward with the creation of a coloring book designed by COD students. The group was able to fulfill this goal with extra funding from the college after their fundraising efforts fell short.
The 44-member branch is composed mainly of students interested in art, graphically and otherwise. All types of students, art inclined or not, are invited to participate in nonprofit activities the group runs.
"We wish that we could welcome everyone, but most people aren't interested because it's not their cup of tea," said Moore.
She hopes that even those not interested in joining the group will take leisure time to enjoy the magazine, and see what AIGA has to offer.
"I think that art in general motivates people." Said Moore. "I think even though people aren't involved, it motivates them, so I hope that the word gets out about Brain Flowers so maybe they want to stop by the gallery and pick up a copy."
More information about ACE Award submissions can be found at www.aceawardscod.com.