Facing the White House, thousands of demonstrators urge their federal officials to endorse a ceasefire in Gaza. On Saturday afternoon, Nov. 4, protestors of the March on Washington: Free Palestine demonstration held handmade signs with pleas for peace, as well as flags of Palestine. A long line of protestors also held a roll of paper bearing the names of over 4,000 children killed in Gaza in the past month of bombardment by Israel. It comes after over 1,400 Israelis were killed in an Oct. 7 ground attack by Palestinian militant group Hamas.
At the March on Washington, "Let Gaza Live! Stop Funding Genocide" was a popular message on posters distributed by the ANSWER coalition. Act Now to Stop War and End Racism (ANSWER) is an anti-war civil rights group. They were one of nine primary organizations that led tens of thousands of protestors from across the country. Many Chicagoans also traveled to the march to express the urgent need for a ceasefire, including DePaul University student Aisha Mujahid.
"My main objective in traveling for the D.C. protest was to help quantitatively pressure US government officials into understanding the seriousness of the conflict in Palestine," Mujahid said. "I wanted politicians to see how many people would actually show up and physically show their support – the American people are not aligned with the governmental strategy to ultimately overlook this genocide."
She also emphasized people's commitment to civil actions, including their right to peaceful protest.
"I, and a lot of others, want to feel like we could do something," Mujahid explained. "After phone call after phone call, countless donation money, social media awareness and more, a lot of us feel very helpless. We deserve a say in the money that is getting sent overseas, and we are sick and tired of our government blatantly ignoring that right."
About 66% of Americans support a ceasefire, an aggregate number surveyed across party lines in an Oct. 20 Data For Progress poll. Delegations in Israel and Palestine also stress the need for a humanitarian truce to allow aid into Gaza and for international citizens to leave, as well as the recovery of Israeli hostages.
Meanwhile, a Republic-led plan for military aid of $14.5 billion was sent to Israel, as well as other military interests around the world. For many Americans, this allocation of U.S. funds has been a strong point of opposition, and many Democratic U.S. Representatives criticized the bill for its lack of humanitarian aid funding to Gaza, as well as the deductions many public services will take.
The White House press releases and delegations from countries in the Middle East explain that a humanitarian truce can allow time for aid into Gaza, international citizens to escape, and recovery of Israeli hostages.
Various civic leaders across the United States call for a cease fire, and College of DuPage student representative Ayesha Shafiuddin explained the need.
"Protesting for a ceasefire, for an end to the violence and hatred, was a sense of duty to me as an American citizen," Shafiuddin said. "It was also a release of continued anger, frustration, and incredible grief that I've been feeling. In a world that seems so broken, protesting for peace felt like the least anyone can do."
Shafiuddin urges fellow Americans to research the issue and appeal to the important role of the United States government in mediating a resolution.
"We as citizens of America, of a country that has the most advanced resources, have to hold ourselves and each other to the highest levels of critical thinking and morality," Shafiuddin said. "What we are allowing to happen is not moral, and we absolutely cannot turn a blind eye to it. It's vital for student leaders to rise in the face of immorality and hate because soon, we will be face of tomorrow's global leadership."
This was echoed by Amal Jarad, who is a COD counselor and advisor of the Arab Student Association. She explained the importance of understanding the conflict and taking a humanitarian stance.
"Education and awareness play a pivotal role in preventing hate crimes," Jarad said. "For this reason, I would like to bring to your attention the fact that Palestinians are disproportionately affected by the Israeli occupation, resulting in forced displacement and genocide over their population for 75 years, courtesy of our U.S. tax dollars. As humanitarians, we are demanding a total ceasefire by the Israeli military, which happens to be the third most powerful military force in the world."
The calls for a ceasefire during the March on Washington rally were echoed in hundreds of cities around the world, and 124 countries in the United Nations General Assembly voted in favor of a humanitarian truce in Gaza. Fourteen countries voted against it, including the U.S., and 45 countries abstained from the vote.
The U.N. Office for the Coordination of Humanitarian Affairs (OCHA) has carefully tracked 227 aid trucks at the border, 92 of which carry food and 78 with health products. The U.N. Office also commented on the lack of aid, which is already severely limited by the blockade on Gaza since 2005.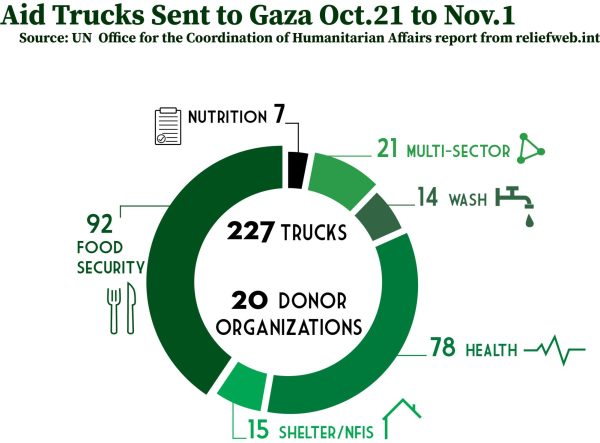 "Between the start of the crisis on 7 October and 20 October, approximately 2,100 commercial trucks should have reached Gaza through the Rafah border crossing, but none did," the OCHA report stated. "Since the re-opening of Rafah border crossing for humanitarian cargo on 21 October, the daily average number of confirmed trucks that crossed through Rafah is less than 10 percent what it used to be before the crisis."
On Nov. 2, the pressing need for a ceasefire was reiterated by six expert reporters of the UN's Special Procedure on Human Rights Council. They demanded that both Hamas and Israel's military abide by international wartime rules of not targeting civilian areas.
"The Israeli airstrike on a residential complex in the Jabalia refugee camp is a brazen violation of international law – and a war crime," the experts said. "Attacking a camp sheltering civilians including women and children is a complete breach of the rules of proportionality and distinction between combatants and civilians."
Many Palestinian people were also killed by missiles while sheltering in the UNRWA schools and protected refugee camps across Gaza. From the start of the bombardment, 63 UN officials working in Gaza have also been killed by missile attacks or are missing. Furthermore, the bombing of a Palestinian ambulance compelled UN Secretary-General to urge Israel to issue a ceasefire and stop the bombardment of civilian targets.
Most recent reports reveal casualties in Gaza have mounted to over 10,000 with another 155 Palestinians murdered in the West Bank, and 242 hostages from Israel remain captive. Many organizations are calling for a ceasefire and humanitarian aid to victims.