Learning Spanish with Connection and Culture
Learning a new language is more than memorizing vocabulary; it is understanding culture and forming community bonds, as students experience in Professor Elizabeth Mares' Spanish 1101 class.
Navigating the subway, interviewing for a job and moving into a new home are all challenging but necessary parts of life. Imagine trying to do these tasks in a country abroad where you do not speak the language. This was the experience of Elizabeth Mares on her second day in Paris, after moving there on a scholarship grant as a university student.
"I was always intrigued by French because of the books I read as a child," Mares described, reminiscently. "I would dream of going to Paris and seeing the Eiffel Tower. I come from a very poor background, so I never thought I would have the opportunity to realize my dream."
Through this fascination for the landmarks of France and a determination to learn, Mares made the best of her stay. It led to her realization that learning a new language requires interactions with the community who speaks that language, as well as understanding their culture.
"The experience changed my life and opened a whole new world for me," Mares said. "I learned French through literal immersion. You learn a new language very quickly when you are put into a setting where you need to use the language to complete tasks."
Mares is a Spanish language professor at College of DuPage now, and she speaks French, Spanish, Italian and understands Portuguese. From what she learned in her travels, Mares has created a uniquely immersive learning experience for her students at COD.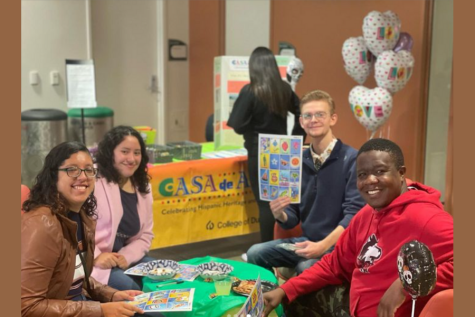 In her Elementary Spanish classes, students learn Spanish for use in everyday life tasks, just as Mares did when learning French in Paris. They learn how to introduce themselves, have basic conversations, shop for groceries and create resumes or social media profiles in Spanish.
Instead of only doing grammar exercises or memorizing vocab charts, students can learn in a practical and interactive way. They frequently do group work and play team games like Lotería, a traditional Mexican card game similar to bingo. This is especially important for students who work in Spanish-speaking environments or plan to study abroad in a Spanish-speaking country.
"Some students have already expressed to me that they used their Spanish at work, at a local hospital to help a patient or in a restaurant," Mares said. "That puts a big smile on my face because my students are stepping out of their comfort zone and forming connections with new communities."
One such student, Eric Hawley, is taking Spanish classes at COD for his Master's degree in Theology at Concordia University. He described how he uses Spanish in his outreach work at the Trinity Galewood church that he leads in Chicago. His neighborhood is 43% Latinx, and the public school he volunteers at is 10% Spanish-speaking parents. By learning Spanish, he hopes to connect with these families.
"I was in the public school volunteering, and a parent came up to me to ask me where her son's class was located," Hawley recalled. "I got real nervous, and I couldn't recall stuff we did in class, but eventually, we were able to understand each other. That parent got to find the classroom a little faster, and I got to walk in someone else's shoes for a little bit." 
To learn a new language, it's important to communicate with the native speakers, Mares explained. This allows the learner to understand slang, different accents and dialects, and most importantly, the cultural influences.
Speaking Spanish with friends is one helpful option, as student Gopinath Mayank Naik described. His motivation for taking Spanish classes was to be able to communicate with his close friends.
"I grew up around a lot of Latino people, and it's been one of my biggest regrets not taking Spanish in high school, so I could have a better understanding of it today and talk with some of my closest friends in their language," Naik said. "That's why I chose to take Spanish, and I'm excited to continue to learn about the culture and history."
Cultural learning is also an important aspect of learning a new language. Just as her childhood fascination with France led her to learning French, Mares also studied abroad in Mexico to connect with her Mexican roots.
"I lived with a host family, and I was able to learn about my host family's customs and traditions in Guadalajara," Mares described. "That was invaluable to me because my language skills blossomed. I learned about so many new cultural practices such as how to answer the phone in Spanish by showing respect, how to prepare traditional Mexican meals, and how certain holidays are celebrated in Mexico."
Mares seeks to implement this cultural communication aspect in her Spanish classrooms at COD. Even though students can't travel internationally, they talk with native speakers of Spanish from around the world through a virtual exchange program called TalkAbroad.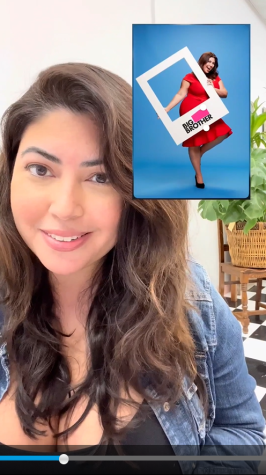 One guest is Mares' friend, Jessica Milagros, a Puerto Rican-American activist, actress and model. For the students, Milagros is a valuable connection to contemporary Latinx culture.
"Jessica Milagros is Latina, a plus-size model and an advocate for Latinas and women's rights," Mares said. "Jessica broke many barriers that exist in media today by representing her Latinx culture and promoting and celebrating diversity and inclusivity on [TV show] 'Big Brother.'"
Milagros created educational videos for the COD Spanish classes, where she introduces herself and her career with pictures from the TV show. She describes her life, even giving a view of her family's store, or tienda, where she is speaking to the students from.
Students described how it was a unique experience to connect with Milagros as a contemporary Spanish-speaking figure and learn about her life and Latinx culture, all in Spanish. Even in remote classes, Mares creates interactive, group activities for students. Hawley described how this learning style has been especially helpful for him.
"I could never do it independently; doing it in a group is significantly easier," Hawley said. "Doing it online hasn't been a challenge. Mares does a great job of helping us navigate the online stuff. She isn't teaching an in-person class that happens to be online. She is teaching an online course with online tools. It's really helpful to have her as the professor."
As a passionate educator, Mares shared advice for other COD students interested in learning Spanish both in and outside of the classroom.
"Definitely try to speak with native speakers of Spanish through virtual exchange programs, study abroad, tutoring, the Spanish Club at COD (Casa de Amigos), Casa de Amigos or connecting with your local Latinx community," Mares advised. "I would also take a class that is communicative and task-based so that students learn how to actually use the language in the real world." 
Mares concluded that language is one the most important tools to increase empathy and intercultural understanding. 
"In the news and media, I see so much negative talk about separation and differences, the 'them versus us' mentality." Mares said. "We are all humans. We all have very unique, meaningful and beautiful cultural traditions, practices and perspectives. Why not learn a new language to experience them? Let's build communities that unite us versus walls that separate us." 
Teaching her students Spanish with an understanding for culture is one way Mares hopes to foster connection. Mares is also writing her own Spanish textbook, titled "Nepantla," which she will offer as a free Open Education Resource this fall, compared to the current $168 book for Spanish I and II classes. Students who hope to learn a new language can seek out opportunities like those in Professor Mares' classes, to open the doors to communicating with the world beyond.