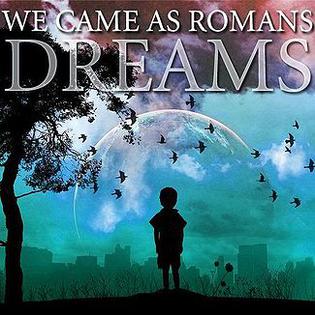 Six ambitious teens set out to make their own come true with all their musical influences tied in a four-track EP in the early days of the metalcore era of the early 2010s.
"Dreams" is the debut EP of metalcore sextuplet, We Came As Romans. The band self-published independently and was produced by then unknown, post-hardcore/metalcore producer Joey Sturgis. Released  on December 2, 2008, the EP was an exhibition of the band's potential and ambition regardless of the outcome. 
While a first listen could lead some to dismiss the band based on lead singer Dave Stephens's unclean vocal performance, the lyrics carve a deeper connection, saying more than apathetic iterations of youth and delving into ideas such as existence, philosophy, relationships and other grand themes of life. Given the musical precision, tight production and quality of the four-track EP, the band created a distinguished sound that allowed them to garner a following with their stylized take on metalcore fused with EDM flare.
"Conditions" is a powerful start to the EP, enveloping self-reflective prose on relationships and connections with an aggressive backdrop. As rhythmically chaotic as drummer Eric Choi's fills can be, or the flip-switch transitions aided by Joshua Moore's intricate guitar work, every note is an experiment on the cemented oncoming wave of bands to come. Whether Moore plays an accenting end trail riff, or Choi falls into another groove-constructed rhythm, clean vocalist, Kyle Pavone's voice makes sense of all the chaos. 
What makes the band work so well, not just on this release but for records after, is the lyrical emphasis on unity and brotherhood, which is emphasized in this introductory track. In the latter half of the track, Pavone works an aggressive EDM-inspired rhythm singing, "conversation conversation/ours are never./you are ever so convincing./they'll get better." Here Stevens perfectly transitions the track back into a heavy, guitar-chugging finale.  
"Dreams" follows and perfectly builds on the musical and lyrical elements. Choi, Moore, Stephens and Pavone weave rhythmic tracks that lead to a climactic melodic point. At the apex, Pavone pairs his vocal performance with synth pieces that could act as songs all on their own. Lyrically, the track dwells on themes of brotherhood and touches on Judeo-Christian ideology, using the metaphor of the prophet as a conduit to work through broken relationships or relationships in general. Part of the lyrical artistry notes a respect for individuals who do not rely on faith who can hear the faith-based lyrics and still generally recognize themselves relatively. Pavone sings, "He tells me that love will endure all things./I know that you are forever my brother./Here I struggle with you my brother./He tells me that love endures all things." Where faith in christian ideology is what the listener might be able to distinguish, Pavone places an emphasis in faith in brotherhood and your fellow being rather than a monotheistic view that is commonly highlighted.  
"Intentions" is a noteworthy blend of metalcore and post-hardcore. Blending both subgenres that eventually evolved into the other, Choi and Pavone lead the track attempting to pair a micromelody with rhythm. The layering would substitute beats for transitions into synths and back into the more aggressive notes of Stevens' screams and Moore's foundational guitar. The track exhibits a push-and-pull composition noted in works like Thursday's "Full Collapse" album and Saosin's "Translating The Name" EP, which were both pivotal to post-Hardcore. The lyrics are centered around a clash of classical and metallic musical production both unifying towards the later end of the track layered under Stephen's lyrical take on human based faith, "For we are nothing without brotherhood And brotherhood is nothing without your brothers." 
"Shapes" is an experimental departure that grooves more than hits hard. Moore and Pavone crescendo and decrescendo competitively. The track dramatically shifts from EDM fill by Pavone on synths and Moore and Steven's performances to close out the EP.
Given Pavone's death in 2018, the band's continuity based on this EP is definitive not just for the Michigan post-hardcore scene but the Metalcore scene as well. Given so many bands reference We Came As Romans as a large influence, the band always harped on fans achieving their dreams and loved hearing about fans making it when on tour. Hard to believe it took four songs and the passion to push themselves into a scene to where they got.  
5/5