Killer Klassix: The True Blue; "If That's How You Feel"
The True Blue ripples the Detroit music scene with their debut full length; reinventing common ground and acquiring a fanbase, transcending musical genres.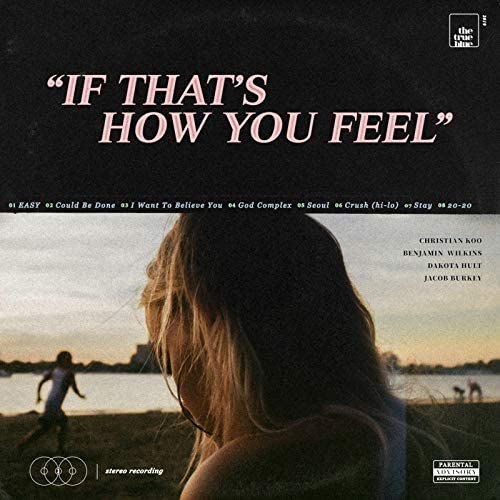 When you combine a strong Madonna influence, a Metalcore scene and the undying passion to create art as a career, you'll find yourself in the place of a Michigan-based indie/sub-pop-esque band looking to hit it big. 
"If That's How You Feel" is the debut album of "The True Blue." It was released on Aug. 29, 2019 and garnered massive attention for the group. Remarkably, this was not the band's first debut. Originally a 5-piece, pop-infused metalcore/post-hardcore project called Alive in Standby, they emerged alongside the Detroit metalcore scene and released a number of singles, an EP and a debut album. The band changed their musical direction and their name to align with larger prospects. In 2016, the band released a message via-social media to turn their fans' attention to not only a new direction but to a new sound.
Once shedding their musical roots, The True Blue was tied to the studio releasing singles in 2016, 2017 and finally releasing EPs from 2018 and 2019. "If That's How You Feel" uses common elements of an emerging, youthful relationship to melodically explore synergy, self love, relationships (romantic and platonic) and even highlight the ethereal. Most of the tracks are composed of a strong dynamic between vocals and background tracks. However, some tracks do falter a bit, leaning too heavily into either production aids or requiring a little more fleshing out.   
"Easy" was the first single off the album, highlighting mistreatment from a loved one. Pulling from glitch-hop and minimalistic production, vocalist and lyricist, Christian Koo uses emotional lyrics to facilitate his well-assembled, cathartic narrative. Progressively crescendoing his wonderful voice to not only entice the listener, but to draw out and recycle melodies in the same track, Koo creates multiple layers to envelop the audience. Lyrically Koo's focus highlights how enticing a romantic interest can be, but it ultimately ends up taking advantage of him; stating: "You showed who you are, no attempt to stop/Really, tell me what the fuck you thought when you said "Door's unlocked"/Both just let it happen in the end, you couldn't stomach it/If you're gonna do something so wrong/Just have your heart in it, goddamn."
"Could Be Done" is a producer's masterpiece. Musically the track shines because of its fluid rhythm overlayed with synth-created pops that bounce up and down for a background track. Koo takes a back seat while the band uses synths, keys and a beat maker to assemble a track that incorporates hard beats while still moving to the sound of the ocean. While difficult to time and create music using everyday sounds, the track is a treat to have on the album as a well-developed experimental track.  
"I Want To Believe You" is a track akin to those of Phil Collins.  Playful, upbeat but emotionally charged, the track relies on the synergetic dynamic established by Koo's vocals and Drummer Jake Burkey's '80s rock influenced rhythm. The track is a classic among the others and raises the standard of your radio-based pop from newer artists. Koo's writing and the band's composition compliment one another as they compose conventional 80's pop elements in a manner that revitalizes the decade. Koo's vocal performance alleviates his pain with the use of layering vulnerable lyrics. Once again, Koo's writing puts the track over the top, exhibiting a self-awareness that is difficult to craft, but well developed and works for the transition in the lyrics and the musical theme as well. Koo writes: "I'm online and I'm tired of the feeling I'm not good enough/If you think it's all a façade, girl, I want you to call my bluff/I wanna trust in the way my gut is pulling me/Look hard enough, there might be more to see/And I'll never know why you fight the feeling/What do you want me for?"
"God Complex" is a vulnerable, passionate track. Not only is it my personal favorite, but the track gained the most momentum for the band. Hidden in a choir-like progression, paired with a trap beat, Koo's vocals establish a dynamic for the track, progressing and backtracking his state of mind regarding a bad friend. Musically, the band furthers this theme between a push and pull background track that uses a similar beat to  "We Will Rock You" that slows down and transcends into a minimalistic trap beat. All the while, Koo's vocal performance is best towards the latter half of the song, not only layering his voice to highlight his most poignant lines, but aligning uniquely to create a final harmony/melody to finish the song out.
"Crush (Hi-Lo)" is a '90s throwback track. The track highlights a positive flare with some '80s style synth melodies transitioning into a trap-like breakdown and snapping back into melody. The band's production for the track should be noted not are-iteration of the classic sounds, but for assembling a well rounded track that does not suffer from overproduction (like a lot of '80s based pop does) or reliance on production aids that can hinder the artist's performance.  
Though off to an initially powerful start, the album wanes in other tracks where overproduction of the background track or composition does not cater to Koo's vocal ability and if anything muddle's his performance. Tracks like "20-20" and "Stay" sound as though they were cliche pop tracks and offer little to no nuance regarding The True Blue's distinguished potential as a new band. Coming off of the underground success of numerous steady releases, The True Blue ripples the Detroit music scene with their full-length debut; reinventing common ground and acquiring a fanbase, transcending musical genres. 
4/5