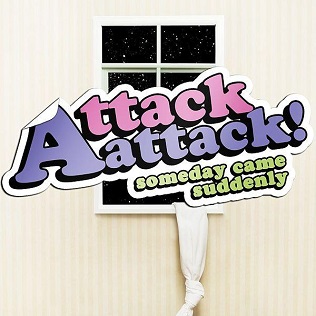 Progress comes at the cost of missteps that had larger ramifications than were realized at the time. Metalcore band Attack Attack's debut effort is a tenement to that very notion. The same way Sigmund Frueud, father of psychology, detached the academic field from the larger collective, Attack Attack's fusion of dubstep, eurodance, metalcore, post-hardcore and synth pop exhibits the determinant risk the band was looking to make. Though many questionable decisions were made in the attempt to make an impact,Attack Attack's debut album, "Someday Came Suddenly," highlights how such risk and determination enabled discoveries for a scene on the brink of reinvention.    
The album was released on Nov. 11, 2008, through Rise Records. The album is too ambitious for its own good, fusing genres and themes in a manner that muddles up the progression of the album. Attempting to use the vernacular of the time to make the album that much more marketable, there is Eurodance, Post-hardcore, Metalcore (in its early iteration) and Christian themes that fight for the listener's attention."Someday Came Suddenly" became a classic because it badly employs hallmarks of each genre it incorporates, bravely stumbling over itself in presentation and elaboration.  
"Stick Stickly" is a hallmark track for scene kids of the time and best summarizes the entity of the album. With the name originating from a transitory Nickelodeon host of the same name, the song was an attempt to cater to scene kids who wanted something different in regards to heavy alternative music that was not reliant on screams or simply clean vocals with heavy track. 
The composition of the song makes it that much more appealing. There is a heavy foundation reliant on chugging guitars, and (now infamous) unclean vocalist Austin Carlile paired with Eurodance synth melodies and some autotune lyrics that were reminiscent of radio pop. Though the track could be considered an attempt at some weird marketing scheme for electronic dance music fused with metalcore, it worked! The song structure is tight for as chaotic as some of the elements can get, the melody is furthered by the autotune and synths, and there are even positive Christian themes like faithfulness, loss of faith and, even for a renounced Catholic such as myself, there is some appeal in this. Clean vocalist and lyricist, Johnny Franck and unclean vocalist Austin Carlile sing, "Woo! This is the best part of the message/And it only took one/We live for what he's worth/And that's more than you'll know." Plus it's really catchy!
"Bro, Ashley's Here" leans more into the post-hardcore genre than metalcore due to its emphasis on melody progression. It is also discombobulated as far as composition goes. While the tight production is highlighted in the composition of the chorus structure, the more hardcore elements drag on and the synths are misplaced. The track is also the first to allude to the band's Christian themes. Carlile screams at one point, "And this is my call to the faithful,/I'll be for only you./Doing what you,have called to me,/No one could ever understand,/My shame you took with those nails in your hands." This rings a little counterproductive considering the track originally began with a very positive, progressive message about becoming everything one is supposed to come.
"What Happens If I Can't Check My MySpace When We Get There" is a banger track leading in with a catchy beat and melodic guitar riff before falling into a metalcore breakdown. While lacking in composition and clunky transitions from verse to chorus, the overall body of the track wrangles the listener in. Much like the appeal of the song, the lyrics talk about falling far from faith and giving in to self-interest, falling completely flat without any follow-through on the lyrical theme: "Come on have some selflessness/Don't give into arrogance/Sleep with peace tonight/[I'm waiting for the day]/We're gonna win this fight."
"Interlude" leans heavily into dubstep and Eurodance influences. The track has no lyrics but is well composed, though it may be a departure and slight relief from the heavy beat-driven tracks. It also is a relief from Carlile's overwhelming, long-winded screams that tend to carry a large part of the album. While I personally can really get behind screaming lyrics, because I see them as a means to express emotions and complexities that would otherwise be difficult to speak or convey, Carlile's contribution, though well performed, greatly overshadows vocalist and lyricist Johnny Franck's choruses.
"The People's Elbow" is another scene anthem not just with its bewildering intro, but its seamless micro-transition from intro to chorus, which lacks artistry. However, for listeners looking for the instant gratification of an instant melody, it's perfect. Otherwise, you are in a mess of how someone puts all their faith into one person and is let down. With some dubstep flavor for influence and some harder breakdowns, the song does not progress too well from verse to chorus and dies the same way it initiated.
"Dr. Shvargo Pt. 3" is a really catchy track at best, but it marks the return of faith and how committed Franck is to Christianity. No hate on religion, but musically Franck's commitment to religion sounds as though he is writing the choruses last minute only to fit the melody of the music, as though the lyrics are an after-thought, not as an extension of a theme.
While the album may be bad to modern listeners, to us scene kids in the late 2000s, not only was it a gateway to faith, but it opened up the avenues for many a metalcore band to capitalize on the exploration Attack Attack attempted with their debut release. It may be bad, but it still gained notoriety and was an honest attempt for the band to springboard into their sophomore effort with a more finely tuned approach.
2/5