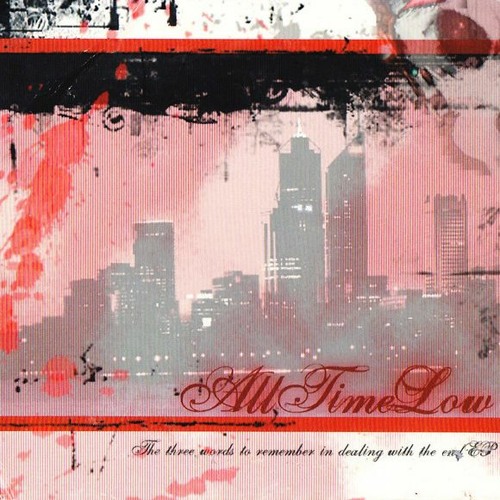 All Time Low is one of the most notable pop punk bands to come from the urban Baltimore area. They've gained notable notoriety within a scene that was generally on the verge of becoming more popular than ever and did so in a way where they were able to distinguish themselves as artists in a very formulaic genre. While their newer material is a bit too soft for me, personally, I did some digging and found this little gem from 2004. Given their mainstream success, the band had a very ambitious start. You never really know when and if you'll ever make it in the things you're passionate about. If anything, it's all risk. The band used their initial experiences as a Blink 182 cover band to compose a spectacular 4-song EP to exhibit not just their potential, but to map out exactly how far they were willing to go to make their dreams come true. 
"Three Words To Remember In Dealing With The End," also called "Three Words,"  is the debut EP from the modern pop punk quartet. Released on Oct. 1, 2004, by a small indie record company it did not take long for the EP to gain enough traction for the band to sign their first record deal. Though only composed of four total tracks, the thing that distinguishes the band from the time is their influences, which can be heard from the catchy hooks, experimental breakdowns and elaborate guitar melodies. Though they were huge fans of the latest pop punk music at the time, it shows in the effort to take everything that was being played, and have it done that much better. The EP takes influence from Fall Out Boy's "Take This To Your Grave," Taking Back Sunday's "Tell All Your Friends," and Spitalfield's "Remember Right Now" to fully exhibit the extent of their talents.
"Hit the Lights (Tribute to A Night, I'll Never Forget)" is an excitingly ambitious track. While lyrically the track is about embarking on something special, it is written in a way that remains relatable and alive, perfectly tailored to the listener. The track is perfectly paired with the lyrics, and it flourishes as vocalist and frontman Alex Gaskarth layers his vocals on the track to aid in the representation of living memory, singing, "Let's follow through with this reckless dream/That's tearing me up inside/And all the time we've been so innocent/So don't you go/I've got you where I want you and I'm never letting go/Hit the lights, we'll be alright/Tonight our dreams come true." Personally, the chorus captures the excitement and confidence of being self-motivated and the belief to understand the importance of this risk, this love, this passion. As someone who has had many false starts and pauses in their career, it is great to be able to believe so foolishly in yourself that even if others see you fail, you only see it as a stepping stone to pivot right back to your track to success, making the song that much more accessible on a human point. 
"The Next Best Thing" is a relentless revenge track. Gaskarth has been betrayed and is pulling no punches in capturing the overwhelming sense of pain. However, the music itself is neither negative nor aggressive. If anything, it takes the emotions and inverts them into a positive, fast-paced melody. There is a sense of ferocious desire to not let the impact of such an event weigh us down. This sense is furthered by pairing a hyper-positive melody with a bridge that states, "I think you're in over your head/ Choking as the water fills your lungs/Can't you see, to me you're dead/Too late now, what's said is done/, cognizant of a lesson learned."
"Last Flight Home" is a wonderful lamenting request to wait for someone to come home. Life has a way to present opportunities away from where we are and to pursue said opportunities, we have to leave those we love to collect the experiences and stories to come back and tell those stories we fondly look back on. The track thematically highlights heartbreak on both sides having to give up time for someone to pursue their dreams to be successful and come home. The song also highlights the difficulty of, being away from someone you love but also denoting a risk. Gaskarth sings, "Now the runway lights are fading/With the darkness overtaking/I'll leave you standing watching all alone/From that plain glass window one million miles away/And I'm sorry when I tell you/That I'm coming back someday."
"Memories Fade Like Photographs" is a powerful and pivotal track not just in composition style but in theme as well. The track switches from the previous track's somber tone, but hopeful energy, and transitions into a morose goodbye to all those who were once in our lives but have made the decision to let us go. Oftentimes we make mistakes or pursue our goals and will neglect those around us, not cognizant of the ramifications, and the act was too egregious to repair the relationship. Sometimes, our friends or partner may not understand how our ambitions are important to being the people we are growing up to be and may cut us out as a result. Sometimes it's loved ones or family members who are not willing to make the sacrifice in time to be successful or to see us be great. A mother who needs their child to be support for their siblings, but their sibling has been given a full ride to college, or a father too inundated with work to spend time with their son, especially on larger milestones  The music beyond it carries the track and has a slight sense of mobility to it, a musical reminder to not allow letdowns slow you down, but to recognize and learn from them, which is highlighted by Gaskarth's lyrical theme; "I  said I'd never forget your face/Vaulted away inside my head/And memories never seem to fade/You were the best part of my life, my last regret/Now I've walked this line a thousand times before/It hurts too much to bear/For you, I'd tear out my own heart/And write our names together."
Clocking short of fifteen and a half minutes, a shorter run time for a debut pop punk EP, "Three Words" is everything a freshman debut should be. It established All Time Low as a new band of the time, making the correct ripples in the pond of a career that echoed very far into the band's career. Given that the band would take a false start going straight to an unsuccessful debut release, their album "The Party Scene" was recognized in the underground pop punk scene as a release that makes their mainstream notoriety today no question. A notch in the road that made their dreams come true. 
5/5