Islamophobia and Its Heavy Impact on Arab American Students
Souzan Naser, a professor and counselor at Morraine Valley Community College, speaks out about the invisibility of Arab American students in institutional data and the urgent need for a MENA category on the US Census.
There needs to be an institutional effort in higher education and in government to dismantle Islamaphobia and anti-Arab racism, according to Morraine Valley Community College Counselor and Professor Souzan Naser.
Speaking at COD on March 16, Naser, born in Palestine, gave the audience information about the world's Arab population. Originating from 20 countries, the Arab population includes almost 400 million people, 5% of the global population.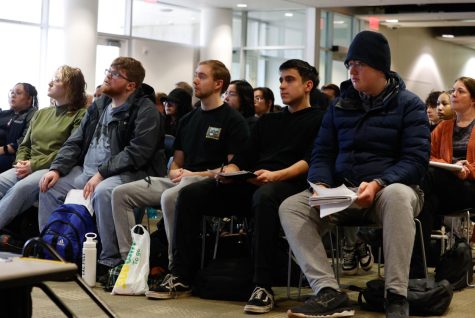 Naser told the audience surveys such as the U.S. Census don't include a separate category for the MENA (Middle Eastern and North African) population. As a result, the MENA population is an aggregate of the "white" category.
"Since the 1980s, Arab American organizations, academics, students and scholars have been requesting a separate MENA category on the U.S. Census, which could then be reproduced throughout all national states and local institutions," Naser said. "At my institution, Moraine Valley, staff, faculty, students, worked for years to advocate for a MENA category on student applications. I'm happy to be here today to report to you that those efforts led to the addition of a MENA category that started in the Spring of 2021." 
Naser said without a relevant category on the Census or in college applications, there is limited ability to track or provide funding such as scholarships, grants and other targeted resources for Arab American students. 
The event, titled "The Invisibility of Arab-Americans in Higher Education," described anti-Arab racism in public discourse that contributes to Islamophobic and anti-Arab narratives.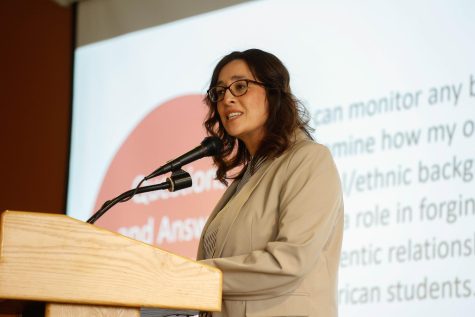 Naser referenced a clip from an Oct. 2008 campaign rally from former U.S. Sen. John McCain. In the clip, an audience member said she could not trust Obama because he is an Arab. In his response to the woman, McCain said, "No ma'am. He is a decent family man, citizen, that I just happen to have disagreements with on fundamental issues." 
"Could McCain have had a better response than that? Absolutely. Being of Arab descent and a 'decent family man' have nothing to do with one another. They're not mutually exclusive," said Naser. "We hear this rhetoric. We hear it from public officials. We see it playing out in government discourse, in domestic and foreign policies like the Muslim ban, the global war on terror, government surveillance programs. We need to consider how these messages, how these policies, reinforce anti-Arab racism." 
According to FBI hate crime statistics, there were 110 anti-Muslim hate crimes in 2020.
Naser also described protests she was involved in after Sharon Brannigan, a former Palos Township trustee, used anti-Arab and anti-Muslim rhetoric in social media posts. 
Brannigan's posts questioned the documentation status of Middle Eastern students and referenced the increasing Muslim population as a problem. 
"In the 3rd district here in Illinois, our demographics include 25% Muslims of which very few integrate within the communities keeping to themselves and their activities hidden from the general population. Everywhere you turn from Orland Park to Bridgeview, those numbers are increasing in leaps and bounds. We are allowing these people, whether they have peaceful intentions or not, into our country without question," Brannigan's post said. 
Brannigan's posts led to protests that lasted for two years calling on her to resign. During the event, Naser showed photos of counter-protesters. One of the photos included a counter-protester holding a sign that read "No ISIS in Palos Township." 
"We would go and protest during their monthly township meetings, and these are just some images of some of the counter-protesters that were inspired by Brannigan's racism," Naser said. 
Naser called on educators to offer solidarity to students and not respond with resistance. 
"What does institutional responsibility look like?" Naser said. "It means encouraging these agents of change by taking their grievances seriously and offering them concrete resources and support. It means having knowledge and awareness of the current and historical oppression and racism that impacts Arab Americans and their families, how racism and oppression interferes with their ability to live with dignity and to survive and to thrive."