Indoor Track looks to impress at Nationals
(published 2/28/18)
Crescendoing into an ultimate test of their season's hard-fought efforts, College of DuPage's Men's and Women's Indoor Track and Field teams will compete in the 2018 NJCAA Division I Indoor National Championship on March 1-3 at Texas Tech University in Lubbock, Texas.
Led by second-year Head Coach Bob Cervenka, and guided by Assistant Coaches Mike Prizy (Distance) and Brent Graham (Throws), the Chaparrals look to further establish their accredited program on the national stage. Our qualified athletes will compete against the best junior college athletes in the country, with a tremendous opportunity to display their talents to the recruiting staffs and coaches of four-year schools. Nationals provide a stepping-stone to the next exciting chapter in their academic and athletic careers.
Against higher recruited schools, the Chaps have struggled as a team to rise past the bottom third during meets. However, spurred on by strong individual performances, the team has managed to qualify two more athletes for nationals than last season. COD's locally-grown talent includes, Torrain Haughton of Maine East HS, competing in 800m and 4×4 relays, Rachael Ramon of Nequa Valley HS (Triple Jump), Kenneth Brown of Plainfield South HS (4×4 relays), Justin Rivers of Bolingbrook HS (High Jump, 4×4 relays), Emma Fox of West Chicago HS (Triple Jump), Eric Ellefson of Conant HS (Pole Vault), Daniel Ferenc of Downers Grove North HS (Pole Vault), Peyton Chapmen of Bollingbrook HS (800m, 1000m, 4×4 relays), and Nick Tegtmeier of Lyons Township HS (Shot Put).
Speaking on what makes COD's program so special and why his program is the right place for students to develop their talents, Cervenka explained, "Our school is affordable and you get a great education. It prepares you to continue at a four-year institution with money in your pocket versus being disadvantaged by student debt."
Explaining the nature of their competition, Cervenka said COD track and field athletes compete against a wide variety of high-level schools.
"We compete against Division I, Division II and Division III schools; we hardly compete against other Junior Colleges," he said. "Every time we go to a competition it is almost like an audition because you have the opportunity to go there and show off your talents to the other head coaches and their programs."
Cervenka effuses with pride in his team's academic accomplishments, pointing out the strength of his entire squad. Two All-American athletes from last season went on to four-year institutions on athletic scholarships. Cervenka imbeds the mentality in his athletes, if you maintain yourself academically then nothing can impede your progress.
Coach Prizy further elaborated why COD facilitates the growth necessary for athletes to progress onto the next level.
"Our school has a great reputation," Prizy said. "If our athletes compete well, and perform academically, they set themselves up nice to go to a great four-year school."
One of the team's standout athletes is Torrain Haughton who placed 3rd in the 800m in last season's nationals. Through coaches' persistence and his determination, more mileage and morning running have helped Haughton maintain and improve upon his stellar athletic performances. Haughton is confident he can beat the times that placed him on the podium last year. He also dispelled the notion there is a difficulty or stigma getting recruited as a student from a junior college.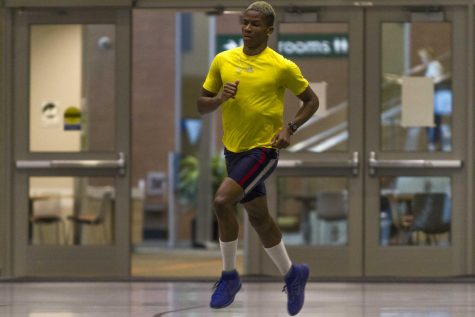 "As a junior college, who we compete against is pretty impressive," Haughton said. "I have coaches from all types of programs reaching out to me, who have gotten a chance to see me compete." Haughton believes a strong showing at nationals will enhance his recruiting appeal.
With similar ambitious aspirations, Triple Jumper Rachael Ramon hopes nationals will provide her the motivation to take her jumping to new lengths.
"The scenery and energy of Texas Tech will help motivate me to compete better than I ever have," she said.
Inspired to play track by her mother's wishes, and majoring in engineering, Ramon spoke about the commitment it takes to maintain a professional balance between academics and her athletics.
"Coach is always on us to go to class and get good grades," she said. "He helps us grow into a maturity that the junior college further develops."
Ramon went on to describe the difficult acclimation from being a standout high school athlete, to competing at COD. She said she was shocked at the high level of competition COD competes against. To be successful, Ramon uses an incredibly intense training regime to transition and develop into a dynamic force in the sport.
However, she does see COD's lack of an indoor jumping pit as an impediment to her success.
Nonetheless, Ramon is able to prepare by working arduously on her strides, speed and timing.
"For Triple Triple Jump, if I change the speed of my run then the timing needs to be adjusted," she said. "My Coach and I try to work on my speed to find the right boarding. It's about hitting the right speed and timing so the momentum carries me through the jump."
Ramon, Haughton and all the other qualified athletes go into nationals with the motivation of their entire season's efforts and a passionate determination to bring their dreams one stride, one jump or one throw closer to fruition.
• All track athletes will continue their aspirations into the Outdoor Track season beginning March 30-31, at Eastern Illinois University