Glen Ellyn Public Library Celebrates World Hijab Day
Community members discussed prejudice, religion and modesty in an effort to build awareness.
In commemoration of World Hijab Day on Feb. 1, the Glen Ellyn Public library hosted an event aiming to educate the community on the concept of hijab and recognize those in the community whom it is important to.  
Willowbrook High School social studies teacher Juveriya Mir presented on the religious, cultural and historical significance of what is today most commonly recognized as headscarves worn by Muslim women. She discussed the value of modesty in Islam, head coverings as a form of cultural dress and their existence pre-Islam. She addressed current policies in different governments that either force or prevent women from wearing hijab, and she also shared her personal journey choosing to wear it. She discussed how she stopped wearing it for years after 9/11 due to her suburban Chicago community's changed perception of Muslims and her parents' fear for her safety.
Mir brought a variety of scarves and loose gowns called "abayas" to present to the audience in a show-and-tell-type fashion to help familiarize the audience with them and recognize them as items of clothing that, while religiously meaningful, are also just pieces of cloth used for function and self-expression that can be styled in different ways. Audience members had the option to try these pieces on. This is reminiscent of World Hijab Day founder Nazma Khan's original intention behind the day—after years of experiencing verbal and physical harassment (which worsened after 9/11) for wearing her hijab in New York City, she wanted to ask other women to try wearing the hijab for one day. 
The first World Hijab Day took place in 2013 and the day has since been recognized by government officials in Scotland and the Philippines. In 2018, World Hijab Day Organization became a nonprofit with a mission to dismantle discrimination and prejudice against Muslim women.
In the space where the event took place, Mir and the library put up a collection of books that touch on hijab, including "The Proudest Blue" by Olympic fencer Ibtihaj Muhammad and S.K. Ali, for patrons who were interested in further learning. Also displayed were profiles of famous women who wear the hijab, such as Ilhan Omar and Malala Yousafzai.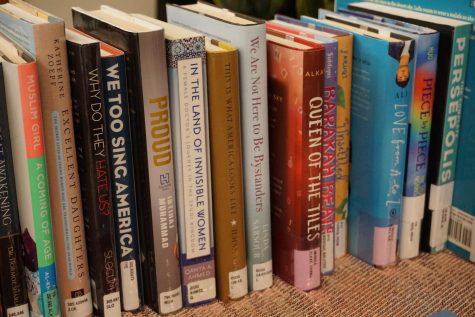 The event's audience of around 15 to 20 people featured a variety of ages. Young children accompanied by their parents, college students and older adults were in attendance. Some were Muslim and some were not. 
There was an open question session after the presentation. Audience members asked more about Mir's personal experiences, different garments such as the burqa and niqab and more general questions about Islam as a religion. Mir also offered the opportunity to ask questions one-on-one after the session, which some attendees did.
Audience member Virginia Laszewski heard about the event from a library email list. She was surprised to learn about the ban on religious symbols including hijab in French public schools and asked more about that during the open question session. Laszewski doesn't know any Muslim people personally and said she found the event informative.
Through this event and others that are part of the Glen Ellyn Diversity, Equity, and Inclusion (DEI) Project, the library aims to make community members feel like the library is taking their beliefs and observances into account with their programming, become aware of occasions valued by other members of the community and appreciate the diversity of their community, as described on the library's website. 
Adult Programming Librarian J-nine Vaughn shared information about a future DEI effort in an interview after the event. The library will be hosting A Human Library event in the summer, a concept that originated in Denmark in which individuals from groups who've faced discrimination volunteer to be asked questions by others in an effort to create understanding. Mir has volunteered in A Human Library in the past.
"We're presenting the opportunity to ask people questions that you normally wouldn't," Vaughn explained. "It's a safe space. The librarians are overseeing to make sure no one is using any hate speech. And yet you can openly question—kindly—and can learn things and understand: we're just people."
The library is seeking volunteers to participate in the Human Library on May 6th. 
Mir and audience members mingled and chatted in the background while Vaughn explained, "It can be someone who's been an addict before, someone who comes from a different country, someone who wears a hijab, someone who is of the LGBTQ community."
Through continued DEI efforts, the library works to be a place where gaps in knowledge are bridged in ways that serve the community and where conversations like the ones that happened on World Hijab Day are sparked.