Gio Swaby's Love Letters to Black Women at Chicago Art Institute
Vibrant fabric tapestries of Black women adorn Gio Swaby's "Fresh Up" exhibit at the Art Institute of Chicago this spring and summer.
Bahamian artist Gio Swaby describes her art as woven love letters to the women in her life. These life-size tapestries feature Black women dressed in colorful clothes and striking captivating poses. Each one is part of the "Fresh Up" exhibit at the Art Institute of Chicago, which opened on April 6.
Swaby began to create textile portraiture in 2012 and produced multiple series with different themes through the decade. Select pieces are featured in "Fresh Up," which is a Bahamian phrase that describes someone with stylish clothes.
This theme is captured in the aptly-named "Going Out Clothes" series, which features lace-lined portraits of women in their best outfits. The woman in Going Out Clothes 1 dons a scarlet-striped blouse and sparkling golden hoop earrings. She wears a flowery hair wrap and short locs fall onto her forehead. The model's bare arms are delicately poised in front of her, each line in her hand outlined in thread.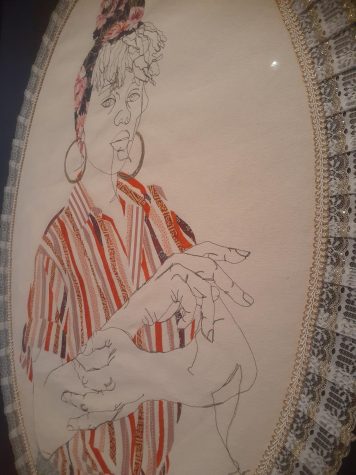 The beautiful intricacy of Going Out Clothes 1 is a common characteristic of each of Swaby's works, which feature models with diverse body types, outfits and hairstyles. The women in the tapestries stare back at the viewer, their proud faces held high, their hands on their hips. Swaby's expert stitching captures each fine detail of the women's face, the shape of her hair and her clothing.
The far wall of the exhibit bears ten small frames that have just an outline of the models' heads, to highlight Black hairstyles in the "New Growth" series. Swaby's other tapestries also pay homage to cultural Bahamian fabrics, which are often hand-made and have patterns influenced by the island's flora.
Swaby grew up around textiles – her mother was a seamstress, and this familiarity translates into how she expresses the models in her artworks. She describes the way that creating clothing for themselves is a form of self-expression for women.
"I learned from my mom when I was really young. She was a seamstress; so we started off sewing clothes for my dolls and church outfits. She always wanted to make outfits for us that matched," Swaby recalls. "It's always been a part of my life in that way, but I came back to it later on into my adulthood to find it as an art form and bring it into my art practice.
All of Swaby's works are based on real women, usually her close friends or her three older sisters whom Swaby affectionately showcased in her "Pretty Pretty" series. She starts by inviting the women to participate in her project and sets up an interview and photo shoot with them. The women wear unique hairstyles and dress in their favorite outfits to celebrate their most confident, personal form. The process is collaborative to generate a mutual vision of what the models expect of the artwork Swaby will create about them.
Swaby further described her vision for the work, during a 2022 interview with the Museum of Fine Arts, St. Petersburg, which also hosted her "Fresh Up" exhibit. Swaby explains the proud familiarity she hopes to convey in her artwork.
"I want to create portraits that are really full of the essence of that person and who they are and be able to do that in a way that's delicate and holds so much respect and reverence and love for the person being represented," Swaby said. "I think about who I consider to be the primary audience of this work is Black people, more specifically Black women and girls."
Based on the photos, Swaby stitches life-size tapestries onto canvas in her studio workshop. Most of the pieces start with a detailed pencil, then an outline in black thread. She uses colorful fabric appliqués to draw attention to the model's unique accessories; whether it's a pair of floral combat boots, yellow eyeglasses, or just a lacey bra.
Swaby said her artwork explores the complexity of Black womanhood and encompasses queer identities, through intimate portrayals that they may not often see. She also discussed the importance of Black people making art of themselves rather than past images made by non-Black people that often depicted historic trauma. In contrast to this, Swaby describes how her art is meant to show empowering images of Black women.
"It's definitely about moments of reflection, being able to see themselves represented in this way. So much of it is rooted in this practice of love, expressing love, seeing them represented with reverence and care," Swaby said. "And to have that multiplied in a room like this, when you can see many reflections, is one of the most important parts."
In the "Another Side To Me" collection, the pieces have no color or fabric, simply a thread outline on the underside of the canvas, with crisscrossing stitches and loose threads. In a 2022 interview with the Museum of the African Diaspora, Swaby further described how leaving these flaws lends to the duality of her figures in the artwork.
"I consider those parts to be like a map, a little journey for the viewer to follow along with me and see the process of how this work was made," Swaby described. "Leaving those in there for me was this rejection of perfection that I want to embrace in my process and also in my life. Slowly but surely moving towards saying this isn't perfect, but perfectly imperfect."
Understanding the themes in Swaby's work adds another layer to the viewer's experience in the "Fresh Up" exhibition. It will be open until July 3 at the Art Institute of Chicago. Free access is granted to COD students with student ID cards.