There may be no better time for residents of Illinois to find a job in clean energy as the latest employment numbers show explosive growth in the sector.
On Sept. 19, 2023, the eighth Clean Jobs Midwest Report was released. A live, video-based news event took place that same day where experts, business leaders, and U.S. Sen. Tammy Duckworth discussed the significant job growth in the Midwest clean energy sector in 2022.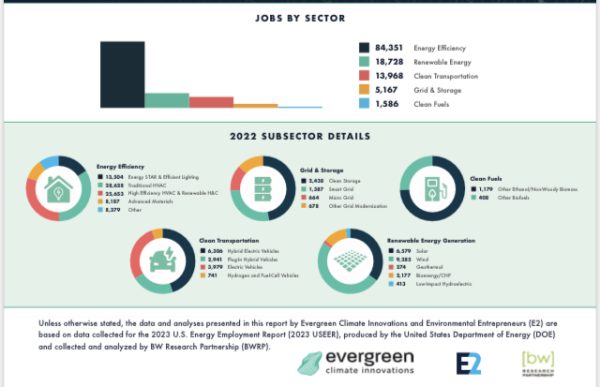 This annual report, published by Environmental Entrepreneurs (E2) and Evergreen Climate Innovations, offers a comprehensive analysis of the clean energy workforce across all sectors of the twelve Midwestern states. It provides a detailed data breakdown by state, major metropolitan area and sector, encompassing renewable energy, energy efficiency, and advanced transportation. 
E2 (Environmental Entrepreneurs) is a national, nonpartisan group of business leaders, investors and others who reportedly 'advocate for policies that are good for our economy and good for our environment.'
On their website, they state that "[their] members, who live or do business in nearly every state in the country, have founded or funded 2,500 companies, created more than 600,000 jobs and manage more than $100 billion in venture and private equity capital."
Evergreen Climate Innovations is a nonprofit that provides start-up capital for entrepreneurs and businesses that bring 'impactful climate technologies' into the market.
According to the mission statement on their website, "[they] pioneered its 501vc® Investment Fund to align philanthropic and corporate contributions to deliver environmental, economic, and social impact. Evergreen advances and expands access to innovation across the Greater Midwest and cultivates an ecosystem of investors, donors, and collaborators. For over a decade, Evergreen Climate Innovations has invested in startups that have raised $42 for every $1 invested."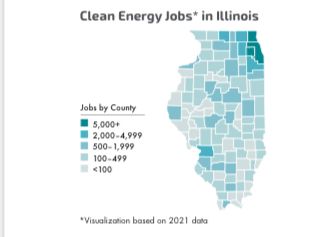 The report is based on data collected for the 2023 U.S. Energy Employment Report (2023 USEER), produced by the United States Department of Energy (DOE) and collected and analyzed by BW Research Partnership (BWRP). BW is an applied research firm that is "committed to providing the most accurate, reliable data and analyses to support better investments, policies, and decisions for [their] clients." Reportedly, BW Research has conducted numerous clean energy jobs reports and has developed an Energy Employment Index for the entire United States.
During the conference, they unveiled the findings of the 2023 Clean Jobs Midwest report, focusing on job expansion in the Midwest, particularly in electric vehicles and battery-related industries. The discussion also delved into the anticipated future job and manufacturing growth in states like Illinois, Michigan and Ohio. 
The report asserts that over 25,000 new jobs have been created, resulting in a remarkable total employment figure of 734,000 in the clean energy and transportation sectors. Notably, the energy efficiency sector leads the way with 488,000 jobs nationwide, including a contribution of 3,600 jobs from Illinois. Clean energy jobs encompass a diverse array of roles, ranging from coordinating solar panel installations to installing energy-efficient HVAC systems and planning electric vehicle charging infrastructure.
This growth coincides with the celebration of the first anniversary of the largest-ever federal investment in climate mitigation and clean energy, as well as two years since the Climate and Equitable Jobs Act (CEJA) was enacted in Illinois. The expansion of clean energy jobs in the region can be attributed to a combination of federal and state policies. However, before embracing the concept of "green growth," it's essential to scrutinize the situation more closely.
Delving deeper into the data from the Clean Jobs Midwest Report, it is reported that Illinois witnessed a 3% uptick in its clean energy workforce in 2022. By the end of 2022, more than 123,000 Illinoisans were employed by clean energy companies, an increase of more than 3,000 jobs, a 3 % increase from 2021 and an 8 % increase from 2020. 
In the field of energy generation, grid & storage, energy efficiency and renewable fuels, the presented data demonstrates also that Illinois is leading the pack in terms of growth by the clean job sector in the Midwest. Moreover, according to the report, clean energy is a major part of the Illinois economy and "more than three times as many Illinoisans are working in clean energy when compared to lawyers, web developers, and real estate agents."
The report also asserted that as a result of state policies and federal incentives for clean energy and vehicles, new clean energy projects, a revival of domestic production, and lower upfront costs for homeowners to improve energy efficiency, the number of clean energy jobs is expected to grow faster than the overall economy in 2022.
Furthermore, this growth is expected to continue due to factors such as the Inflation Reduction Act (IRA), the Bipartisan Infrastructure Bill, and new state legislation that are bolstering clean energy jobs and businesses in the region.
Micaela Preskill, the Midwest advocate for Environmental Entrepreneurs (E2), said she is enthusiastic about the growth in a report released by Evergreen Climate Innovations. 
"The Midwest is just beginning to tap into its clean energy potential, and with strategic investments and incentives, private companies are gearing up for even more ambitious projects," Preskill said. "While a 3% increase in Illinois is a promising start, we anticipate more substantial developments in the future."
Illinois Governor JB Pritzker echoed the optimism.
"Our strategic investments in clean energy job creation are paying off, with a surge in sustainable and well-paying jobs. With the Clean Energy Jobs Act (CEJA) and the Reimagining Electric Vehicles (REV) Act, we're expecting thousands more jobs to come," he stated.
Nevertheless, not everyone shares this optimism. The Republican Party has raised concerns and objections, particularly regarding the potential impact of policies like the Implementation Review and Analysis (IRA) and Bipartisan Infrastructure Law (BIL) on industries in their states. Additionally, there is growing apprehension about the increasing levels of federal spending and the ever-mounting national debt.
In contrast, proponents of clean energy sector investments emphasize the benefits it can bring to individuals and society at large. They assert that industry growth translates into job opportunities for the local workforce, leading to reduced unemployment rates and increased economic stability. Many of these jobs offer competitive salaries, contributing to the financial well-being of individuals and their families. Significantly, the clean energy sector provides opportunities to individuals without college degrees, as these positions often require specialized training or certification rather than a traditional four-year degree. This accessibility has the potential to empower individuals from marginalized or disadvantaged communities, enabling them to break free from cycles of poverty and unemployment, proponents argue.
The push for clean energy initiatives goes beyond job creation and the economy. Proponents also highlighted the positive environmental implications. Reducing dependence on fossil fuels and promoting renewable energy sources can lead to improved air and water quality, resulting in better public health outcomes. Additionally, clean energy projects often prioritize underserved communities, providing them with access to affordable and sustainable energy solutions, thus mitigating energy poverty. 
Advocates are pushing for transformative changes in this direction. For example, Preskill advocated for all-electric construction in Chicago, aligning with the broader trend of electrifying the building sector, a significant component for enhancing energy efficiency.
Annemarie Duncan, an environmental educator from the College of DuPage, said the time is right for a change in the energy sources that power our daily lives.
"It's an exciting time in our lives to witness a shift from reliance on non-renewables to a growing recognition that clean energy is not only economically viable and a crucial part of our future economy but also an emerging, essential piece of the puzzle when it comes to the health of both people and the environment." 
For more information, see the Clean Jobs Midwest website.