Could protest curb school violence?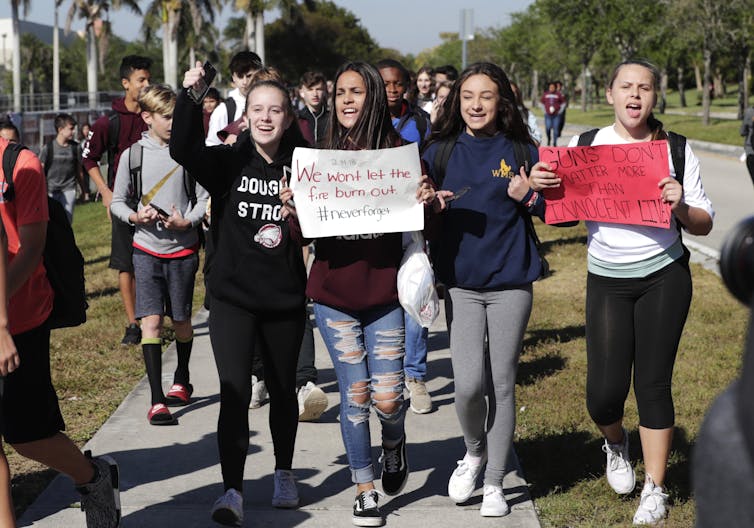 In the wake of the Santa Fe, Texas, school shooting, former Secretary of Education Arne Duncan voiced support for a school boycott. The boycott – which Duncan has said could take place in September – would involve keeping kids out of school until changes are made to the nation's gun laws to make America's schools safer. It is unclear how long the boycott would last.
If parents, students and others decide to stage a national school boycott, it would pay for them to take a few pages out of the playbook from a different protest: the opt-out movement that seeks to reduce burdensome testing. I make this observation as the author of books on political dissent in schools and the state of public education.
A more compelling argument
The opt-out movement draws attention to the suffering of children, reveals political and economic concerns with individuals and corporations who benefit from testing, and exposes the learning time lost to testing. Since school safety carries more significance than testing, a school boycott to change gun laws may employ similar justifications in an even more compelling way.
The opt-out movement has effectively raised awareness about problems introduced by testing, including the stress inflicted on teachers and students. It has done so through public demonstrations at sites such as the Department of Education, but also by generating smaller local conversations with other stakeholders.
Importantly, opt-out leaders have invited a wide and diverse collection of parents into their movement. They have proposed alternative forms of assessment. They have effectively pressured legislators to reduce testing in states like New York and to remove "zero score" penalties for children who do not take the test.
Overcoming complacency
The consciousness-raising actions of opt-out organizations have forced some people who see testing as an unavoidable part of life in schools to rethink their assumptions. A school boycott could lead to rethinking among those who feel powerless to stop school shootings.
The school boycott cannot just focus on troubling, but rare mass shootings. Based on what I know about effective political dissent, boycotters would need to expose widespread smaller forms of violence in our schools in order to paint a more complete picture of the problem and spur change. Like the Opt Out movement, boycotters would also need to highlight related practices, such as lock down drills and the arming of teachers, to expose ways in which those practices deprive classrooms of educational time, concern teachers, and cause fear in children. Boycotters should reveal how insecurity due to violence create a climate that lacks the stability and focus children need to learn well.
More than just skipping school
Finally, boycotting doesn't mean simply staying home. It requires public demonstrations to raise awareness and to pressure legislators by letting them see the dissatisfaction and demands of the public. It entails a call to deliberate with other citizens, gun advocates, teachers, legislators and others to reach moments of compromise and consensus as well as to craft alternatives.
These alternatives might take the form of particular gun laws, but may also relate to other aspects of school culture that impact school violence, such as bullying, stress and exclusion.
How do we preserve educational opportunity if classrooms are empty? At a minimum, boycotters must model quality political dissent for students so that they learn how to be effective citizens, one of the most longstanding and widely accepted educational aims.
Moreover, parents should join up with students who've already led the charge through staging national school walkouts in the wake of Parkland and other shootings. And they should collaborate with organizations like Black Lives Matter, who have already been championing the need for safety in schools, in order to craft better informed plans for change.

A sufficiently robust boycott could prompt new forms of gun legislation and bring new practices to curb violence to America's schools. All the while, parents may become more active citizens in the democratic process of public education and students may witness – and participate in – political dissent in action.
Sarah Stitzlein, Professor of Education and Affiliate Faculty in Philosophy, University of Cincinnati
This article was originally published on The Conversation. Read the original article.