Editor's Note: This story has been edited to add updated information to the story. The scores of the team's last two games as well as their current record and the date of the next game have been added to the bottom of this piece.
The College of DuPage women's volleyball team took on Kishwaukee College on Sept. 8 at home. The Chaparrals stood their ground against the Kougars through the first two sets with dependable setting and serve-receives. Kishwaukee got the early lead in the third set, but COD rallied to win 3-0, raising their record 8-6. The final scores for the sets were 25-14, 25-17 and 26-24.*
"The Kougars did a lot of things really well," head coach Tolis Koskinaris said. "They were incredibly scrappy at getting the ball up, and you have to give them a lot of credit for that. [What] we did a little bit better is our setters definitely found the match-ups they wanted at the net. The right hitter versus the blockers. I could see them really trying to focus in on that and figure out what they wanted to do, and they were doing a wonderful job with that today."
Sophomore libero Cyd Martinez led the team with 18 digs and made seven set assists. She also led with three service aces on 15 attack attempts with one service error.
"Overall we started very, very strong," Martinez said. "I liked that after a long break we were able to come out like that. That third set really was just us getting in our heads, nothing more, nothing less. It was us beating ourselves. We were able to pull it back together, hang in there, keep the lead and win."
Freshman left side Melissa Alvarez landed 10 kills on 36 attacks with three errors. She also scored one service ace, had five digs and one block assist.
"We wanted it more," Alvarez said. "I know after our last home game we all as a group talked it out. We talked about, as a team, what we need to do coming into any game. We just really wanted this win."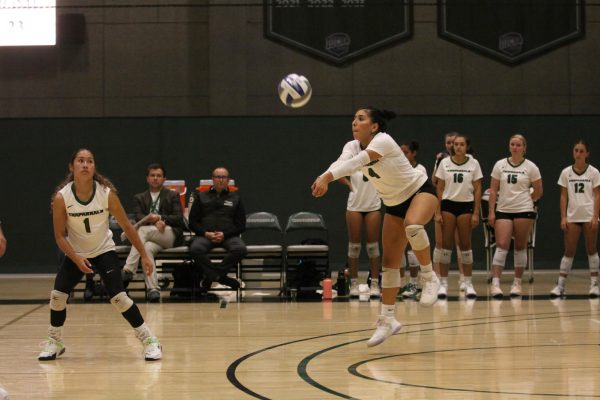 Freshman middle hitter Josie Becker had seven kills on 17 attacks with one error. She also had one dig and one block assist.
"I feel like we could've started off quicker," Becker said. "Overall it was a solid game. We were aggressive with our swings, and I felt like the Kougars were a little timid."
Sophomore outside hitter Amanda Leibrock landed 12 kills on 33 attacks with nine errors. She said the Chaps got the edge over the Kougars with their defense and passing.
"We hit really well," Leibrock said. "We were hitting our shots and mixing it up. [Kishwaukee's] defense wasn't able to pick up everything we were giving them. I think it was mostly a game of defense and we happened to win it."
*COD won two games on Sept. 9 to raise their record to 10-6. The Chaps beat the Triton College Trojans 3-0 (25-10, 25-13 and 25-11), and the Milwaukee Area Technical College Stormers 3-2 (25-17, 25-17, 21-25, 15-25 and 15-13). The Chaparrals look to win their first conference match-up against the Joliet Junior College Wolves Sept. 12 at 6 p.m. in Joliet.