The College of DuPage women's volleyball team hosted the Home Triangle Invitational on Oct. 15 against Division II teams Madison College and Rock Valley College. After two high-intensity matches, the defending Division III national champions couldn't break through, falling short in both games and leaving their record at 20-15.
"We played two really good teams," head volleyball coach Tolis Koskinaris said. "We fought hard, and they just had a little more offensive capabilities than us. We grinded it out as best we could. Everything wasn't working for us, but our effort and our hearts were in the right place; there's no doubt about it."
Game One vs. Madison College
The Chaparrals started the day against the Madison College WolfPack, taking the first set. Unable to keep a steady pace on the court, COD couldn't rally in time, falling to Madison 1-3. The final scores of the sets were 25-22, 18-25, 13-25 and 21-25.
"We probably played our best volleyball today against Madison, but we put our best collective effort out against Rock Valley," Koskinaris said.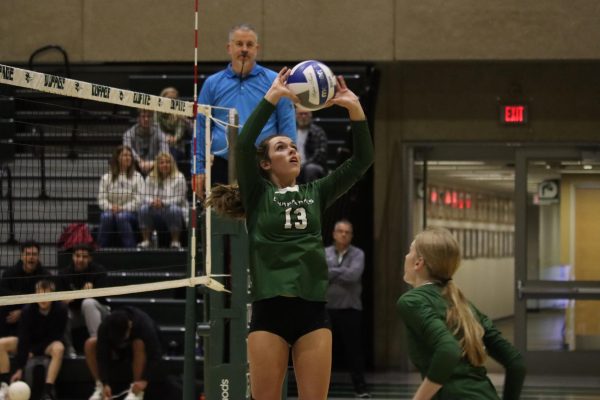 Sophomore outside hitter Amanda Leibrock led the team with 12 kills on 37 attacks with three errors and picked up one block assist. She said that although the two games were intense, they helped the team prepare for the postseason.
"We knew that they were going to be hard matches coming in," Leibrock said. "I think we kind of let our energy dip. We let our effort dip a little bit too. That's why we lost some of those rallies that we had, but overall I'd say we played well. Lots of good came out of today."
Sophomore libero Cyd Martinez picked up 22 digs and scored two service aces on 16 attack attempts. She also made four set assists.
"We were faced with a lot of challenges when it came to the other team's offense," Martinez said. "They had really good hitters, but I'd like to believe that we have really good defense. On my part, as I'm part of the defense, it was really fun to play against something like that. I just think it makes us better as a team going forward. Today was a little tough because all of our efforts didn't result in what we wanted them to, but nonetheless, it was very beneficial."
Freshman middle hitter Josie Becker landed nine kills on 14 attacks with two errors. She also picked up three block assists and one dig.
"We could've done a lot better," Becker said. "We were still pretty solid, and we fought for everything. We just let it slip a little, and then we let it slip a little too far."
Freshman setter Jaime Volz set both games and had 36 set assists in the first. She also made eight digs.
"Our second game was definitely more tiring, but the [WolfPack] was a big team," Volz said. "I think we had to think a lot fundamentally, and really just focus and lock in."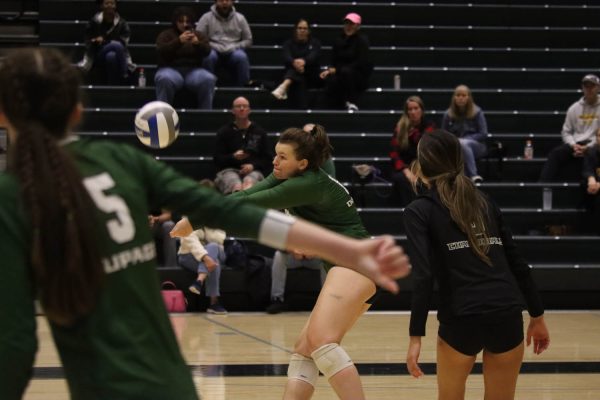 Game Two vs. Rock Valley College
COD went into game two of the invite with more intensity against Rock Valley College. Although they fought to take the Golden Eagles to a fifth set, the Chaps couldn't secure the win, falling 2-3. The final scores of the sets were 25-20, 15-25, 21-25, 25-21 and 13-15.
"Set four against Rock Valley was probably our best bounce-back set of the day," Koskinaris said. "We did a wonderful job because Rock Valley was still giving us the business in that set, but we were able to move them around and just kind of stay focused point-for-point. That was a pretty quality set."
Sophomore outside hitter Amanda Leibrock scored six service aces on 21 attacks with two service errors. She also made eight digs.
"I feel like we stayed up with [Rock Valley] a lot better than we did in our first game [against Madison]," Leibrock said. "Obviously, it still didn't go the way that we wanted. You can tell by the scores and how we were constantly fighting back when we were down points. You could see that fight in us that I don't think we had as much of in the first game."
Martinez led the team with 28 digs and scored three service aces on 21 attack attempts. She also made three set assists. Martinez reached 1,000 career digs on Oct. 7 and is currently first in the region with 685.
"It's a really huge milestone," Martinez said. "As someone who's a second year, I'm just grateful. I'm so happy to have had the opportunity to be able to get 1,000 digs. I thought it was a very good milestone that I accomplished. I never in my life would've thought that that would be me. My whole life I had been a hitter up until when I was 17 I switched to defensive libero. I was just very proud of myself that it was possible."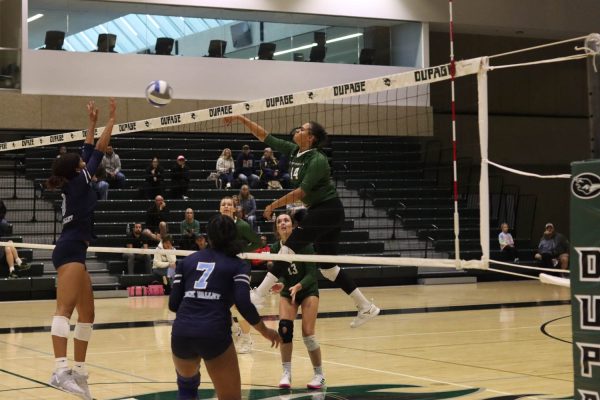 Volz made another 39 set assists in the second game and scored one service ace on 12 attack attempts. She also picked up 15 digs and made one block assist.
"We'll start very high level, and then we get too comfortable," Volz said. "I think we just get tired, but we're always trying to fight our hardest."
Becker landed eight kills on 19 attacks with three errors. She also put up one solo block and four block assists.
"The other teams had some really big blocks," Becker said. "They had some really tall girls who got around our balls, and we just couldn't hit past them."
The Chaparrals will hold their sophomore night against the Joliet Junior College Wolves in their final regular season game at 6 p.m. on Oct. 17 at Klaas Court.