In pouring rain, the College of DuPage women's soccer team felt the tension against Moraine Valley Community College on Oct. 6 at home. After a disputed call that led to a penalty kick for Moraine, the Cyclones were able to take the lead at the 85-minute mark. Unable to answer, the Chaparrals fell to the Cyclones 1-0, leaving their record at 3-8-1.
Freshman goalkeeper Caitlin Yurkovich stopped eight shots on goal before Moraine's penalty kick. She received a yellow card after colliding with an opposing player which led to the shot.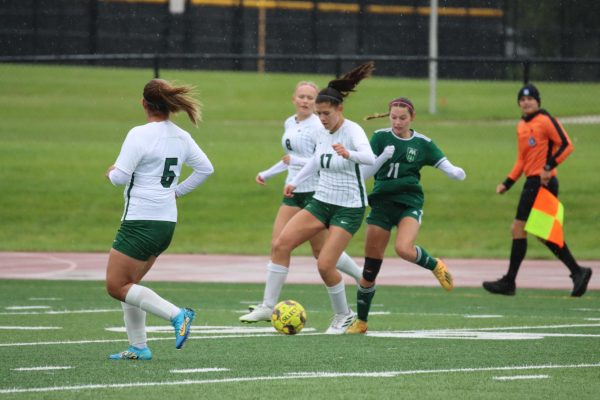 "I didn't think that the call was fair," Yurkovich said. "I didn't think it should be a [penalty kick]. I told the [referee] that the contact was completely between me and the other. He didn't like that, so I was given a yellow card there."
Head women's soccer coach Matt Hanna agreed with Yurkovich, but said more could've been done throughout the game to get a different result.
"That was a tough break at the end there," Hanna said. "With five minutes to go, and from where I'm standing I don't think it's a penalty. At the end of the day it is. There's 90 minutes a game, we've got to try and do something in the other 85 minutes. Unfortunately, we didn't. It was a tough day with the rain and the wind and with everything. I just think we didn't play our best at the end of the day, so we'll get back to it on Monday."
Freshman forward Anna Odisho made two shots on goal. She explained how there were many factors that made connecting with each other harder.
"We tried out a new formation today," Odisho said. "We hadn't practiced it previously. Adapting to that, and adapting to a team we haven't played before was definitely an on-the-fly, very difficult thing."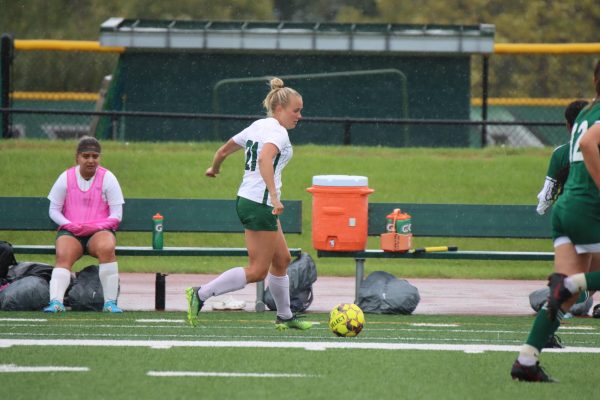 Freshman back Joli Weigandt said the weather conditions made it hard for the team to adjust.
"I'm definitely frustrated with myself personally," Weigandt said. "[The game] might've looked slow, but it was high energy on the field. We did battle, and we could've done better and connected, but it is what it is."
Freshman outside defense Sabrina Cox made one shot. She said despite the different formation and conditions, the team still found ways to create scoring opportunities with six shots on goal.
"We did battle," Cox said. "We did have good build up as a team. [The penalty kick] was a bad call, but we can't do anything about it."
The Chaparrals battle the Rock Valley College Golden Eagles (11-2-3) at 4:30 p.m. on Oct. 11 at Bjarne Ullsvik Stadium.