COD Students from Around the World
COD's Global Education Fair offers opportunity for COD students to journey into the culture of eastern countries.
Have you ever wanted to travel but couldn't? Ever wanted to learn about countries and their culture without having to fly there? The College of DuPage hosted a Global Education Fair at campus central, where students from different countries of the world shared about their cultures and represented their countries.
A representative of Costa Rica brought her national dress and colorful symbols with the poster describing the demographics of Costa Rica.. Native Americans took over another table. A young girl was dressed in ancient. cloth of Native Americans, a long red dress that had paintings of two hands with black lines on it. Her shoe was grey with white paintings of birds and she took pictures with others. She also had a yellow scarf around her neck with flower paintings and a black shirt with long sleeves.  Another table was of Germany. A COD student was there explaining to people about his country and showing pictures. I learned about the flag of Germany and what every color stood for which was something new for me. "Out of the blackness (black) of servitude through bloody (red) battles to the golden (gold) light of freedom," is the slogan of Deutsche.
Some of the most noticeable tables were of Community College Initiative program students. The program sponsors international students from different countries to study for one academic year at United States colleges. They had tables aligned and came to the place early to prepare for the event. Flags of  Azerbaijan, Kazakhstan, Kyrgyzstan, Kosovo, Tajikistan, and Ukraine could be seen on the wall. When the event started, not many people were attracted to the tables, but after a few minutes, there was a crowd of COD students going from one table to the other.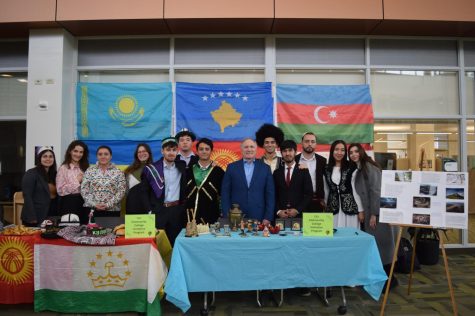 Every country had from one to five representatives. They displayed their national food, national instruments, music, dances, symbols, and photos. Almost all students were wearing their national dresses and national headgear, which varied from another because of the style, color, and symbols painted.   This made the event brighter and more colorful. Even COD President Brian Caputo attended the event and took a photo with the students.
I was there talking about my country, Tajikistan, and it was amazing to see so many people come and ask questions and listen to answers. On our table, we had a national dress for girls, baked Tajik bread, headgear, and photos from various places in my country. Tajik bread is not as soft as the bread in the US. Students said the taste is different, especially in terms of not being sweet.  I was not expecting that many people would come, but as soon as the event started, there were a lot of students coming. Many tried our bread and said they liked it a lot.
Because it was an International Education Fair, the COD Library also took part in the event. The library staff brought books on politics, migration, and American history, and students could check them out on the spot.
There was also a big wall with lots of pictures on it. It was a photo contest that allowed COD students to put their best photos for others to see and vote. The photo with the most votes would become the winner and win a prize. Students put pictures of nature, mountains, selfies, and animals. The results of the contest would be announced later.
Kukshyna Mariia, a COD student from Ukraine, said the event would stay in her memory. "I liked the event a lot. It was very bright and I got to know about many countries," Mariia said. "I even had small note cards that I gave to people. Everyone wrote something in their language and now I keep all of them as a sign of memory from that day. At first, it was hard to explain to people about Ukraine but more and more people came and this made it easier. The best thing was to learn new things about the countries and their cultures."
COD students tried different food, took photos with different headgear, received wish cards, and enjoyed the event to the fullest.
COD student Luis Medina said he loved that students not only talked about their countries but also showed it by bringing food, clothing, pictures, and music.
Community College Initiative program Coordinator Kayla Chepyator said the presentation of ethnic items was rich and inviting. She attended the event from the beginning till the end, and she enjoyed seeing her students giving speeches. Kayla was a great motivation for us. She encouraged us to bring items, cook national food and tell others about our countries. She was also surprised to learn some new stuff. 
"I learned about some cultural hats that men in Kyrgyzstan wear. I will always remember the joy on students' faces when they shared about their countries," Chepyator said.
Adem Bislimi, from Kosovo, said he enjoyed teaching others about his country. Adam was dressed in the traditional white hat that people wear in Kosovo. "I enjoyed the event because I got to share parts of my culture with my friends and other people that have never heard about Kosovo before," he said. "It was fun to see their reactions."
It was an unforgettable event, and many people learned about each other's countries. The ending when students exchanged wish cards, pictures, and souvenirs were the best experience. Such events strengthen bonds between people and countries. Diversity makes the College of DuPage a very unique place for foreigners to come and study here. We never feel lonely and thrown out. COD embraces us and opens opportunities for us to represent where we come from and become the best versions of ourselves!