COD Defeats JJC, Taking Top Spot In Region 4
Through an empowering coach, and a team who wants nothing but success for each other, COD's men's basketball team brings their record to 11-11 in their most recent performance on the court.
The Chaparral men's basketball team gained another victory as they went up against Joliet Junior College in a 96-84 win on January 26. As they finished off in the first half down a point 41-42, the Chaps went in with a new energy as they mastered themselves well around the net in the second half. 
Sophomore forward Matt Elliott finished off the game with 15 points and facilitated all 18 rebounds on offense, helping further allow the Chaps to possess a lead over the Wolves.  
When it came to strategy, Elliott tried to keep his focus on key elements of the game as he competed on the court. 
"I say I give it my all. 110%. Find teammates. If I'm not scoring, I'm going to try and get rebounds. If I can't get rebounds, I try to score," Elliot said. "That's all it really is on the court."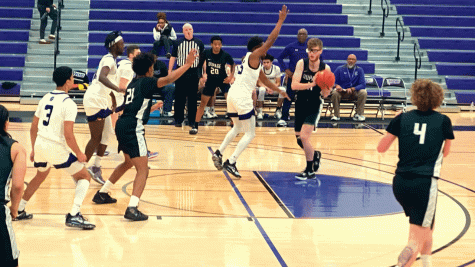 Elliot also credits the relationship he has with his teammates for a successful matchup against JJC. 
"You know I can't do without the guys on the team. Without them playing defense, you know I don't get those rebounds, and hard work for myself," Elliot said. "I'm looking forward to seeing more of that." 
Finishing off just a point down in the first half, some locker room talk from fellow members of the team and Head Coach Joe Kuhn inspired everyone in the second half. 
"We all talked it out. What could we do better? How could we run the score up on these guys?" Elliott said. "We just came out with a different energy, a different chip on our shoulder, and we attacked it the best way we [could]." 
For freshman guard Alijah Nelson, it was also this motivational talk at halftime that really allowed the team to come back full swing in the second half. 
"We knew we were down one, but we kept our same energy. We told each other, 'This half we're going to come out and play hard, and we're going to punch them in the mouth as soon as we get out there,'" Nelson said. "Sometimes going into halftime if you're down it kind of discourages the team, but we knew what we had to do, and we knew our ability." 
Nelson scored 18 points for the Chaps, ultimately supplying a well-needed boost to take over the game in the second half. 
"I work on my game a lot. I just try to motivate the team. Motivate myself to play hard, and for everybody to lock in and follow what coach's plan really sets out," Nelson said. 
Although challenging, Nelson believes being a leader on the court is incredibly important at this stage of play. 
"It's actually hard to be a leader, because leaders go through these ups and downs," Nelson said. "Being a leader for me means staying positive and trying to uplift my team, no matter if things are going bad or good."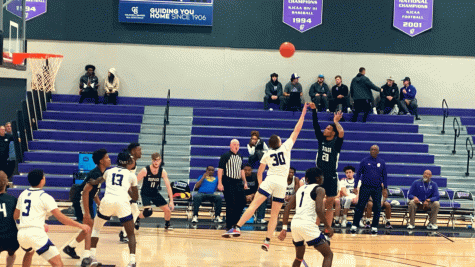 From Nelson's experience, Kuhn has always tried to push the idea that everyone on the court has the ability to become a leader. 
"Coach Kuhn is something else. When it comes to leaders, he pushes us to break that barrier. He really drills it on us," Nelson said. 'Who's going to step up? Who's going to lead our team to victory?' Multiple guys have stepped up into that role of trying to uplift the team." 
This is Elliot's second year of playing basketball in NJCAA Division III, but he didn't start at COD. Elliott began competing for JJC under the coaching of Kuhn in 2022. When Kuhn officially moved on to COD in April 2022, Elliott was asked to move on with him. 
"He gave me the call when he was leaving, and I was like, 'I'm with you,'" Elliott said. 
In Nelson's case, he first met Kuhn during his senior year of high school as he was looking into recruitment from JJC. Constant talks over the phone about what Nelson was doing and what his plans were for the following year allowed for this athletic partnership to form between the two. 
Nelson describes losing his passion for basketball during the time of the pandemic. His basketball team at Bolingbrook High School was on their way to the sectional championship, but because of the COVID-19 outbreak, his season was canceled. 
A torn ligament to the ankle and moments of depression occupied the mind of Nelson. But even with these adversities, Kuhn seemed to always be there for him. Even before Nelson's time at COD, Kuhn would try to always keep an open line of communication with him.  
"One thing about Coach Kuhn is that he stayed consistent with me. Regardless if it was basketball or life," Nelson said. "He just showed me that he really cares about me as a person. I can't turn down a guy like this." 
As Nelson has devoted his time towards basketball since the age of three, he's formed a unique relationship with the sport. 
"Basketball to me is peace. Throughout life, sometimes your mind just races. Problems pop up that you're just not ready for. Stepping on the court I feel like I'm in a whole different world," Nelson said. "It just allows me to clear my head. Basketball has always been that escape for me. I could never replace what it has done for me." 
Elliott played basketball off and on for many years in various recreational leagues before he found a serious passion for the sport. Through his experiences in basketball, he has found a place of comfort and many opportunities to challenge himself. 
"This sport, it's kind of like a sanctuary to me. Somewhere I can just go. Get away from everything," Elliott said. "Compete at the best level I can. Overall it's just a good time." 
This'll be Elliott's final semester at COD, and as the season has now passed the halfway point, he knows the team has its mind made up. 
"We're all looking at the big picture. The national tournament. That's what we really want," Elliott said. 
Nelson also holds onto the idea that the Chaps are going to take down the competition as they make their way to the top. 
"I definitely see us pushing through playoffs. Hopefully getting to the national championship," Nelson said. "Honestly I think if we can continue with this type of play, we definitely can make it to the national championship."
 The remainder of the men's basketball team game schedule can be found here.