COD Cares Conquers "Roll up Your Sleeves and Serve Day"
Nearly 200 volunteers from the College of DuPage and Northwestern's Medicine Team, NM, partnered up to serve 15 nonprofit organizations through COD Cares' Roll Up Your Sleeves and Serve day on Sept. 11, 2018.
Faculty, staff and students along with NM volunteers, went to a variety of secret locations to take part in various service projects. Activities included painting, cleaning, gardening and restoration at organizations such as schools and food pantries.
Participants were required to sign up by Aug. 31, and were then placed into teams with team captains and picked out a team name.
Team "Cleanunderwhere?" (pictured below) were transported to Operation Support our Troops. At their site, they worked alongside Operations Director Kevin Krause in assembling 25 care packages and countless breakfast kits.
Following Sept. 11, COD Cares made a 107-pound donation to the Operation Support our Troops warehouse that will be used for the holiday comfort and care program.
COD staff member Cedric Cemel took a group of COD students to Glendale Heights. While there, the group partnered with The Conservation Foundation along with Street Division Manager George Mroz to stencil 75 storm drains in the neighborhood with the hope to reduce waterway pollution.
"I appreciate all the work that the COD Cares and Northwestern Medicine volunteers had accomplished for the Village of Glendale Heights," Mroz said.
Students who were unable to volunteer Sept. 11 still have a chance to get involved with COD Cares. Their next event is called "Up to Snow Good" and is expected to take place sometime in the next few months.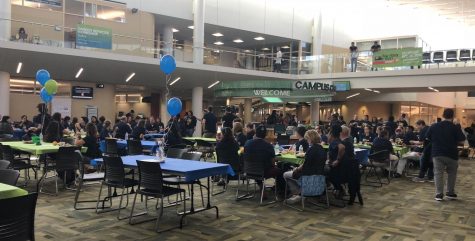 Photos By: Madison Venckus